2022 November 17
Videos of the Exoplanet Online Workshop
The videos from the BAA Exoplanet Division Online Workshop held on Saturday 12th November are available to watch on the BAA YouTube Channel.
The below talk titles are links to watch the videos.
Exoplanet Division update
EXPLORE introduction
Ariel and ExoClock with Anastasia Kokori
Mission and observational efficiency
ExoClock – a model of pro-am collaboration
EXPLORE Part 1 – Detecting exoplanets with Rodney Buckland
Observation
Modelling
Searching databases
Zooniverse
How to discover an exoplanet (telescope and camera not required) with Roger Dymock
EXPLORE Part 2 with Martin Crow
Introduction to HOPS
Synchronous observations to detect shallow transits
Data mining transit observations for variable star photometry
An alternative to HOPS
Click to download a zip of the User Guide for the Observation Planner for AstroImageJ and sample files.
Observing with robotic telescopes by Rodney Buckland
EXPLORE NEEDS EXPLORERS with Roger Dymock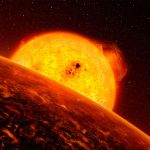 Image to this page courtesy of NASA.
The British Astronomical Association supports amateur astronomers around the UK and the rest of the world. Find out more about the BAA or join us.