2022 March 3
Welcome to the new BAA Website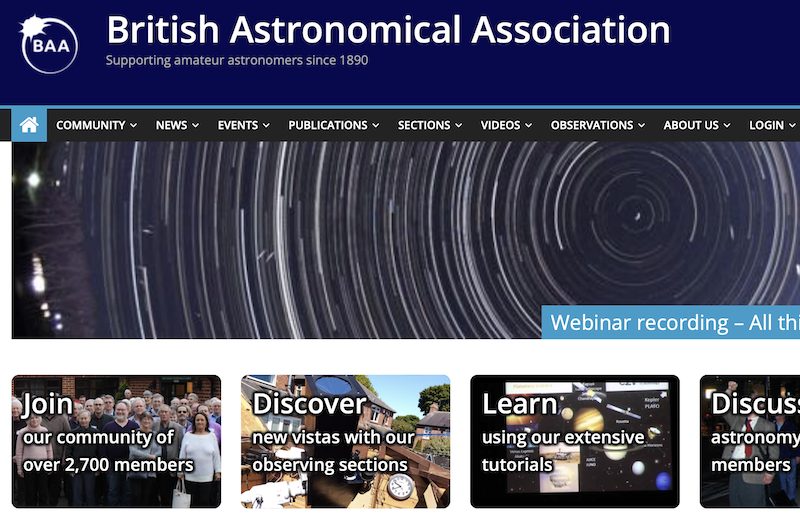 Welcome to the new look BAA website – we've working on this for some time and hope you like it.
There are some changes, re-organistion, and new features that we hope you will enjoy.
On our new front page, in addition to the Picture of the Week, there is also a view of the latest BAA video. The BAA Videos now feature in their own right, with a searachable area devoted to them – and you won't need to jump out to YouTube where there are stored.
The Publications area has been revamped, and all Journals back to issue 1 are now available for members to view online. They are also searchable, so if you want to find a particular paper or article that should now be a lot easier. What was in the Downloads area of the old site, will now be found in the Document store.
The Community area is now the centre for members – with the Forum, Sky Notes, Observers' Challenges, all located here. The Forum is now a linear thread, so there will be no longer the problem of working out what might have been added mid-thread.
And some members had asked for a 'dark mode' – so just click on the 'Moon' icon at low right of any page to switch to dark or back to light.
And remember one major change is with your site Login. We have implemented a single-sign-on approach with our Membership Database (SheepCRM), so when logging into the new site you will use your SheepCRM login credentials to access the members only aspects of the site. Recently joined members will probably already have their SheepCRM account already set up, but all members have their membership in the system. So if you have not set up your SheepCRM account, or have forgot your password, you can setup or get a reminder by visiting:https://app.sheepcrm.com/britastro/login/
When logging into SheepCRM and this wesbite you will need to use the email address associated with your account.
Whilst we have made every effort to ensure that all pages and data has been migrated correctly, there are sure to be some bugs, missing or broken links or images. If you come across any of these or just want to get in touch with the website team, please use the 'Contact the web team' form.
The British Astronomical Association supports amateur astronomers around the UK and the rest of the world. Find out more about the BAA or join us.