After the low meteor rates in February and March, the Lyrid meteors provide a welcome increase in activity, although don't expect too much from them; they usually produce a peak ZHR of ~20 meteors per hour. Lyrids are debris from the long-period comet C/1861 G1 Thatcher and the Earth passes through this dust every April, generally putting on a display from the 14th until the end of the month. Here is their activity profile from NEMETODE's multi-year video data: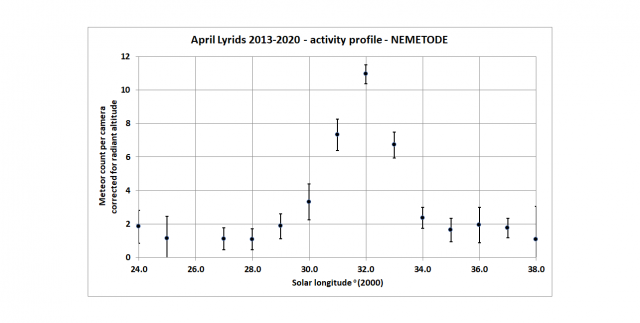 (The x-axis is presented in units of solar longitude, which is used by meteor workers rather than the civil calendar). The plot displays a peak at 32o, which equates to 2021 April 22 05h UT. Grouping the data into bins of 0.25o solar longitude around their peak gives this profile:
further refining it to occur around 32.25o, 2021 April 22 11h UT, in good agreement with the IMO and other sources. Note that these plots are derived from multi-year video data, which tends to smooth out any annual variations. They suggest that we can expect fairly good rates on the nights of April 21/22 and 22/23.
The Lyrids appear from a radiant just southwest of Vega and they are medium-speed meteors with geocentric velocities (Vg) of 47 km/s. The Moon reaches First Quarter on April 20, so it could be a nuisance during visual watches or DSLR photography. Video should be relatively unaffected. Please report your observations to the Meteor Section
Clear skies,
     Alex.