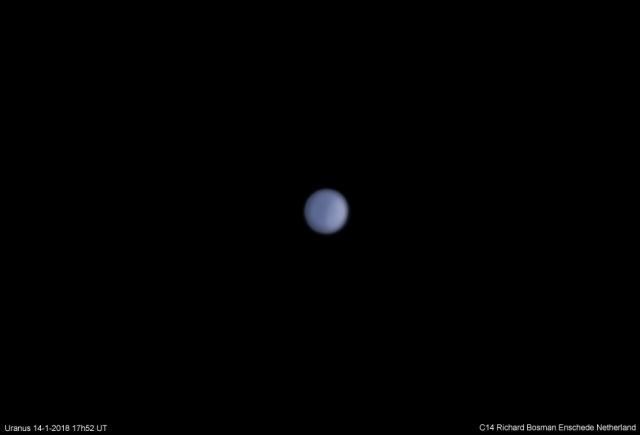 Uranus in opposition on October 24, 2018
I see little observations from Uranus, I think we can do the opposition of 10/2018 more because the altitude is around 50 degrees!
It will take a while but I do not think I can say anything about Uranus. Is it difficult to observe Uranus and record details.
Not as difficult as you think, it is important that you use a longpass red filter and the most important is that you should not enlarge too much. You get the better shots when your frame is high just think about 20-30 frames per second. Even if the image is very small.
Here is an example, Uranus in the primary focus of a C14.
Uranus 2018-01-14 17h52 UT C14 Camera ASI 224MC
Total duration is 30 minutes and I thought it was used 5 avies.
You can drift the rotation with Winjupos.
Website resolution: http://astrofotografie.nl/uranus-2018-01-14-17h52ut-r-bosman.html
Regards Richard