Back to Basics Workshop, St Asaph, North Wales
Friday 9th Oct 201522:00
Are you new to Astronomy?
Then the BAA "Back to Basics" Workshop is for YOU!
Saturday October 10th 2015
OpTIC Technium, Glyndŵr University, Ffordd William Morgan, St Asaph LL17 0JD
The British Astronomical Association has designed a programme of talks and practical sessions to help you learn basic techniques and develop your interest to its full potential. Experienced people will be on hand to answer your questions.
The cost for the meeting is £13.00 BAA Members & children under 16. £15.00 for non-members. Price includes refreshments and a buffet lunch.
Retailers attending will be BAA Sales and Cambrian Photography Ltd
| | | |
| --- | --- | --- |
| 09:30 | Registration – Tea/coffee | Cofrestru – te/coffi |
| 10:00 | Official welcome – The next BAA President – Dr Jeremy Shears | Croeso swyddogol – Llywydd BAA |
| 10:05 | So what astronomy can I do? – Mrs Hazel Collett | Felly pa seryddiaeth ga i ei wneud? |
| 10:15 | What equipment & books do I need? – Dr Stewart Moore | Pa offer a llyfrau ydw i eu hangen? |
| 11:15 | Solar observing and Workshop – Ms Lyn Smith | Arsylwi'r Haul a gweithdy |
| 12:00 | Starting Radio Astronomy – Mrs Karen Holland | Cychwyn efo radio-seryddiaeth |
| 12:45 | Lunch | Cinio |
| 13:45 | Preliminary: Excursion through this remarkable building called OpTIC Technium. | Taith i weld OpTIC Technium |
| 15:00 | Lunar observing & Workshop – Mr Nick James | Arsylwi'r Lleuad a gweithdy |
| 15:45 | Afternoon Tea | Te prynhawn |
| 16:15 | Imaging for Beginners – Tony Morris | Creu delweddau i ddechreuwyr |
| 17:00 | Feedback, Q&A session & Raffle | Adborth, Hawl i holi a Raffl |
| 17:15 | Close. | Gorffen |
Meetings Organiser Mrs Hazel Collett
The following Welsh translation of this page has been provided by our Welsh hosts: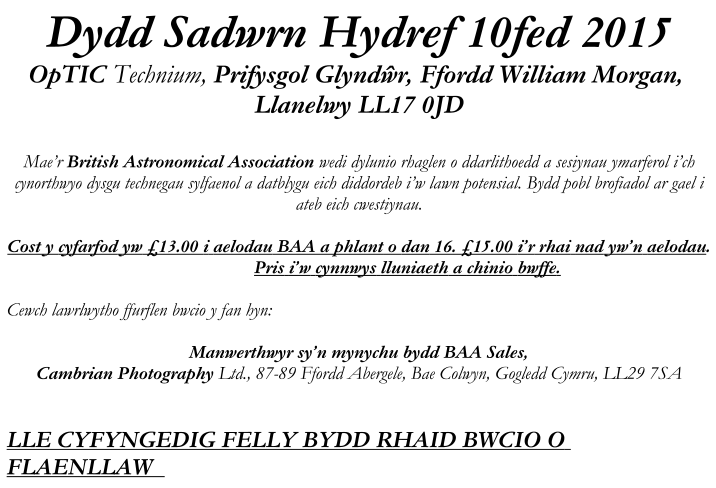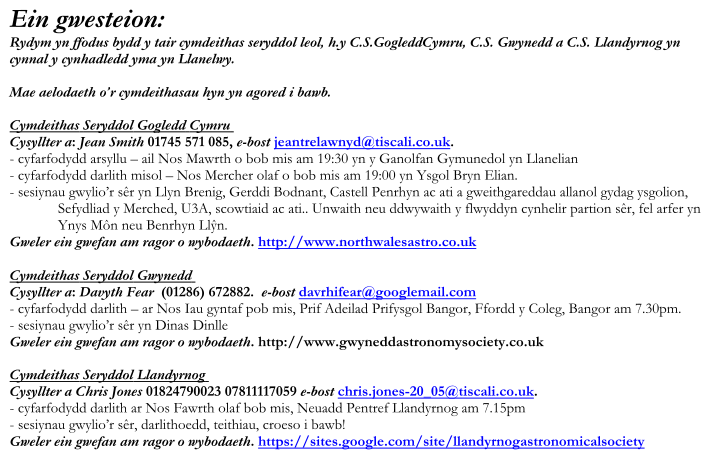 Venue
St Asaph, North Wales