2015 Guide to the Night Sky
| | |
| --- | --- |
| By Storm Dunlop & Wil Tirion | Reviewed by Hazel McGee |
| Collins 2014 | 96 pages |
| Price £6.99 (pbk) | ISBN:978-0-00-759868-7 |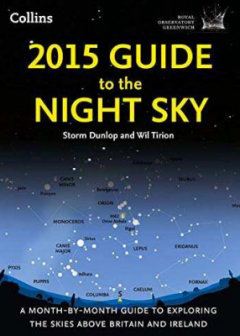 This attractive little booklet, small enough to slip into a pocket or rucsac, is well described on its cover: 'A month-by-month guide to exploring the skies above Britain and Ireland'. For each month we find two maps of the visible constellations at 50°N, looking north and looking south, with some carefully-written and informative text for each, followed by notes and charts of the Moon and planets for the month, giving their positions and highlighting interesting events and conjunctions.
The monthly sections are preceded by a useful introduction to finding your way around the naked-eye sky, with explanations of how to get the best from the maps and charts; at the back of the book there is a glossary, tables of the constellations and some well-known asterisms, a brief bibliography, and lists of UK national astronomical societies and publications.
The guide is clearly intended for adults or teenagers, and would be a worthwhile introduction for a layperson interested in starting practical astronomy by going out under the stars and beginning to find their way around; for more experenced amateurs, also, it makes a handy and straightforward guide and reminder of coming events, and a quick reference to the available constellations at any given date and time. Recommended.
Hazel McGee is President of the Association and Editor of the Journal.
The British Astronomical Association supports amateur astronomers around the UK and the rest of the world. Find out more about the BAA or join us.