An anthology of visual double stars
| | |
| --- | --- |
| By Bob Argyle, Mike Swan & Andrew James | Reviewed by John McCue |
| Cambridge University Press 2019 | 482 pages |
| Price £34.99 | ISBN:978-1-316-629295-3 |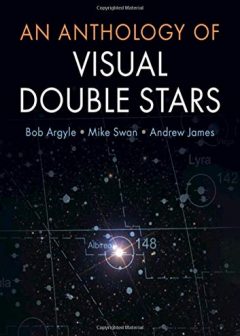 Ever since MacEvoy and Tirion's The Cambridge Double Star Atlas1 was published ten years ago, this anthology by three distinguished authors has yearned to be written. It is the Atlas' perfect companion, and maybe it is intended to be so.
The Atlas included a list of the finest visual double stars for the amateur observer – a showpiece catalogue of 133 – at the beginning of the book. From this number, your reviewer was inspired to make his own wish list2 of 101 visible from the latitudes of the UK. In this anthology, Argyle, Swan and James present a potted history for 175 of the best doubles for the amateur observer and 92 of these jewels are, unsurprisingly, in the showpiece list of the Atlas, making cross-reference a valuable tool. Now we can discover the background of each double star, like finding the human being behind a name during a television interview.
Each double star has its own chapter, and therein is a finder chart, details of the immediate celestial environment, a tabulated summary of the double's physical parameters, a fascinating history and, most importantly, an historical summary of measurements of the double.
These objects are a joy to see through the eyepiece and marvel at, but their real importance is in the metric work that can be carried out at the telescope. Observers can measure how far apart the double is (separation in arcseconds) and the angular orientation of its stars (measured in degrees from north through east). In the case of stars that are genuinely bound gravitationally (termed binaries), and tightly so, then observation over a period of many years can reveal changes and thus we can determine the apparent orbit. The stars' masses can hence be determined and this is the only direct way of doing so. Since the mass of a star determines its evolution, these studies are vitally important.
The Anthology presents a chapter summarising the ways in which an observer can measure these properties, as well as general observing techniques. Your reviewer has experience of the 'Graticule eyepiece' and 'CCD imaging' methods, though both of these can be expensive. (With this in mind, he has devised a cheaper method using a crosshair eyepiece and a stopwatch2,3, which is still undergoing testing and development by BAA members.)
Useful chapters are also included on 'Double star resources' – detailing websites and catalogues – and 'Observational double star groups', where both existing and new observers can contact others (it is quite probable that the Anthology will inspire more observers to explore these fabulous celestial sights). For your reviewer though, the most fascinating chapter is that giving biographies of well-known current and historical double star observers. This chapter really brings the science to life.
I can heartily recommend this volume to amateur astronomers and especially those of us in towns; we urban dwellers can enjoy the observation of double stars in an environment where many deep sky targets can be a challenge. If you already have The Cambridge Double Star Atlas, buying the Anthology is a must. If you haven't – buy both!
John McCue graduated in astronomy from St. Andrews and began teaching. He was Director of the Wynyard Planetarium and Observatory from 2002, where he became engrossed in double stars through remote astronomy with school parties.
The British Astronomical Association supports amateur astronomers around the UK and the rest of the world. Find out more about the BAA or join us.