It Came From Outer Space Wearing an RAF Blazer!
| | |
| --- | --- |
| By Martin Mobberley | Reviewed by Simon Mitton |
| Springer 2013 | xxvi + 655 pages |
| Price £22.95 (pbk) | ISBN:978-3-319-00608-6 |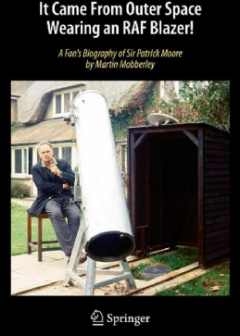 The book I have before me has a wonderful cover photograph (1970) of a relaxed pipe-smoking Patrick Moore seated in the garden of Farthings, with his beloved 12.5-inch Newtonian and its run-off shed in the foreground.
Patrick Moore gave years of his life to promoting and supporting the BAA, starting as Lunar Section secretary in 1948, then progressing to Mercury & Venus Section Director (from 1955) and Lunar Section Director (from 1964). First elected to Council in 1951, he served in that capacity until 1999 apart from a handful of gap years while looking after his frail mother.
For almost half a century Patrick was a dominant figure on Council, who expended enormous energy on promoting the BAA, and in developing its expansion. Fittingly, the final sentence in the book declares, 'It was the BAA that made Patrick what he was, not the BBC!' Martin Mobberley's doorstopper 'Fan's Biography of Sir Patrick Moore' was ten years in the making. This weighty tome will surely render any further biography second best, until some time in the future when a more scholarly and shorter volume assessing Patrick's lasting impact would be appropriate.
As a professional historian of science I am normally wary of biographers who were in the subject's inner circle. Such accounts tend to be little more than a secular version of hagiography, a literary genre that encompasses legend and great deeds. That being said, Mobberley skilfully demolishes several of Patrick's legends: he made up the story of Lorna the fiancée, deluded himself about sightings of Transient Lunar Phenomena, and his claims about assisting NASA prior to the Moon landings were untrue. But the book is a thorough record of Patrick's real achievements: the Sky at Night obviously, his service for the BAA, as well as his great generosity towards the many charities for which he raised money, and his kindness and encouragement of young people whom he saw as future members of the Association.
The text is written in the style of a chronicle, with copious provision of information on the dates of BAA Council meetings, the people participating (or arguing), and the political challenges that Patrick faced. There are very good narratives here on major blow-ups at Council. Quotations of Patrick at his most vocal and loudest are set in capital letters, a typographical device that conveys nicely Moore's strident and sarcastic tone to those who begged to differ. There are sufficiently many quotations for one to see that Patrick often pursued arguments by bombastic assertion rather than cool logic, with opponents worn down not won over.
There's humour on nearly every page as well, an extraordinary achievement, particularly when describing Patrick at his most dysfunctional or having to wing it on live broadcasts. I estimate that there are about 4000 exclamation marks in the text, which does mean the narrative often shouts at the reader! Neat touches include a list of Patrick's favourite expressions, beginning with 'Frankly, we just don't know,' and including 'Ban all women teachers' (to which I can personally add 'Ban all women copy editors'). Useful tables include a record of his service for the BAA, the total eclipses he attended, and titles and year of publication of his 300+ books. The latter excludes revised editions; Amazon lists almost 1800 ISBNs for books written or edited by Patrick.
This biography is very entertaining and in-formative. I can recommend it to everyone who knew or knew of Patrick Moore. Attractively priced, it would be a very good Christmas present for any PM fan. I congratulate the author on producing such a wonderful record of Patrick, who was by turns an enigmatic character, a spoilt child, a practical joker, an engaging speaker, and a personal friend of mine for almost 50 years.
Dr Simon Mitton is a Vice President (2012-2014) of the Royal Astronomical Society, and writes here in a personal capacity.
The British Astronomical Association supports amateur astronomers around the UK and the rest of the world. Find out more about the BAA or join us.