Stargazers' Almanac 2014
| | |
| --- | --- |
| By Bob Mizon | Reviewed by Ann Davies |
| Floris Books 2013 | 32 pages |
| Price £14.99 (pbk) | ISBN:978-0863-15945-9 |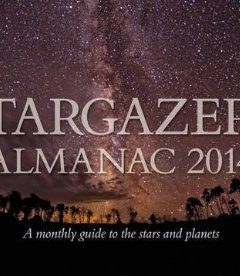 The Stargazers' Almanac for 2014, a monthly guide to the stars and planets, is available from BAA Sales either online via the website or from the sales stand at meetings. This calendar is published annually and is an invaluable observing aid with charts showing what can be seen in the northern and southern sky each month, plus the changing phases of the Moon.There is advice on how to use the guide with lots of interesting information about observing through the year. The calendar also contains pointers to useful websites and further reading.
The Almanac this year features an article by Bob Mizon entitled 'The Campaign for Dark Skies: Twenty-Five Years On'. He discusses the original idea of the campaign and explains the progress that has been made in the last 25 years. CfDS has worked closely with the lighting industry and Parliament, gradually gaining support and sympathy from MPs. Bob explains the work being done by the campaign in collaboration with the lighting industry to improve the dark sky situation.
Two pages are devoted to the life and work of Galileo Galilei. Galileo was accused of heresy for supporting the Copernican theory and his difficulties and struggles are described. This informative article also contains an account of the life of Nicolaus Copernicus and is well illustrated with diagrams and etchings.
This year's Almanac follows the popular format of previous years with a monthly calendar showing what can be seen in the night sky throughout the year along with much useful information for all skywatchers and observers. There are also charts showing 'The Stars Overhead', useful for beginners, and 'The Signs of the Zodiac' which should appeal to a wider audience.
Ann Davies is Sales & Promotions organiser for the BAA and has been a member of Council for many years. She is a founder member of the Newbury Astronomical Society.
The British Astronomical Association supports amateur astronomers around the UK and the rest of the world. Find out more about the BAA or join us.