Stargazers' Almanac 2016
| | |
| --- | --- |
| By Bob Mizon | Reviewed by Ann Davies |
| Floris Books 2015 | 32 pages |
| Price £14.99 (pbk) | ISBN:978-178250-196-1 |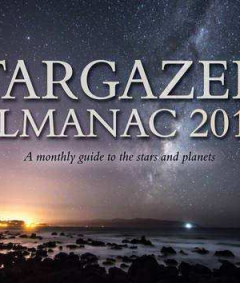 The Stargazers' Almanac for 2016 is a wall calendar for astronomers whose main feature is a series of monthly charts for the northern and southern skies. It is designed for naked eye astronomy and begins with a clear description of how to use the guide. The monthly charts show planet positions, phases of the Moon, constellations and information about meteor showers. It also tells you about objects not shown on the charts and suggests books, magazines and websites that would be useful for the observer.
This year's Almanac has an article explaining how to 'Make the Most of Meteors!' It describes what meteors are − not falling stars but small fast-moving particles of cosmic dust and debris. This is a comprehensive description of meteors, explaining the difference between meteors and meteorites and where they come from. The almanac provides basic information on how and when to watch meteor showers. Meteor watching can be sociable but remember that warm clothing and comfort is essential. You don't need equipment and can record what you see with the naked eye. There is also a reminder to send a report of your observations to the BAA Meteor Section. Meteor watching is a good activity for beginners to astronomy since it is both fun and scientifically useful.
The second article is about the current state of Britain's outdoor lighting and how it affects us all. The dull orange glow from sodium street lights is gradually changing to a greyish haze with the introduction of white LEDs (light-emitting diodes). Although the lighting industry has changed to white lighting it is not good news for astronomers, as these brighter lights cause more light to be scattered from the ground. The increased skyglow has an impact on everyone, causing sleeping and health problems. This article explains the changes that have happened over the last fifty years and gives the manufacturers' reasons for using LEDs. New technology has to be found but the implications and side effects must be carefully considered.
The Almanac is full of useful information with the month by month star charts providing a good reminder of what can be seen in the sky each month. It would make a great introduction to observing the night sky for a beginner. It has a loop and eyelet for easy wall hanging and comes in a cardboard gift envelope. The text of the Almanac is written by Bob Mizon, coordinator of the BAA Commission for Dark Skies.
Ann has been a member of the BAA Council for many years. She is Sales & Promotions organiser for the BAA.
The British Astronomical Association supports amateur astronomers around the UK and the rest of the world. Find out more about the BAA or join us.