Stargazers' Almanac 2017: A monthly guide to the stars and planets
| | |
| --- | --- |
| By Bob Mizon | Reviewed by Ann Davies |
| Floris Books 2016 | 32 pages |
| Price £14.99 (large format pbk) | ISBN:978-1-78250- 312-5 |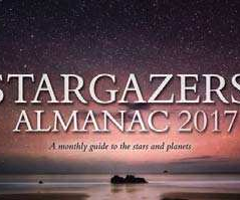 The Stargazers' Almanac is published annually and provides invaluable information about what can be seen in the northern and southern sky each month. It comes with a clear description of how to use the guide, making it suitable for beginners to observing.
The 2017 edition features an interesting article about the life of Charles Messier. He became interested in astronomy at an early age through marvelling at the Great Comet of 1744. He went to work in Paris, whose skies at that time were relatively unpolluted, and became one of the greatest comet hunters of all time, but to most astronomers Messier is remembered for his catalogue of 103 deep-sky objects. His first discovery, Messier 1 or M1, is now quite difficult to observe because of today's light pollution. His catalogue of objects which he thought could be confused with comets includes many 'famous celestial delights' and made Messier one of the best-known astronomers of his time.
After reading the introduction to the second article 'The Great American Eclipse of 2017' anyone who has not seen a total eclipse will want to go to the USA for August 21. The eclipse will be visible within a track running from north-west to south-east across the USA, allowing millions of people the opportunity to experience totality. Maps and timings are given in the article, plus advice on how to view the eclipse safely.
In the third article Bob Mizon, coordinator of the BAA Commission for Dark Skies, gives an update on the state of light pollution in the UK. In 'White Nights' he discusses the implications of the change from sodium street lights to white LEDs. Implementation of the new technology must be watched carefully as it potentially affects the health of people and wildlife as well as not being good news for astronomers.
This edition of the Stargazers' Almanac would make a fine Christmas present for anyone new to observing the night sky. It comes in a cardboard mailing envelope and has a loop and eyelet for hanging. It can be bought from BAA sales online for £13.00 + p&p.
The British Astronomical Association supports amateur astronomers around the UK and the rest of the world. Find out more about the BAA or join us.