Stargazers' Almanac, 2019
| | |
| --- | --- |
| By Bob Mizon | Reviewed by Ann Davies |
| Floris Books 2018 | 32 pages |
| Price £14.00 | ISBN:978-178250-495- 5 |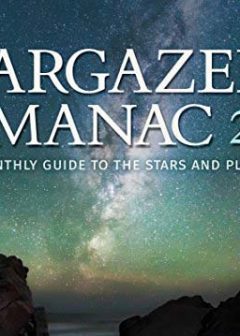 The Stargazers' Almanac for 2019 is a wall calendar giving a monthly guide to the stars and planets. It has charts showing what can be seen in the northern and southern skies each month plus the changing phases of the Moon. It includes constellations and zodiac positions on an overhead-sky star map useful for all sky watchers and observers. Advice is given how to use the guide. No telescope is needed to enjoy these charts and it is suitable for beginners and children.
Two articles are featured, 'Beneath the starry vault' on behalf of the Commission for Dark Skies. Everyone who is interested in the night sky should read this inspiring article, which is optimistic despite LEDs not having the beneficial effect originally hoped for. The second article is 'Einstein, Eddington and a historic eclipse'. It starts with the eclipse on 1919 May 29, a solar eclipse that lasted 6 minutes. The images taken during this eclipse were some of the most famous in history. Eddington performed the first experimental test of Einstein's general theory of relativity and helped prove his predictions were correct. This article charts the events that led to this conclusion and also discusses Eddington's contributions to the science of astronomy and astrophysics.
The Almanac is published annually and written by Bob Mizon, co-ordinator for the BAA Commission for Dark Skies. This edition follows the same layout as previous years with a loop and eyelet for easy wall hanging and comes in a cardboard envelope. It would be an ideal Christmas present and can be bought from the BAA online sales, price £14.
Ann is the Association's Sales & Promotions coordinator and has been a member of BAA Council for many years.
The British Astronomical Association supports amateur astronomers around the UK and the rest of the world. Find out more about the BAA or join us.