Stargazing: a beginner's guide to astronomy
| | |
| --- | --- |
| By Radmila Topalovic & Tom Kerss | Reviewed by Martin Edmonds |
| Harper-Collins 2016 | 224 pages |
| Price £9.99 (pbk) | ISBN:978-0-00- 819627-1 |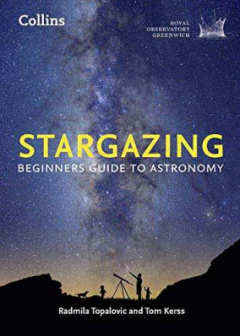 An introduction to star-gazing from the Programmes Officer and the Lead Astronomy Education Officer at the Royal Observatory in Greenwich must certainly have a strong pedigree. This full colour, glossy, pocket-book sized volume will not disappoint and is ideally timed for the Christmas market. Whilst containing little that will be new to established astronomers, this would certainly make an excellent gift for someone looking to begin to take an active interest in astronomy.
There are obviously many such beginners' guides available and Stargazing introduces the field in the way in which you would expect; a general introduction to the night sky is followed by chapters on naked eye viewing, taking photographs and using binoculars and telescopes. However, the real strength of the book is the advice offered on the important skills and tips needed when first starting to explore the field. Information and suggestions about adapting your eyes to darkness (and keeping them adapted) will be welcomed by readers entirely new to the study, as too will the sections on apps, software and camera accessories.
Tom Kerss will need little introduction to readers of this journal and his experience as a science communicator is clearly evident in this very accessible book. Concluding with seasonal charts for the northern and southern hemispheres, Stargazing for Beginners also includes a useful glossary and a photocopiable template for an Observing Log.
This accessible and well-presented book would make an ideal gift for any beginner to astronomy – recommended.
Schoolteacher Martin Edmonds is a member of the BAA, a Fellow of the Royal Astronomical Society and a determinedly armchair-bound astronomer.
The British Astronomical Association supports amateur astronomers around the UK and the rest of the world. Find out more about the BAA or join us.