The crowd and the cosmos – adventures in the Zooniverse
| | |
| --- | --- |
| By Chris Lintott | Reviewed by Hazel McGee |
| Oxford University Press 2019 | 265 pages |
| Price £20 | ISBN:978-019-884222-4 |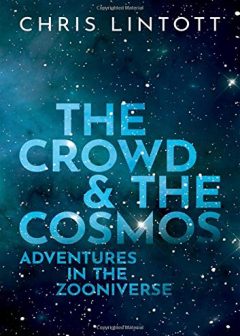 Chris Lintott's name will be familiar to longtime BAA members as the schoolboy writer (with David Reid) of a paper in our Journal (vol. 106, p.265 (1996)) describing the ambitiously equipped observatory that he used at Torbay Boys' Grammar School in the early 1990s. The facility, and the school staff and willing helpers from Torbay Astronomical Society, evidently did their job well, for Chris is now a professor of astrophysics and a research fellow at Oxford University, as well as having a more recent claim to fame as a presenter on the BBC Sky at Night programme.
Amateur astronomers also know Chris as one of the originators of the Zooniverse website, the gestation and development of which he describes in The Crowd and the Cosmos. The concept of 'citizen science' is familiar now in many fields, but ten or twelve years ago the idea of asking unpaid and unskilled volunteers to help with sorting and analysing the vast quantity of data spewed out by modern experiments and studies still seemed new and faintly unlikely. The venture was a success however, and set the path for many similar projects unconnected with astronomy, some of which Chris also covers in his book (counting penguins in Antarctica, anyone?) He also explores the implications for the future of science in general of the arrival of terabytes of data that threaten to overwhelm orthodox academic resources, and the exciting developments that can result as legions of amateur enthusiasts join the fray.
Some of Chris's explanations of the astrophysics and cosmology of his early galaxy classification studies may bemuse the average amateur, but nevertheless this is a highly readable book that will interest (and hopefully inspire) anyone seeking a worthwhile pastime for spare moments and cloudy nights. Recommended.
Following a career as a computer analyst-programmer 'back in the old days', Hazel M. edited the BAA Journal for 25 years from 1993 to 2018.
The British Astronomical Association supports amateur astronomers around the UK and the rest of the world. Find out more about the BAA or join us.