The sky is for everyone: Women astronomers in their own words
| | |
| --- | --- |
| By Virginia Trimble & David A. Weintraub (eds.) | Reviewed by Mary McIntyre |
| Princeton University Press 2022 | 504 pages |
| Price £25 | ISBN:9780691207100 |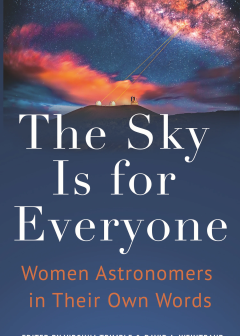 There have been numerous books written about the challenges women working in astronomy have faced over the years. Most of them were written by other people, and there is always a risk that an author may slightly bend the interpretation of primary source material to fit their own narrative. This book stands out from others because the majority of the text is a collection of autobiographical essays written by the astronomers themselves.
The first chapter is a summary of the historic achievements of female astronomers, beginning with Dorothea Klumpke who in 1893 became the first woman ever to be awarded a higher degree in astronomy, and ending with Andrea Mia Ghez who in 2020 became the first woman to be awarded the Nobel Prize in Physics for her work in astrophysics. It is a fascinating chapter which is packed with many names you will recognise, but also many you may not.
Following this, there are 37 featured autobiographical essays which give a fascinating insight into the career paths each of these women have followed and the research they have carried out. They talk about the difficulties they have faced with sexism and prejudice, but also about the very supportive members of staff who went out of their way to help these gifted women. Parts of their stories are not easy to read, but their determination to follow their dreams of a career in a field that they love is incredibly inspiring.
A final brief chapter talks about how the landscape is changing for the better and looks back at how far we have come on the journey towards equality for women working in astronomy. Although we still have a way to go to reach true equality, these stories will absolutely inspire our next generation of female scientists. There is an excellent Further Reading section at the end of the book, but the content of these essays alone is an absolute must-read for any young lady who is thinking of starting a career in astronomy. The same applies to anybody interested in the history of women in astronomy.
An amateur astronomer based in Oxfordshire, Mary McIntyre is a speaker, author, astrophotographer and space artist. She leads the UK Women in Astronomy Network and in 2021 was awarded the BAA's Sir Patrick Moore Prize.
The British Astronomical Association supports amateur astronomers around the UK and the rest of the world. Find out more about the BAA or join us.