The Stargazers' Almanac 2015
| | |
| --- | --- |
| By Bob Mizon | Reviewed by Ann Davies |
| Floris Books 2014 | Pp 32 pages |
| Price £14.99 (pbk) | ISBN:978-1-78250-108-4 |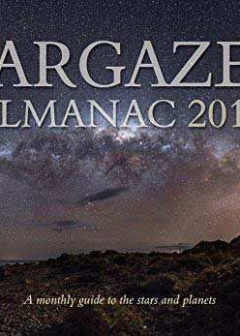 The Stargazers' Almanac for 2015 is a month-by-month guide to the night sky. It is produced by Bob Mizon, well known to BAA members for his work with the Campaign for Dark Skies. This year's Almanac has the same format as previous years with charts showing two views of the night sky each month looking north and south. It is designed for use in the northern hemisphere. The charts show the positions of planets and the changing phases of the Moon plus much more information. The Almanac is suitable for all who enjoy the beauty of the night sky without using binoculars or a telescope.
This year's Almanac features an article asking 'Whose Night is it anyway?'. Considerable progress has been made with the lighting industry and the Government's realisation of the need to save energy. The effect of bad lighting on insects, birds, fish, reptiles and mammals is being investigated, but much more needs to be done. The article also gives details of where to find more information about light pollution.
A hundred years ago in 1915 Proxima Centauri, our nearest star, was discovered. Bob tells the story of the first observations made by the Scottish astronomer Robert Innes from South Africa, and subsequent observations by Harlow Shapley. This distant star has continued to surprise astronomers as Bob explains.
This new edition of the Stargazers' Almanac would make a good Christmas present for any newcomer to astronomy. It comes in a cardboard gift envelope and can be bought online from BAA Sales.
Ann is a founder member of Newbury Astronomical Society and has been a member of the BAA Council for many years. She is Sales & Promotions organiser for the BAA.
The British Astronomical Association supports amateur astronomers around the UK and the rest of the world. Find out more about the BAA or join us.