A good time for all at the Kelling Heath Star Party
2017 May 24
Many may not be aware of the twice-yearly fixture in the amateur astronomer's calendar that is the Kelling Heath Star Party. Situated in north Norfolk close to Weybourne, Holt, I only heard about it through my local club, Crayford Manor House, back in 2010 and really wasn't keen on the idea of camping at this stage of life. However, always wanting to keep an open mind about life experiences I decided to give it a try and have become a firm fan since then.
The thing to bear in mind is that the UK weather is basically cloudy and therefore a star party that offers plenty of alternative diversions to stargazing is going to be a winner. This April, after the wonderful warm weather and clear skies that were delivered for the BAA Winchester Weekend the British cloud duly rolled in for Kelling on April 21–23. But who cares.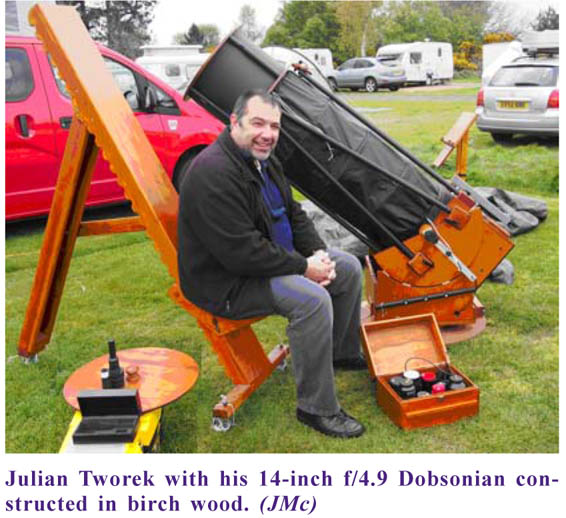 The event is organised by Norwich Astronomical Society together with the management of Kelling Heath Holiday Park to ensure that all runs smoothly and light pollution is kept to a minimum. Woe betide the person who forgets to disable their interior car lights and goes rummaging in the boot for a forgotten eyepiece or fresh batteries. Being in close proximity to many birdwatching sites, steam trains and RAF Lakenheath, not to forget the Muckleburgh Tank Collection (though I have tried to) brings out the inner nerd in us all.
Obviously it is a great place to show off skills in telescope construction. Julian Tworek (Orpington AS) stunned with his home made 14-inch [355mm] Dobsonian beautifully finished in birchwood. He plans to build another, bigger, 'scope. And between the gaps in the clouds on Friday night we were able to see Jupiter's belts and the Great Red Spot with amazing clarity.
North Norfolk Astronomy Society generously opened up their club at Wiverton to host a BBQ and to show off their 12-inch [305mm] Calver Newtonian. As you can see the skies remained stubbornly cloudy, but the kind hospitality and good cheer made up for that. Of course the skies cleared on Sunday night after many had to return home for work.
There is always another chance when the astronomers gather again in the autumn – from Wednesday September 20 to Sunday Sep 24: www.starparty.org. Bring your umbrella.
Janice McClean
The British Astronomical Association supports amateur astronomers around the UK and the rest of the world. Find out more about the BAA or join us.