A gravitationally lensed supernova
2022 October 6
Supernova SN2022qmx was detected by the Zwicky Transient Facility at Palomar Observatory on Aug 1. What made this object especially interesting was a report issued on Aug 25, suggesting it was a strongly lensed Type Ia supernova, with a redshift z = 0.35, and was probably three magnitudes brighter than it would otherwise have been. Robin Leadbeater alerted observers to the event via the BAA Forum (click here).
Within a few hours, David Boyd and Paul Leyland had each imaged the 20th-magnitude transient. This episode displays how amateurs can rapidly respond to transient announcements and provide follow-up data.
Robin Leadbeater's image of the field from his Three Hills Observatory on 2022 Aug 28 is shown here (40×20s stack, unfiltered).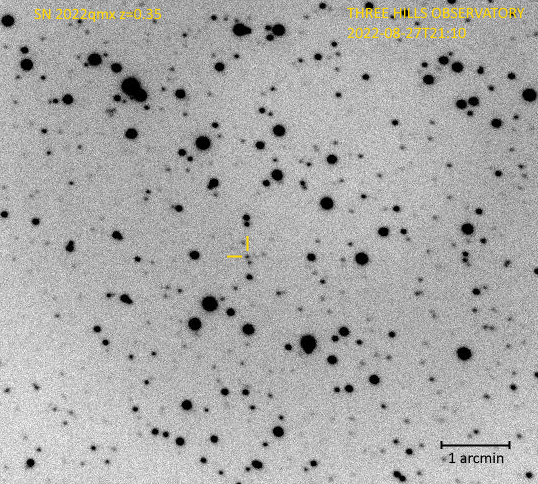 The British Astronomical Association supports amateur astronomers around the UK and the rest of the world. Find out more about the BAA or join us.