Award for the Cranborne Chase AONB dark skies initiative
2017 July 21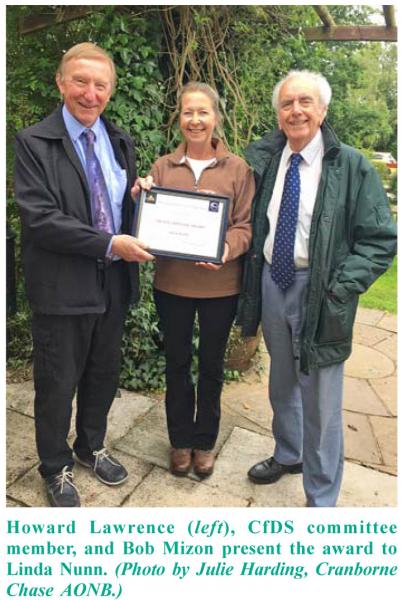 The Commission for Dark Skies' Joy Griffiths Award for 2017 was presented on June 5 to Linda Nunn, Director of the Cranborne Chase Area of Outstanding Natural Beauty (AONB). The terms of the award specify that it is to be given to an individual, but both CfDS and the AONB staff understand that a team effort was very much what was being recognised.
Sky Quality Meter readings taken by CfDS members on moonless nights on the Chase confirm that its northern half, away from the large conurbation of Bournemouth and Poole beyond its southern border, has the darkest skies in south central England. The 380-square-mile Cranborne Chase AONB, which spans the border between Dorset and Wiltshire, aims to become the UK's first AONB to achieve International Dark Sky Reserve status within the scheme promoted by the International Dark-Sky Association (IDA).
Linda and the team have done sterling work to publicise and perpetuate the area's starry skies, and the Wessex Astronomical Society and the Commission for Dark Skies have supported them with observing evenings and talks to raise public awareness of their precious asset. More details of this work can be found on their excellent website www.chasingstars.org.uk which advertises stargazing events, and gives advice on good lighting and exploration of the night sky.
Among the many previous recipients of the Joy Griffiths Award are Emma Marrington, light pollution campaign officer at the CPRE, James Abbott, tireless dark-skies advocate in Essex, and CfDS committee member Daniel Nixon (www.need-less.org.uk), who has produced some wonderful graphics on light pollution and recently designed the Commission's striking display screen and banners.
Bob Mizon, Coordinator, BAA Commission for Dark Skies

The British Astronomical Association supports amateur astronomers around the UK and the rest of the world. Find out more about the BAA or join us.