BAA at New Scientist Live 2019
2019 December 1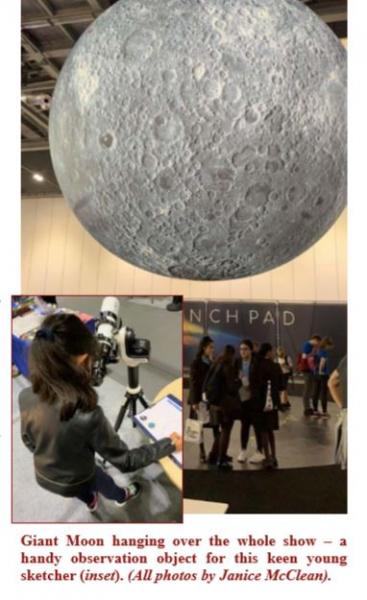 Over Oct 10–13, the BAA took advantage of another huge outreach opportunity in taking their stand at New Scientist Live 2019. Held in the massive ExCel Centre, London Docklands, the event had over 120 talks across seven stages, 150 exhibits and lots of interactive experiences showcasing the latest innovations in technology and research. 40,000 professionals, families and science lovers all thronged the site, which was rather dominated by a huge Moon.
The BAA stand focused (forgive the pun) on how to observe, with the help of the Castle Point, Crayford Manor House and Flamsteed astronomical societies. These groups brought along telescopes, games and quizzes as well as their expertise to enthral and entertain. We had beautiful images on the back walls by Michael O'Connell, Tony Cross, R. Knisely-Marpole, Damian Peach, Maurice Collins, Tom Wakefield and Chris Hooker.
Most of the floor space was given up to large Dobsonians, with some smaller refractors pointing at our own model of Jupiter (thanks to 3-D printer extraordinaire Mark Radice and planet artist Steve Goldson); the University of Leicester's helpfully hanging Mercury and of course that huge Moon dominating the hall. Without the complications of polar aligning and tracking, many young visitors produced excellent sketches and camera phone images with ease; they seemed to take it very seriously.
Some older members may remember 'Johnny Astro', a wonderful toy of the 1960s demonstrating Bernoulli's principle. This had members of the RAF in raptures and was of course mastered by a much younger visitor.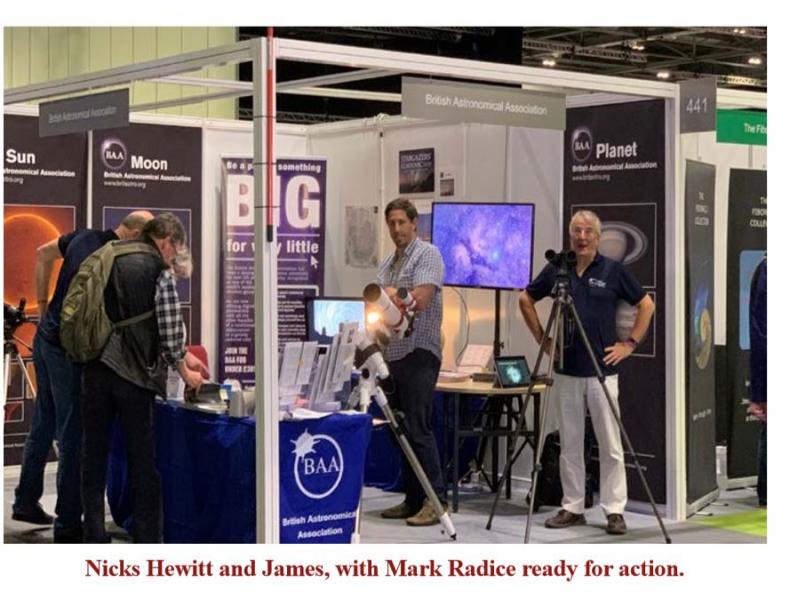 Tim Peake was much in evidence again at the show, speaking about returning to the Moon and running his 'Ask an astronaut' sessions. Al Worden, Command Module Pilot of the Apollo 15 lunar mission, was 'in conversation' and in evidence the whole four days, delighting younger aspiring astronauts and signing autographs. He certainly has stamina.
Michele Bannister spoke on interstellar worlds with the inside story on 'Oumuamua; Maggie Aderin-Pocock gave a run-down on the past, present and future of the Moon; Jo Dunkley examined the age of the Universe and Natalie Starkey described why comets and asteroids are invaluable time capsules. That is just a small sample from the 'Cosmos' section, never mind the Earth, Technology, Engineering, Humans and Performance ones.
All in all, another great show and I offer my sincere thanks to all those who assisted in getting the stand together. Keep the dates in your diary for next year – Oct 15–18 at the Excel Centre, London Docklands. New Scientist are offering early bird discounts on tickets.
Janice McClean, Events Coordinator
The British Astronomical Association supports amateur astronomers around the UK and the rest of the world. Find out more about the BAA or join us.