Brecon Beacons dark skies: five years on
2017 September 21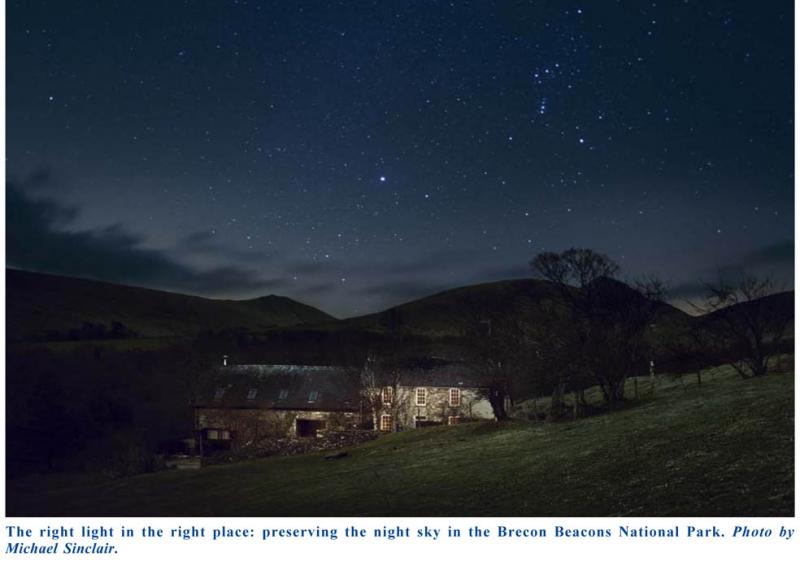 In 2012, the Brecon Beacons National Park Authority announced its intention to become an International Dark Sky Reserve within the context of the worldwide scheme run by the International Dark-Sky Association (IDA), based in Tucson, Arizona. The IDA has sections (or chapters, as it calls them) in many countries, and the BAA's Commission for Dark Skies (CfDS) works closely with the IDA's initiatives.
The National Park's Dark Sky Coordinator Ruth Coulthard (holder of the CfDS' Award of Appreciation) and her team initially carried out lighting surveys, dark sky measurements and public information through leaflets and stargazing events. In 2015 the Ordnance Survey wrote of their work: 'You'd be hard pressed to find a community which goes to such great lengths to ensure light pollution is reduced. The hard work is obviously paying off – on a clear night you can see just about everything from anywhere in the Brecon Beacons.'
In 2013 February the Park became Wales' first, and only the fifth terrain in the world, to be granted the status of an International Dark Sky Reserve. Support from both national and local authorities was sought, and the then Welsh assembly Environment Minister John Griffiths called the accreditation a 'massive coup', adding that 'It shows the level of commitment here in Wales to tackling climate change and improving people's physical, spiritual and mental well-being.' Prophetic words: the starry sky over the Park is becoming ever better known; tourism, especially in winter months, has been enhanced by the Park's promotion of its beautiful starscapes; and energy is being saved in the Park through improved lighting practices, pursued not only by residents but also by the authorities. The Welsh assembly has recently implemented dimming of LED road lighting and the confining of its colour temperature to no more than 3000K (far less blue-rich, benefiting wildlife and human beings alike).
The queue of areas contemplating or actively pursuing some kind of dark-sky protection scheme is lengthening. The Commission for Dark Skies will continue to support them. Currently, for example, the Cranborne Chase and Dedham Vale Areas of Outstanding Natural Beauty (AONBs) are working with the CfDS. Our National Parks and AONBs are leading the way, towards a time when all Britons, be they in rural retreats or town centres, will enjoy the optimum night sky thanks to star-quality lighting.
Bob Mizon, Coordinator, CfDS
The British Astronomical Association supports amateur astronomers around the UK and the rest of the world. Find out more about the BAA or join us.