CfDS braves the elements
2021 July 31
In 2020 February, the Commission for Dark Skies' travelling display formed part of the South Downs International Dark Sky Reserve's very well-attended festival in Petersfield. Shortly thereafter, the covid curtain descended and all our meetings and events went online. We looked forward to the day when we could once again spread the word about light pollution in public, with special reference to the recently formed All-Party Parliamentary Group for Dark Skies and their policy recommendations to the government.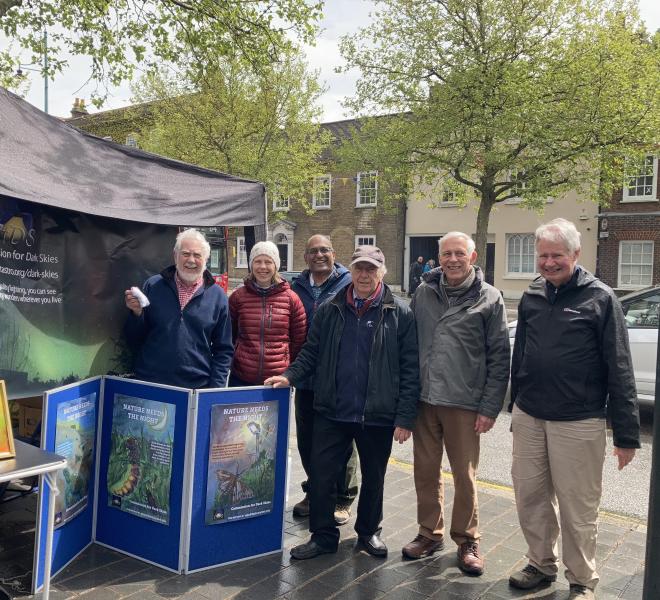 That day finally came as restrictions eased in May this year. On the 23rd of that month, a splendid team of local CfDS supporters set up our stand, complete with gazebo kindly loaned by the Fordingbridge Astronomers, in a busy street in the centre of St Albans. We were part of the town's annual Sustainability Festival. The forecast had promised a dry afternoon with light winds and our Blinded by the Light? handbooks, leaflets and other items were duly laid out, with new banners and posters announcing our presence. Unfortunately, Jupiter Pluvius, bringer of rain, had not heard the forecast. A sudden squall lifted the gazebo, damaging part of the structure. A gusty downpour cleared the street of pedestrians and our tables of their leaflets. Chaos ensued. Undaunted, we rallied, and all was restored to its rightful place beneath the now sagging gazebo as some kind of normality returned. The immediate proximity of the local pound shop meant that our enthusiastic team was able to purchase an ad hoc repair kit for our shelter.
As things gradually dried out, we were able to share the dark skies message with large numbers of people of all ages, many of whom were glad that some kind of legislation of excessive lighting might be enacted in the future, as has already happened in France, Mexico, South Korea and regions of several other countries. Just as public interest in astronomy has (according to reports from many sources) increased during the months of lockdown, so public disquiet at our overlit outdoor spaces and the lack of visibility of the stars from suburban areas seems to have become more evident.
Our next venture is a new schools' booklet for late-stage primary and early secondary pupils called Hidden Stars, featuring images generously donated by talented astrophotographers, and supporting material from other organisations working towards better night skies for our descendants.
---
Bob Mizon, Coordinator, BAA Commission for Dark Skies
The British Astronomical Association supports amateur astronomers around the UK and the rest of the world. Find out more about the BAA or join us.