Change at the helm of the Variable Star Section
2019 October 2
The Variable Star Section Officers gathered on 2019 Aug 10 for Roger Pickard's final Officers' meeting, before he stood down as Director at the end of August. I would like to thank Roger on behalf of all VSS members for the hard work and dedication he has put into the Section during the last 20 years. This, incidentally, makes him the longest serving Director since the Section was formed in 1890 – a remarkable record.
He has seen quite a few changes in variable star astronomy in that time, including the growth of CCD photometry by amateurs and the emergence of large astronomical surveys, and has ensured that the Section remains relevant to today's variable star enthusiasts – both visual and CCD. He has promoted the VSS far and wide. He has also forged links with the professional research community, which rightly holds the work of our observers in high regard. Other developments which he has overseen include the computerisation of the Section's historical and handwritten observations, as well as the updating of the VSS Photometry Database.
Roger leaves the Section in excellent health. I am pleased to say that he will remain as Assistant Director, which will be a tremendous support for me as I take on the Directorship. I am sure members will join me in wishing Roger well in all the things he plans to do after retiring as Director. I know that variables stars will feature prominently! I hope he will have more time for observing and I very much look forward to receiving his variable star observations for many years to come.
I have been interested in variable stars since I was a teenager, but it became my major focus in astronomy about 15 years ago. It is fair to say that the variables have taken over most of my clear nights since then.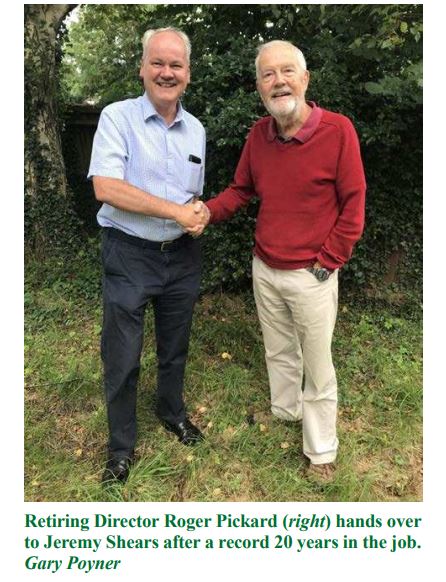 Becoming Director is a tremendous honour and I aim to promote all types of variable star observing, both for pleasure and for science. I would like to intensify links with professionals, to encourage people to contribute to our observing projects and occasional campaigns, and to promote the VSS – and the joy of variables more generally – to people who might not have considered taking up this branch of astronomy. After all it requires little, if any, equipment, yet can provide a lifelong interest. In return, there is much satisfaction to be gained from watching a star night after night, seeing its brightness change, and wondering about the reasons for that change. Studying these stars provides a wealth of information about their properties such as mass, radius, luminosity, temperature, internal and external structure, composition and evolution.
The BAA VSS is the world's longest established variable star observing group and provides advice on which types of variable to observe, depending on the equipment you have. There is a mentoring scheme to help people start. We supply observing charts and publish a quarterly Circular; if you would like to receive the Circular electronically, drop me an e-mail and I will add you to the distribution (Circulars are also available at: www.britastro.org/vss/VSSC_archive.htm).
From time to time we organise observing campaigns (there is currently one running on an old nova, HR Lyrae, which was described on p. 132 of the 2019 June Journal and at www.britastro.org/node/17774). The BAA VSS Alert Group provides timely information about the goings on of variables and updates on campaigns (sign up at: www.groups.yahoo.com/group/baavss-alert/). We also hold Section meetings and our next will take place on Saturday 2020 May 9 at the Humfrey Rooms in Northampton.
If you would like to learn more about the VSS, please do get in contact with me (bunburyobservatory@hotmail.com); also visit our website at: www.britastro.org/vss/.
Jeremy Shears, Director
The British Astronomical Association supports amateur astronomers around the UK and the rest of the world. Find out more about the BAA or join us.