Fiammetta Wilson: A centennial appreciation
2020 June 3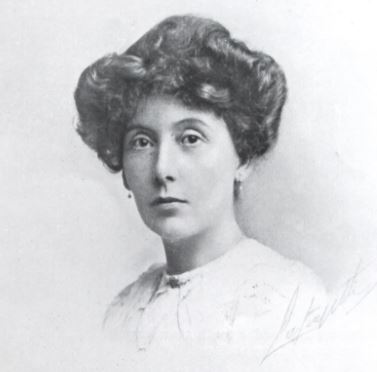 2020 Jul 21 marks the centenary of the death of Fiammetta Wilson, a woman who led a life of some intrigue before settling down to the study of meteors.
She was born in the north-east Suffolk coastal port town of Lowestoft on 1864 Jul 19.1 Her grandfather, father, and uncle were all doctors providing medical care for the town in a time when all such care was 'private'. Fiammetta was christened Helen Frances Worthington and was the eldest of five children born to Francis Samuel Worthington (1836–1912) and Helen Felicite (née Till, 1839–1922) who married in Wandsworth, London in 1862.
The young Helen Frances was home schooled by a governess before attending finishing schools in Germany and Switzerland. Later she travelled to Italy specifically to study music. Back in the UK, Helen's life revolved around attending social events, horse riding, and playing lawn tennis. A pet dog was always at her side. By virtue of her schooling Helen was fluent in German, French and Italian.
On 1889 Oct 29, Helen Frances married Herbert William Webster (1864–1922). Herbert's father (the Revd John Webster, 1826–1886) was a Church of England vicar in Bruera, Cheshire. Maybe his family expected Herbert to enter the clergy too as he attended Magdalen College, Oxford. However, he instead earned an income from performing music and teaching singing. The marriage was far from happy, and in 1907 Helen Frances initiated divorce proceedings against Herbert William on the grounds of his adultery and desertion dating from 1898.
Becoming Fiammetta
Helen Frances reinvented herself as Fiammetta Waldahoff and it is possible she took inspiration from an historical figure, Maria d'Aquino (d. 1382), described in Elegy of Lady Fiammetta written by Giovanni Boccaccio (1313–1375) between 1343 and 1345. Boccaccio went on to cement his popularity with The Decameron (1348–1353) and On Famous Women (1361–1362). Although written by a man, the Elegy is in the first person female voice and is clearly written for a female audience. 'Fiammetta' can be seen as either a pathetic victim of male cruelty, an irresponsible innocent, or a cunning and wholly disingenuous woman. Whatever her true position, she stands out among medieval women as an ardent and outspoken feminist. Maybe Helen Frances saw parallels with her own life and this is why she adopted the name, but why she chose the family name of Waldahoff is unknown.
Under her new identity, she used her knowledge of music to ride the wave of popularity of the BMG (Banjo, Mandolin and Guitar) movement in the early 20th century and teach the mandolin at the Guildhall School of Music in London. She also gave recitals and conducted string orchestras as well as writing her own musical compositions.
In 1908 Helen Frances Webster/Fiammetta Waldahoff married Sydney Arthur Wilson (1876–1925). Around 1910 Fiammetta attended a course of astronomy lectures given by Alfred Fowler (1868–1940) and from that time withdrew from her previous life to devote herself to astronomy. On 1910 Feb 23 she, and her second husband, joined the BAA at the proposal of the travelling astronomical lecturer Joseph Hardcastle (1868–1917).2
One of Madam Waldahoff's pupils, a Miss Laura Strover of 19 Pickford Road, Bexleyheath, also moved from mandolin playing into astronomy; she was elected to the BAA on 1916 Oct 25 at the proposal of Wilson.3 In a strange parallel to Wilson's life, Laura also changed her name by deed poll; in this case on 1899 Mar 10 she changed her family name from Muddle to Strover.
Wilson's compatriots Ella K. Church (1881–1948), a BAA member from 1908 Nov 25 and A. Grace Cook (1877–1958), who joined on 1911 Feb 23, chose to use BAA loan instruments (numbers 19 & 27 respectively).4 For unknown reasons, Wilson chose not to do this (maybe because the only two usable instruments had already gone) and limited herself to small optical means, publishing a paper on observing nebulae with binoculars in the 1916 November edition of the Journal.5 This paper is also the Wilsons' first use of a north-west London address, as they were living at Chestnut Cottage, on Barnet Lane, Totteridge.
First World War
She continued to watch the skies through the War from an elevated platform in the garden, using German-made Zeiss ×8-power binoculars and a small light to record her observations, despite Zeppelin air raids dropping bombs in the vicinity. Unfortunately this attracted the attention of a special constable, who threatened her with arrest as a foreign agent.6
Fiammetta was in the first cohort of female Fellows of the Royal Astronomical Society on 1916 Jan 14; she was proposed by John Rudd Leeson (1854–1927), a retired doctor from Twickenham. Fiammetta sometimes gave her correspondence address as The Pioneer Club, a noted early centre of feminism.
When a meteor is seen by a single observer it can be recorded, but when seen by two people, its path through our atmosphere can also be deduced. Wilson and her colleagues provided more duplicate observations than had been achieved in the entire history of meteor observing. Between the years 1910 and 1920, Wilson observed some 10,000 meteors and accurately calculated the paths of 650 of them.6
When war broke out in 1914 August, the BAA Meteor Section was directed by the Revd Martin Davidson (1880–1968), but he saw it as his patriotic duty to help the allied forces in France so volunteered as a chaplain and left the Meteor Section in the joint hands of Wilson and Cook between 1915 and 1919. However the presence of W. F. Denning (1848–1931), whose methods have been called into question, has tended to overshadow the work of the Section. Denning went as far as publishing a catalogue of 918 radiant points, over 40 times the usually accepted number of currently active streams.
Fiammetta was also a member of the following astronomical societies: Society Astronomique de France, Société d'Astronomie d'Anvers, Chaldæan Society and Leeds Astronomical Society.
Several English astronomers joined the Société d'Astronomie d'Anvers to show solidarity with the Belgian compatriots. Fiammetta went further, offering accommodation to Felix de Roy (1883–1942) loaning him her 3½-inch (89mm) refractor and assisting in production of the society magazine.7 The Chaldæan Society specialised in naked-eye observing; Fiammetta was joint Editor of their journal and Director of Observations.8
Maybe Fiammetta over-exerted herself in the First World War, resulting in a health breakdown; she died on 1920 July 21. In the same month, she had been nominated to receive the Edward C. Pickering Fellowship for Women, a 500 USD one-year research position at Harvard College Observatory, but died without knowing of the award. The fellowship was subsequently conferred on Wilson's observing colleague A. Grace Cook, who did not travel to America, but used the money instead to further astronomy in her locality.9
Obituaries

J. Brit. Astron. Assoc., 30(10), 330–1 (1920), by A. Grace Cook; The Observatory, 43(556), 334–5 (1920), by A. Grace Cook; MNRAS, 81, 266–9 (1921), by W. F. Denning.

References

1 MNRAS, 81, 266 (1921)

2 J. Brit. Astron. Assoc., 20(4), 224 and 20(5), 283 (1910)

3 BMG, 9(100), 64 (1912) and J. Brit. Astron. Assoc., 26(9), 340 (1916): bit.ly/2Z5iplh

4 Nos. 19 & 27 were 4⅛ & 5-inch refractors: in the author's opinion, the two best telescopes in the collection at the time. J. Brit. Astron. Assoc., 21(9), 429–30 (1911) and 27(9), 286–8 (1917)

5 Wilson F., 'Clusters and nebulae visible with small optical means', J. Brit. Astron. Assoc., 27(2), 72–83 (1916)

6 MNRAS, 81, 267–8 (1921)

7 Gazette Astronomique, 7(9), 50 (1914)

8 The Chaldæan, 2(3), 38 (1919)

9 Cook A. G., letter to Fulcher D. J. (Ipswich & District Astronomical Society Secretary), dated 1951 November, available online at: oasi.org.uk/History/Cook/Cook.php
The British Astronomical Association supports amateur astronomers around the UK and the rest of the world. Find out more about the BAA or join us.