From the President
2018 July 19
It is that time of year again when thoughts turn to the annual election of the Board of Trustees and the Council of the Association. In years past it has often been a struggle to get volunteers to stand as candidates, but that is not a problem this year, with a large number of really good candidates. I have often wondered why so few members vote in the annual election. Last year only about 12% of members voted, and I think this is about the same as in recent years, so it seems there is a bit of a democratic deficit.
This year we have introduced electronic voting for the first time. There are two motivations for this. One is to address the democratic deficit by making it easier for members to vote. And secondly the introduction of the digital membership option meant that we needed a way for these members to exercise their rights as members although they will not receive a paper balloting list.
There were several options for an electronic voting system and I would like to thank Andy Wilson and Bill Tarver who have guided this project through. We settled on using an external organisation to conduct the election: Electoral Reform Services (ERS), who are the commercial wing of the Electoral Reform Society. Use of a third party I hope will assure members that the election will be conducted independently and professionally, and ERS have great experience in this field.
The people that are elected to Council and as trustees have a big influence on what the BAA does now and will do in the years to come. Please do take time to read the candidates' notes and please do cast your vote.
A new Journal Editor…
As you may recall Hazel McGee is standing down at the end of the year as editor of the Journal, after what will be 25 years in post. A remarkable achievement indeed. Finding a replacement for Hazel was always going to be a hard task, but we embarked on a recruitment process earlier in the year and several good candidates were forthcoming.
The process culminated with final interviews in June, and I am pleased to report that Philip Jennings was offered and has accepted the post of Journal Editor. There will be a transition period with Hazel handing over the reins in the next few months, and Philip should take over in time for the start of Volume 129 next February.
…and a new Section Director
I am also pleased to report that at the May 30 Council meeting, Council appointed Dr David Arditti as Director of the new Equipment and Techniques Section. David has a great deal of experience as an active observer, and has made many contributions to the Journal as well as writing articles for the popular astronomy press. David has built up a great team to support him with Gary Palmer as Assistant Director, and Martin Lewis, Tony Morris and Es Reid on the Section committee. If you have any questions on equipment – for example how to set up or optimise it – or techniques – such as image processing or data reduction – please do get in touch with David and his team.
Maurice Victor Gavin, 1934–2018
I was greatly saddened in June to hear the news that former BAA President Maurice Gavin was unwell and then passed away a few days later. Maurice was very influential in challenging the norms of what can be observed with simple equipment, and kept fully up to date with up-and-coming technologies. Maurice was also very much a DIY astronomer – having built two domed observatories in his back garden – and many years ago blazed the trail for amateur spectroscopy in the UK when the only way was to make your own gear. A full obituary for Maurice will appear in a later Journal.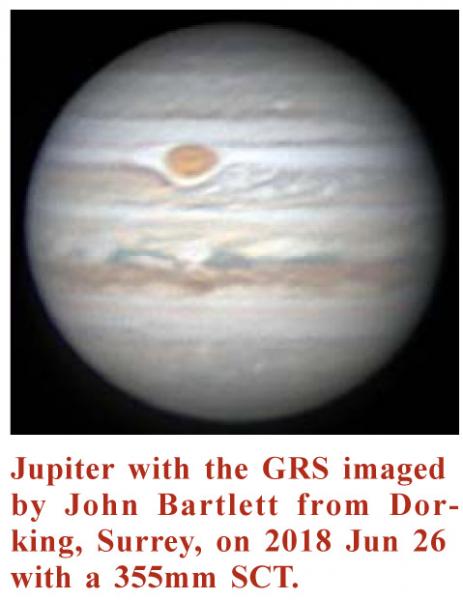 A summer observing feast!
Although the nights have been short, the weather has been good (some might say too good!) so many have been taking splendid pictures of the planets currently available for viewing – Mercury, Venus, Mars, Jupiter and Saturn – even though they have been rather low in the UK sky.
And the clear nights have also been excellent for displays of noctilucent clouds: high altitude clouds that are illuminated at a low angle by the midsummer Sun. Although northern observers may have a better chance to spot these, there have been many reports from southern England. If you have not had a chance to observe them yet, do look out for them towards the north if the clear nights persist.
The Members' Pages on the website are a great way to find out what people are currently observing, and please use them to show your own observations too.
Callum Potter, President
The British Astronomical Association supports amateur astronomers around the UK and the rest of the world. Find out more about the BAA or join us.