From the President
2019 December 1
It is with considerable pride – and a degree of trepidation – that I take on the role of the Association's President, following in the footsteps of so many notable British astronomers over the past 130 years.
Firstly, I would like to thank Callum Potter for his hard work as President over the last two years. Whilst experiencing health and family issues he has battled on, attending meetings around the country even whilst not being able to drive on medical grounds. He has furthermore combined his role as President with that of Section Director of the Deep Sky Section.
I would also like to say a special 'thank you' to Jeremy Shears, David Arditti and Janice McClean, who are standing down as Trustees, for their work for the Association over the last three years. The volunteers who give up their time to serve on both the Board and Council are indispensable and, in conjunction with the staff in the Office, are essential to the smooth running of the organisation.
One of the hopes I have for my time in office is that we can attract new members to the BAA. Yes, this would help financially, but I also believe that we need to attract a wider segment of the UK astronomical community to the Association if we are to flourish in the future.
Our newest Section
A particularly exciting development is the formation of the Equipment & Techniques Section, under the Directorship of the highly experienced David Arditti. The equipment that we amateur astronomers use is becoming more and more sophisticated, not only changing how we observe but also enabling the automation of telescopes and, increasingly, observatories.
The inaugural meeting of the Section in Bedford is taking place as this Journal goes to press, and I hope that the Section will become a magnet for people who have hitherto not felt a need to join the BAA.
The Christmas Meeting approaches
Finally, Dec 7 brings our Christmas Meeting. This year we are returning to the Institute of Physics (IoP) in Kings Cross and we are particularly grateful for their ongoing support in allowing us to hold our meetings there in future. The lecture theatre at the IoP is significantly larger and more comfortable than that at Burlington House, although the meeting is already fully subscribed and there is a waiting list in operation.
Enabling as many members as possible to enjoy meetings is clearly important to us. Whilst we cannot exceed the theatre's mandatory capacity we do hope to be able to live-stream the lectures, so that people who have been unsuccessful in gaining a ticket, along with those unable to travel, can see proceedings in real time.
The event itself should be special, with Dr Mark Kidger of the European Space Agency talking about PLATO – an ESA mission to search for Earth-like planets – plus Prof Emma Bunce giving her talk 'Oceans, ices and fire', about the moons of Jupiter.
As 2019 draws to a close, I wish you Christmas greetings and hope that the New Year brings you health and happiness, along with clear skies. I hope to meet many of you at our meetings around the country in 2020.
Unexpected outreach
One of the things I like about astronomers is that large numbers of them give up their time to talk about and demonstrate astronomy to the general public. Whether speaking at a society event, or to a group of school children, there is a certain pleasure that you get from sharing our passion for astronomy.
I have recently been fortunate in having had a safari in Tanzania, where we spent two nights in a tented lodge out on the Serengeti. Shortly after arrival on our first evening, we were sat at the bar when I spotted something I can only describe as languishing in the corner of the tent: a Sky-Watcher Dobsonian.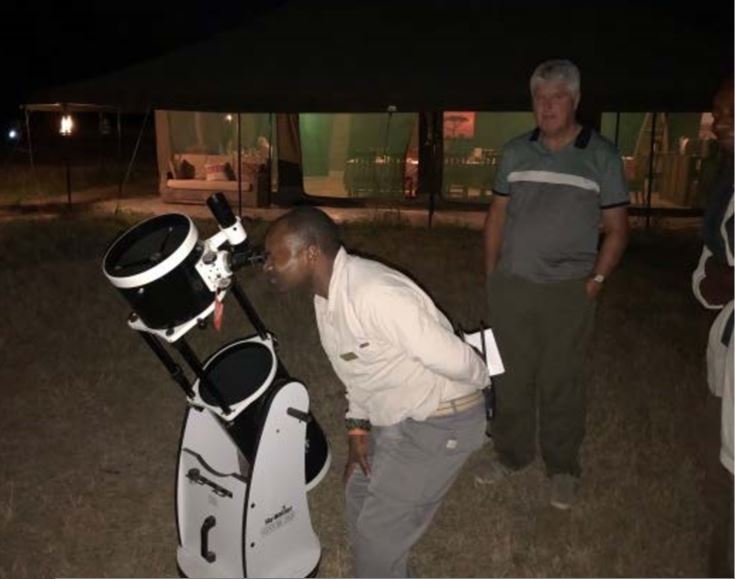 On enquiring if I could use it I was met with a semi-shrug and told that I could, but that nobody had any idea how to set it up. Five minutes later, with covers off, it was set up outside and ready to go – although the finder was nowhere near aligned.
A 12-day-old Moon, whilst washing out the sky, served as a first course for the growing group of spectators and also enabled me to gauge where to position objects in the finder. After using a Moon app to guide other guests round the surface features, it was then on to Jupiter with the four Galilean moons strung out neatly in a line, before clouds rolled in.
On the following evening, the clouds kept away long enough for us to add Saturn to our list. We were also joined by our local guide, to whom I gave an impromptu lesson. It was interesting to learn from the guide that many of the campsites had telescopes, but whilst they were initially seen as something special for the guests the training never happened, so they all now sit in remote corners unloved and unused! I feel the need for another trip – but next time at new Moon.
Alan Lorrain, President
The British Astronomical Association supports amateur astronomers around the UK and the rest of the world. Find out more about the BAA or join us.