From the President: Celebrating Patrick
2014 July 21
A magnificent Summer Meeting
I have just returned from the 2014 Summer Meeting, held on July 12 at University College London with the theme of 'Observational Astronomy then and now: the legacy of Sir Patrick Moore'. What a marvellous day! Around 180 members and friends gathered in the massive modern lecture theatre and enjoyed inspiring talks from John Mason, Bill Leatherbarrow, Lyn Smith, David Boyd and Pete Lawrence, followed by a rousing celebration and summary of Patrick's place in astronomical history from his great friend Dr Allan Chapman.
John showed us a selection of drawings and notes from Patrick's observational notebooks, which you will be pleased to hear he is busy cataloguing and preserving for the future. But as well as looking back and celebrating Patrick's life and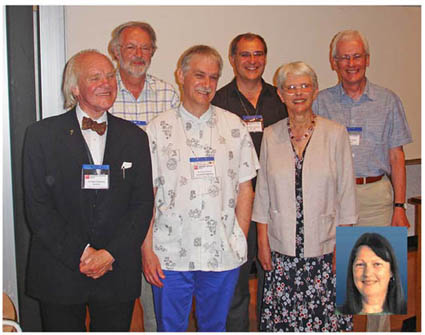 work, we were looking forward too: the world of amateur astronomy has changed unrecognisably in the past 20 or 30 years, and Patrick's visual observing methods are now supplemented, and in many cases replaced, by a wide range of observing and analysis techniques using modern technology. So the speakers also explored some of these techniques with us, and showed how the BAA is moving on in the 21st century, while still keeping alive Patrick's essential legacy of enthusiasm and enjoyment.
Thanks to Nick James and Roger & Gill Perry, recordings of the talks and the speakers' slides are available on this website. We hope also to make a DVD of the occasion, so those who were unable to attend need not miss out.
Above: Speakers at the Summer Meeting. Left to right: Dr Allan Chapman, Bill Leatherbarrow, John Mason, Pete Lawrence, Hazel McGee, David Boyd. Inset: Lyn Smith. Photo by Chris Starr.
It's time to vote…
Meetings like this, your regular Journal with its unique combination of popular articles and serious amateur research, and your website www.britastro.org (which is getting better every day!) don't just make themselves. Almost everything you see from the BAA (and an awful lot that you don't) is created and managed by an army of hard-working volunteers, many of whom also serve on the BAA Council.
Delivered with this Journal you should have received your ballot form for next year's elected Councillors. Do take a moment to read the candidates' notes and mark and return your ballot paper – by doing so, as well as helping to shape the way your Association is run, you also show your support for these people as they work tirelessly on your behalf throughout the year.
Next year we welcome two new officers to the Council, a new Business Secretary and a new Papers Secretary. Ron Johnson and Nick James have served the Association in these vital rôles for 16 and 17 years respectively, and I would like to take this opportunity on behalf of you all to thank them both most sincerely for the huge behind-the-scenes effort on their part that this time has involved. Now it is up to you to vote for their successors and show them your support.
…and to renew your sub!
And while you're thinking about the BAA, why not renew your subscription right now? If you pay by Direct Debit it will be taken automatically and you need do nothing, but if you normally pay by cheque or credit card, please either write your cheque out now, or better still, renew your subscription now at www.britastro.org/renewnow. Then if you have a UK bank account, why not fill out the Direct Debit form you should have received in the post, and send it up to the office ready for next year?
This is a tiny piece of the modern world that really does work, and will save both you and the office an annoying amount of time, effort and money every year – it is very well worth doing!
Very best wishes to you all for the remainder of the summer, and lets hope for clear skies as the darker evenings return.
Hazel McGee, President
The British Astronomical Association supports amateur astronomers around the UK and the rest of the world. Find out more about the BAA or join us.