John S. Glasby (1928–2011): a BAA enigma
2019 July 26
Introduction
John Stephen Glasby was born at East Retford near Nottingham, on 1928 Sep 23. He was educated at that town's King Edward VI Grammar School and graduated in Chemistry from Nottingham University in 1950. After graduation he joined ICI (Imperial Chemical Industries) and moved to Scotland to work at the massive ICI plant at the head of the Ardeer peninsula (now part of Stevenston, North Ayrshire). The plant had originally been formed in 1870 by Alfred Nobel, who named it the British Dynamite Company. By the time John Glasby joined, it was known as the Nobel Division of ICI. At its peak, the Ardeer site employed 13,000 people and even had its own railway station. Such a remote location on Scotland's east coast was chosen due to the dangerous amounts of explosives manufactured there… For a quarter of a century, John Glasby would carry out research on detonators and rocket propellants and he became Head of the Physical Chemistry Department at Ardeer.
Away from his day job, Glasby was a very busy author. Indeed, it is hard to comprehend how he fitted everything he did into his life. On 1954 Jul 10 he would marry Janet Hannah, and they went on to have five children named John (b. 1955), Anne (1957), Raymond (1962), Edmund (1970) and Jennifer (1972). Their house was named 'Nirvana', at 7 Kilwinning Road, Stevenston: just two miles from the explosives factory and less than one mile from the coast and the Firth of Clyde.
Science fiction & fantasy stories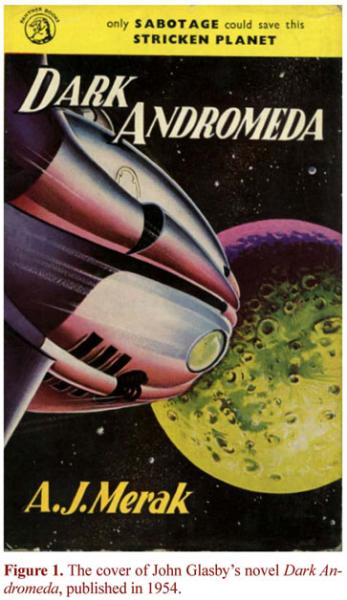 Alongside his professional and family life, John Glasby was an incredibly prolific writer of pulp fiction stories, especially those in the supernatural, science fiction, western and horror categories. His literary output in the pulp fiction genre was truly staggering, and his stories were usually written under one of a variety of amusing pseudonyms. According to his son Edmund, John Glasby was a big fan of the American writer H. P. Lovecraft (1890–1937), whose work influenced his own stories. The decade of the 1950s was, of course, a golden era for low grade sci-fi novels and B-movies, along with some classic films. It also spawned great sci-fi writers, like Arthur C. Clarke and Isaac Asimov. Glasby was certainly not in that league, but his output was colossal. With his day job involving research into propellants, he was certainly qualified to write about 'rocket science' and space travel…
In 1954, Glasby started using the pseudonym A. J. Merak, inspired by the bright star in Ursa Major. His first book under this name appears to have been Dark Andromeda, published by Panther Books in 1954, with the dramatic cover proclaiming that 'only sabotage could save this stricken planet' (see Figure 1). Glasby would use the name A. J. Merak for more than 30 novels and short stories in the coming years.
While science fiction and fantasy short stories were the main output from Glasby, writing as Merak he also wrote crime novels, romances, war stories, spy thrillers, westerns and foreign legion stories. Some estimates put his total literary fiction output at more than 300 works, although many of these were short stories churned out almost every week for John Spencer/Badger Books magazines, such as Supernatural Stories. Glasby and an author whose name already sounded like a pseudonym – the Rev. Lionel Fanthorpe – seemed to provide an almost endless supply of fantasy tales for these magazines. The list of alter egos they used was almost as large. As well as A. J. Merak, Glasby used the following identities: Victor La Salle, John E. Muller, Karl Zeigfried, Max Chartair, Randal Conway, Ray Cosmic, John Crawford, Michael Hamilton, J. J. Hansby, Peter Laynham, H. K. Lennard, John Morton and Alan Thorndyke. Clearly the publisher did not want the reader to realise that they relied on Glasby and Fanthorpe to produce almost all of their short stories….
Glasby joins the BAA
As was the case for so many BAA members, the dawn of the Space Race and the start of The Sky at Night prompted Glasby to join the BAA. He was proposed for membership by W. L. Evans and elected to the BAA on 1958 Nov 26. Within days Glasby was submitting magnitude estimates to the Director of the Variable Star Section (VSS), Reginald Andrews. His first recorded contribution was for the star R Leonis, which he estimated at magnitude 9.9 on 1958 Dec 15 at 23:50 UT, some 20° above his eastern horizon. The next night he added R UMi and made at least a dozen variable star magnitude estimates before 1958 ended. His instruments for variable star observing were initially modest: a pair of 7×50 binoculars and a 3-inch (76mm) refractor, used at x50. On 1959 Feb 13, John Glasby was elected as an RAS Fellow during W. H. Steavenson's term as the RAS President. Glasby's proposer was Dr Archie Roy (1924–2012) of Glasgow University. (Dr Roy had an interest in the paranormal, the focus for many Glasby tales.)
While he was still writing during his early BAA years, Glasby's literary output had tailed off considerably…(continued)
(Login or click above to view the full illustrated article in PDF format)
The British Astronomical Association supports amateur astronomers around the UK and the rest of the world. Find out more about the BAA or join us.