Obituary: Howard George Miles (1922-2016)
2017 November 18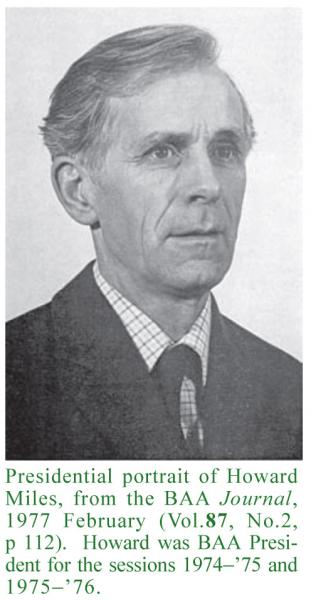 Howard G. Miles, one of the BAA's most eminent and respected members, died on 2016 May 20, just a couple of months short of his 94th birthday. In his 56 years as a member, Howard served the Association in many capacities including Section Director, Business Secretary and President and made many important and lasting contributions to its work. His many interests included not only astronomy and mathematics but also geology, meteorology and megalithic archaeology. He was an acknowledged expert in all of these fields.
Born on 1922 August 5 in Coventry, Warwickshire, Howard became interested in both astronomy and mathematics at an early age, and after obtaining his BSc became a lecturer in Mathematics first at Coventry Technical College and from 1961 at the Lanchester College of Technology. In 1970 the Lanchester College of Technology and the College of Art, along with the Rugby College of Engineering Technology, amalgamated to form the Lanchester Polytechnic and Howard became Lecturer in Mathematics, later Senior Lecturer, at the Polytechnic. He would remain there until his retirement in 1983. (Lanchester Polytechnic subsequently became Coventry Polytechnic and then Coventry University in 1992.) His colleagues at the Polytechnic recall that Howard undertook the very onerous and rather tricky task of producing the timetable for all of the courses and the lectures therein. Howard received the British Empire Medal (the precursor to the MBE) 'for civic services to education' while at the Coventry/Lanchester Colleges.
[Note: This is now known to be incorrect. For important new information regarding Howard's BEM, see the 2018 February Journal.]
While at Lanchester College, on 1961 September 9, Howard arranged a BAA 'provincial' meeting in Coventry, the very first general meeting to be held outside the capital. Thus did Howard inaugurate the so-called 'Out-of-London' meetings, a practice that continues to this day. The BAA would return to Coventry again for its 'provincial' meeting in 1977 and several Section meetings were held there. Howard also organised the second BAA weekend astronomy course at Moor Park College, Farnham, Surrey on 1965 September 17-19, a similar course at Westham House, Barford, Warwickshire on 1966 March 4-6 and another course at Moor Park on 1966 September 16-18. In 1967, the BAA's residential Winchester Weekend Course was established by Alfred Curtis, and Howard was a frequent member of the panel of lecturers at these annual events.
As a teenager, Howard had been a founder member of the newly formed Coventry Technical College Astronomical and Meteorological Society in 1939, serving as the group's secretary for many years. In 1959, a breakaway group founded the Coventry Telescope Making Society, but these two groups merged to form the Coventry & Warwickshire Astronomical Society in 1974. It seems likely that the Technical College society was affiliated to the BAA, since Howard was borrowing instruments from the BAA's loan collection prior to 1960 November 30 when he officially joined the Association as an individual member.
Over many years, Howard used several instruments borrowed from the Association's loan collection, including a 5-inch Cooke refractor (no. 169) between 1957 and 2007. A pair of 20´100 binoculars (no. 125) used by Howard from 1986 to 2006 had been loaned by the Air Ministry in 1949, and was used by J. P. M. Prentice and Michael Hendrie before being loaned to Howard.
No sooner had Howard joined the BAA in 1960 than he was appointed to the post of Director of the newly formed Artificial Earth Satellites Section. (In 1990, Howard was still the Section Director and was thus the longest-serving member of Council in the BAA's Centenary year.) Before 1960, satellite observing was included in the work of the Radio & Electronics Section. This Section was mainly concerned with radio observations of the satellites, but it was essential in those early days for the radio trackers to have data provided by optical observations. From the launch of Sputnik 1 in 1957 October satellite predictions were issued by Gordon E. Taylor at the RGO. These predictions were published by the BAA as Circulars and sent to all members wishing to receive them… (continued)Login or click above to view the full illustrated article in PDF format)
The British Astronomical Association supports amateur astronomers around the UK and the rest of the world. Find out more about the BAA or join us.