Observing Sunspots from 1958 to 2015
2017 September 21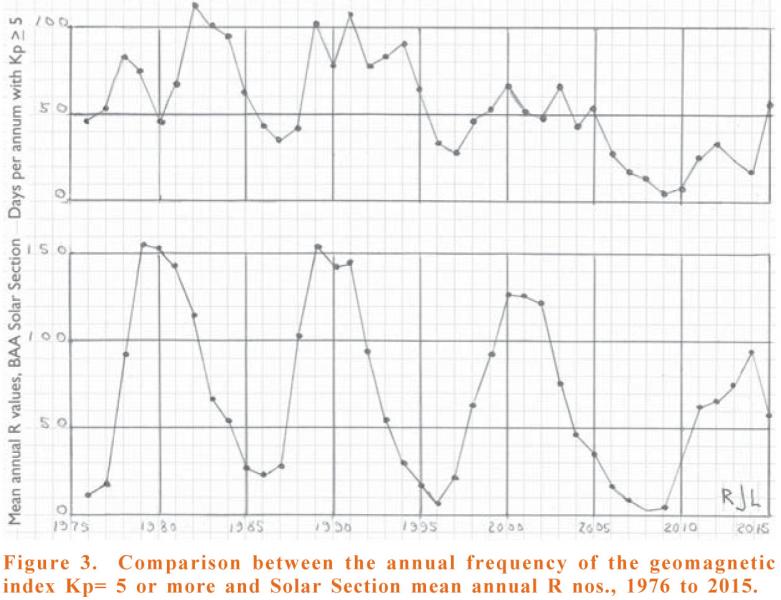 The world is full of magnificent pretty astronomical images, both professional and amateur. However, it was the great Lord Kelvin of Glasgow University who said that one did not understand something unless one made measurements of it.
In 1826 Samual Heinrich Schwabe, one time apothecary of Dessau in Germany, started systematic observations of sunspots using two refracting telescopes stopped down to 32 & 64mm in diameter. Having observed for 12 years he published the results in the Astronomische Nachrichten. Suspecting a periodicity in sunspot frequency he continued his observations and published his further work in 1843.
From schooldays onwards I had an interest in sunspots, observing them from time to time using my father's 38mm push-pull refractor slung from a clothes post. On 1947 March 9 I recorded the existence of two massive sunspot groups, the larger of which, in the southern hemisphere, Mt Wilson Observatory measured the length at about 180,000km.
In 1958, having married in 1955 and set up house in Newton Mearns, south of Glasgow, I took up serious sunspot observing. I bought a 65mm diameter achromatic 'Lord Clyde' refractor from J. Lizars in Glasgow. This was a push-pull instrument as used by yachtsmen and gamekeepers. I bought eyepieces from Arthur Frank, a well-known Glasgow instrument maker, and converted the telescope for astronomical use. My employers were discarding two damaged theodolite tripods so I made a good one from the parts and mounted the telescope thereon on an alt-azimuth basis.
For solar work I fitted a carrier system with a 105mm projection screen. The positions of sunspots were recorded in blank notebooks on the pages of which were drawn 105mm circles. The projection screen has horizontal and vertical lines and a similar card was placed behind the page to enable the positions of spots to be recorded. Because the instrument was mounted alt-azimuth, after recording the positions and details of sunspots, one spot was allowed to drift across the projection screen and its position recorded at intervals during the procedure. The line joining the locations of the drifting spot gave the Sun's orientation in the east-west direction. Using the BAA Handbook it was then possible to determine the position of the Sun's rotational axis.
From 1958 July to 2015 December I succeeded in making 9,179 observations of the Sun. I am still observing in 2016. From 1987 to 1994 I made 821 subsidiary observations using a modified 50mm binocular and projection screen mounted at the window of my office in Glasgow. (continued…)
(Login or click above to view the full illustrated article in PDF format)
The British Astronomical Association supports amateur astronomers around the UK and the rest of the world. Find out more about the BAA or join us.