Open clusters for the summer months
2021 May 31
The bright skies and short nights of the summer months make observing fainter, fuzzier targets rather more challenging, especially for the visual observer. But this can be a good opportunity to observe some of the brighter objects that are less disadvantaged by the lack of dark skies – and in this month's forum I will highlight a few open clusters, though there are plenty more that you might want to tackle.
Open clusters are groups of stars that were created at roughly the same time and in the same area, loosely bound together by gravity. Some open clusters can be found in the cloud of dust and gas in which they were formed, but many have either travelled away from their point of origin or the cloud has become dispersed. Young open clusters are marked by their hot O or A-type stars. Some clusters are quite old, though, with these hot stars having gone through their lifecycle.
Open clusters are great targets for observing with binoculars. Many really shine in the wide field of view given by even 'standard' 10×50s, whereas through a telescope it can be difficult to appreciate the myriad stars.
I thought I would start with a cluster that is heading towards the western horizon after dark. Only in the last couple of years has it come to my attention; I had been taking some wide-field pictures capturing Starlink satellite trains and noticed a distinct fuzzy patch of stars. This turned out to be the Coma Star Cluster, Melotte 111. It is one of the closest open clusters to us, at about 280 light-years distant. The brightest stars of the cluster are of the fourth magnitude. Philibert Jacques Melotte was an interesting character in British astronomy – he worked at the Royal Observatory at Greenwich and was Secretary and President of the BAA.
Messier 29 seems to be a rather under-observed cluster. It lies within Cygnus and maybe it lives in the 'shadow' of the more spectacular objects to be found in the area. However, it is a pretty cluster with some bright blue and yellow stars. It covers quite a small area in the sky and, although you can observe with binoculars, a small telescope with a wide-field eyepiece may be more rewarding. It is easy to find, being just south of the central star of the Northern Cross, gamma Cygni.
A rather enigmatic cluster is NGC 6791 in Lyra. In real terms this is a big cluster, with over 2,500 stars, but it is also old and at some distance from us. Visible stars are yellowish and well developed, with ages at around eight billion years, but oddly there does seem to be two other eras of stars with ages at six and four billion years. This has led to quite a lot of professional study of the cluster. It is a little faint, so telescopic views will probably be needed to get much out of it.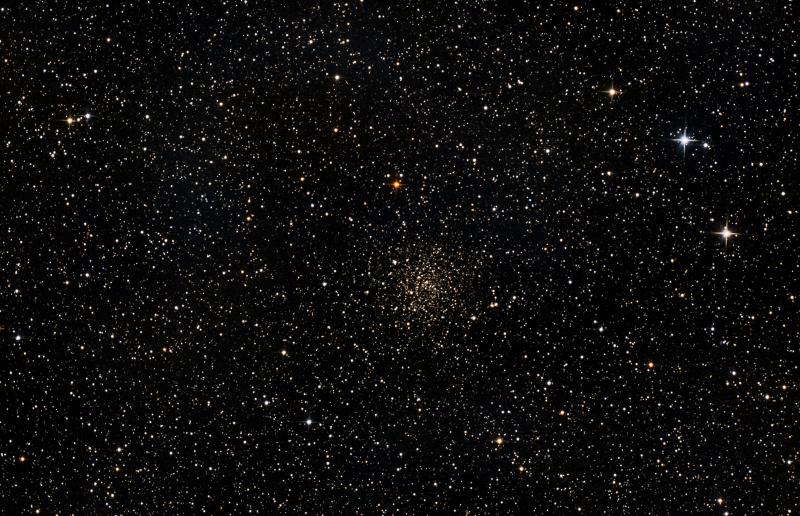 Harvard 20 (H20) (also known as Collinder 408) is an open cluster of about 30 stars. Although there are a couple of 'bright' 9th magnitude stars, the majority are magnitude 12 or fainter. Probably at least a 15cm (6-inch) aperture telescope will be needed to see this cluster, which has a triangular appearance. It is a little difficult to distinguish it from the background stars of the Milky Way.
For observers in the UK, it is a shame that the constellation Scorpius does not rise very high, even when it culminates in the middle of the year. There are so many wonderful objects there. Of course, those living in more southerly climes will find observing these targets less of a challenge. The two open clusters that I have selected here are Messier objects: M6 and M7.
M6 is commonly called the Butterfly Cluster, and if you use a bit of imagination, you might just see a butterfly in the arrangement of stars. The brightest star in the cluster is the yellow/orange giant BM Scorpii, an irregular variable. The other obvious stars are mainly hot, blue B-type stars. The colour contrast is really nice.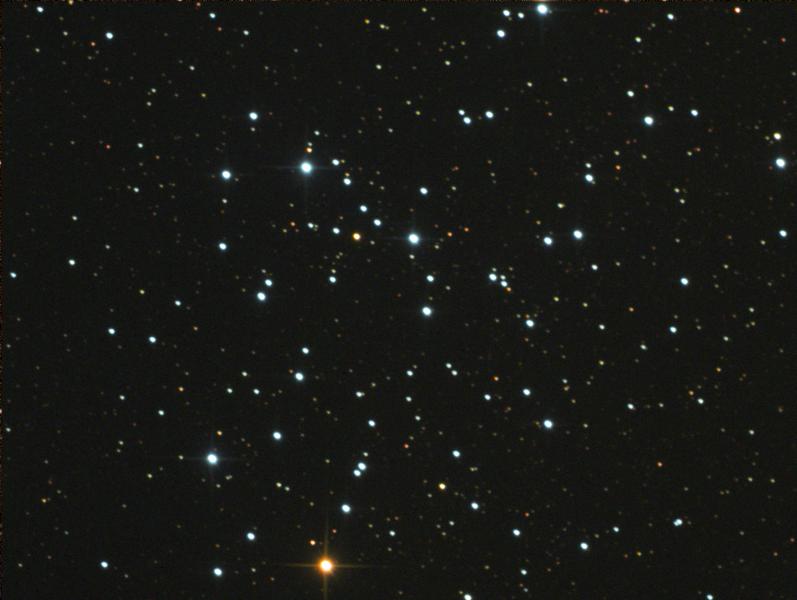 M7 has been known for a very long time, with records of it from 130 CE by Ptolemy. Some call it Ptolemy's Cluster for this reason. It can be detected as a naked-eye object (as by Ptolemy!), though it is easier to find and observe with binoculars. The cluster covers an area of around 1.3 degrees. Again, the brightest star is a yellow giant, with a smattering of hot blue stars around it. It is interesting to compare M6 and M7 – the latter seems a bit looser, with more stars, and M6 more compact.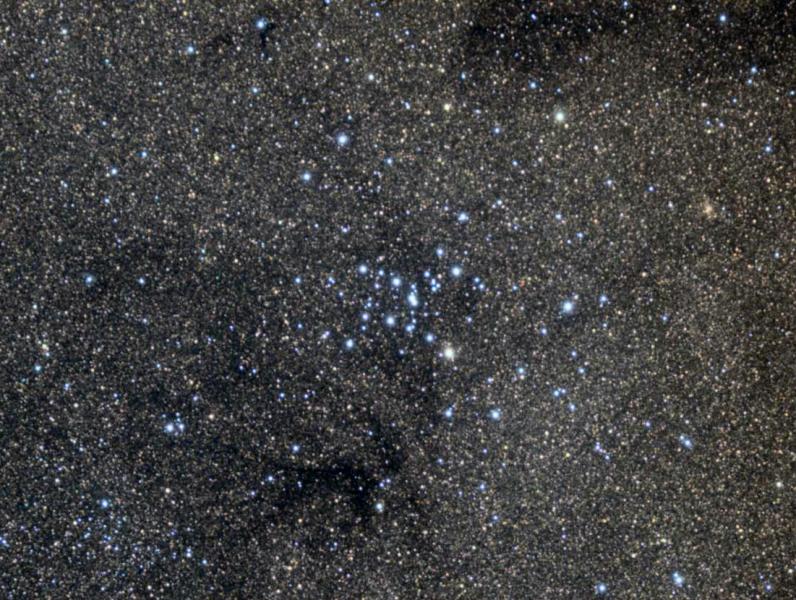 Another open cluster with a large angular size is IC 4756, which contains about 80 stars spread over one degree. IC 4756 lies in the eastern part of Serpens (known as Serpens Cauda). It should be bright enough to be just detectable to the naked eye, but binoculars will show it better.
Nearby is NGC 6633, which lies in Ophiuchus. It is known as the Tweedledum Cluster and pairs with IC 4756, which is Tweedledee. Tweedledum is not as large as Tweedledee – about half a degree across, with half as many stars. However, it is regarded as one of the nicest open clusters in the night sky. A fine object through binoculars or a small wide-field telescope, it is significantly under-observed.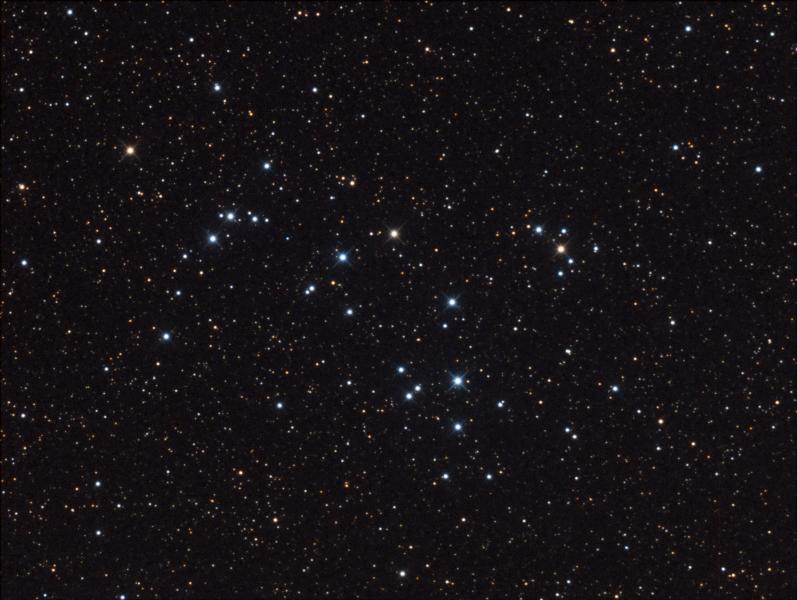 These are just a few fine open clusters for the summer months; there are many more that you could search for. If you manage to view any of these objects, please send your observations to the Deep Sky Section, and/or post to your Member's Album on the BAA website. If you have any other favourite open clusters, please post about those too.
| | | | | | | |
| --- | --- | --- | --- | --- | --- | --- |
| Object | Constellation | RA (h, m, s) | Dec. (deg, arcmin, arcsec) | No. of stars | Distance (ly) | Age (Myr) |
| Melotte 111 | Com | 12 25 06.0 | +26 06 00 | >40 | 280 | 450 |
| M29 | Cyg | 0 23 56.0 | +38 31 24 | >50 | 4,000 | 13.2 |
| NGC 6791 | Lyr | 19 20 53.0 | +37 46 18 | >2,500 | 13,000 | 8,000 |
| Harvard 20 / Collinder 408 | Sag | 19 53 06.0 | +18 20 00 | 30 | 5,700 | 60 |
| Messier 6 | Sco | 17 40 20.0 | –32 15 12 | >120 | 1,590 | 94 |
| Messier 7 | Sco | 17 53 51.0 | –34 47 36 | >80 | 980 | 200 |
| IC 4756 | Ser | 18 38 31.2 | +05 29 24 | >80 | 1,300 | 800 |
| NGC 6633 | Oph | 18 27 31.2 | +06 34 12 | >38 | 1,000 | 660 |
---
Callum Potter, Director, Deep Sky Section
The British Astronomical Association supports amateur astronomers around the UK and the rest of the world. Find out more about the BAA or join us.