Patrick Henry Hepburn (1873−1929) – Part I: Solicitor, Eclipse-chaser and Major
2016 May 22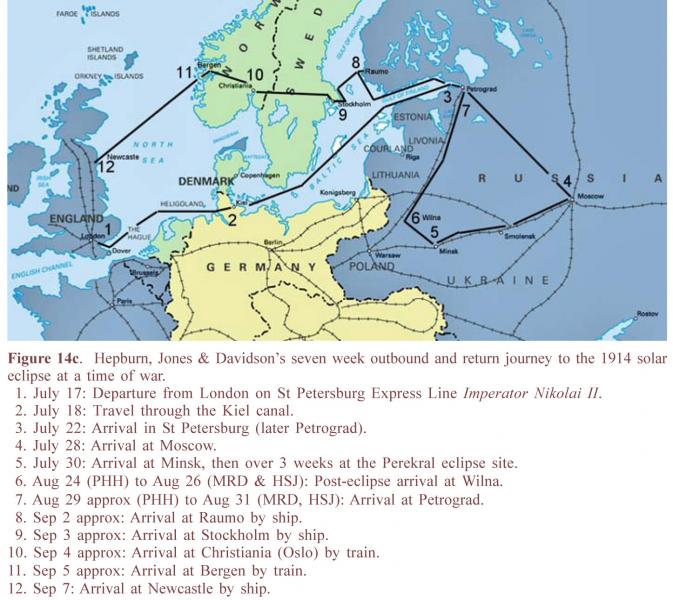 Patrick Henry Hepburn was born on 1873 February 4. He was the eldest son of James Smith Hepburn, a solicitor with offices in Cheapside, London whose family home, complete with seven servants, was at 1 Elgin Road, Croydon. The same James Smith Hepburn also had South African interests and for several years acted as Chairman of the Transvaal Exploring Land and Minerals Company (as detailed in The Anglo-African Who's Who and Biographical Sketchbook of 1907). Patrick Hepburn would become the sixteenth President of the BAA and the fifth Director of the Association's Saturn Section.
Despite his being, like his father, a legal man, earlier generations of Hepburn's family had been tanners of leather and hides. Because of this historical family profession Patrick became a prominent member of the Worshipful Company of Curriers (Currier meaning a curer of leather) and a clerk to the Company for many years, alongside his day job.
Hepburn was educated at Charterhouse School from 1881 to 1886 and Amersham Hall School, near Reading, after that. At Reading he won second prize in the 'First Class of Mathematics' in 1888. He qualified as a solicitor aged 21, in 1894, apparently being placed second in all England in the final examination, so receiving a Clifford's Inn prize. He then entered his father's firm, of which he became the senior partner at the age of 32.
Hepburn's interest in astronomy began in early youth with the use of a 3-inch (76mm) Wray telescope which was owned by the family. In 1896 July, aged just 23, he travelled to Vadso in Norway on the Norse King. This ship, for a fare of 30 guineas or more, carried 165 astronomers and BAA members who would try to observe the total solar eclipse due on August 9.4 Sir Robert Stawell Ball was also on the trip and in the 1890s Hepburn knew Ball's son William Valentine Ball. Sadly, the skies proved cloudy, but a map of the umbral track is shown in Figure 1….
(Login or click above to view the full article in PDF format)
The British Astronomical Association supports amateur astronomers around the UK and the rest of the world. Find out more about the BAA or join us.