Presentation of Edinburgh's Lorimer Medal to Ron Livesey
2020 February 3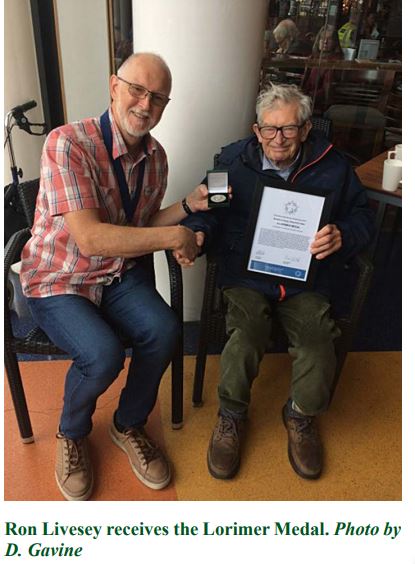 On 2019 Sep 14, the Lorimer Medal of the Astronomical Society of Edinburgh was awarded to Ronald J. Livesey at the city's Omni Centre. It was presented by the President Andrew Farrow, accompanied by four past Presidents and friends.
The well-known Scottish artist John Henry Lorimer, who died in 1936, was Vice-President of the Edinburgh Astronomical Institution (as it was called then) and left them a substantial legacy. Part of this was used to endow a silver medal, to be awarded to persons who in the opinion of the Council devoted a lifetime to promoting astronomy, especially to the public. It is not often awarded.
The first award was made to Sir James Jeans in 1938. Then, after a ten-year gap, subsequent recipients were the Rev Dr Martin Davidson, Sir Harold Spencer Jones, Prof William M. Smart, Patrick Moore, Sir Bernard Lovell, Norman G. Matthew, Dr Harry Ford, Mrs Nora Jenkinson, Dr David Gavine, Dr Mary Brück, Alan Pickup and now Ron Livesey.
Ron has spent a lifetime as an active amateur astronomer and has inspired many people. A distinguished civil engineer, he contributed observations of the Sun, the Moon, planets and variable stars for nearly seven decades; was Director of the BAA Aurora Section for nearly 30 years and is still Assistant Director, with a special interest in matching auroral and magnetic data. He championed the use of the simple-but-effective 'jam-jar' magnetometer, and at the age of 90 still reports sunspot observations. He has also been President of the Astronomical Society of Glasgow, having lived near there for many years. He has twice been honoured by the BAA, with the Lydia Brown and Walter Goodacre Medals.
Editorial postscript: David Gavine sadly passed away on 2020 Jan 2, and his many friends in the BAA are in the Editor's thoughts. His life and countless contributions to the Association will be celebrated in a later Journal.
The British Astronomical Association supports amateur astronomers around the UK and the rest of the world. Find out more about the BAA or join us.