Stellar occultation by asteroid (275) Sapientia well seen from the UK
2015 November 18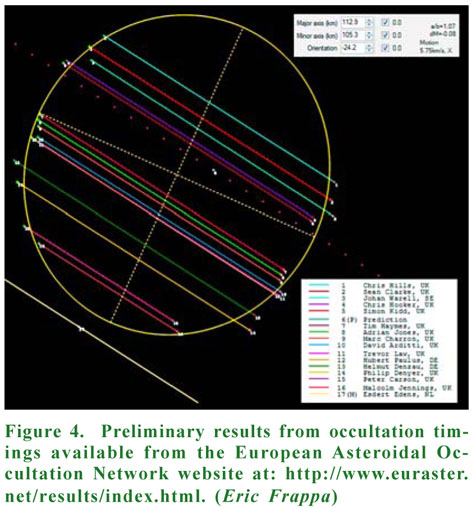 The most extensive coverage yet of an asteroidal occultation visible from the United Kingdom was achieved thanks to the dedication of observers during the early hours of 2015 September 30. In all, fifteen positive results from the UK together with one from Sweden and two from Germany were obtained when the ~120 km wide main-belt asteroid passed in front of the 7th magnitude star HIP 14977 in the constellation of Aries.
Predictions by Edwin Goffin (Belgium) and Steve Preston (International Occultation Timing Association, IOTA) indicated the occultation would be a relatively long duration event of up to 18 seconds, although a bright, 93% illuminated Moon situated 13° away might interfere with observations. In the event, a stationary area of high pressure developed over southern England providing clear skies for many in and around the Home Counties, but other would-be observers had to contend with fog and mist which reflected the bright moonlight and hid the star from view.
(continued…)
(Login or click above to view the full article in PDF format)
The British Astronomical Association supports amateur astronomers around the UK and the rest of the world. Find out more about the BAA or join us.