Success for two sample-return missions to asteroids
2021 February 2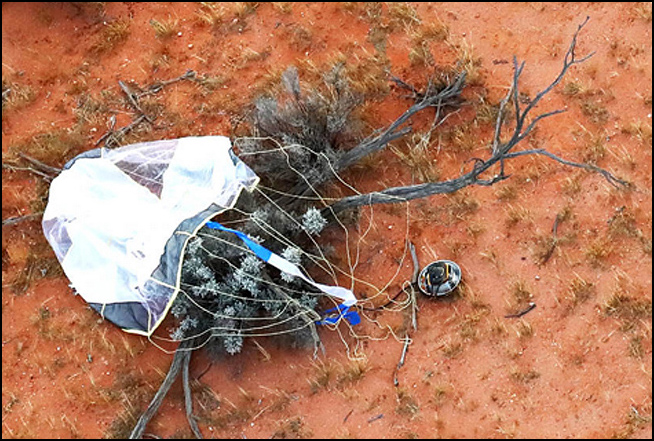 These are exciting times as we witness the first attempts to visit an asteroid, extract material and return it to Earth for analysis.
NASA's probe OSIRIS-REx was launched in 2016 and reached asteroid (101955) Bennu in 2018 December. Bennu is a dark, carbonaceous body measuring 0.5km across and may once have been an active comet. After surveying the object from orbit, sampling of the near-surface was successfully completed in 2020 October. The stowed material is due to start its return cruise in March of this year, landing at the US Air Force's Utah Test and Training Range on 2023 Sep 24.
The Japan Aerospace Exploration Agency (JAXA) launched their attempt in 2014, two years ahead of NASA, with their probe Hayabusa2 reaching asteroid (162173) Ryugu in 2018 June. Like Bennu, Ryugu is a primitive carbonaceous object of spectral class Cb, some 0.9km across and with the same low density, namely 1.2g/cm3. One important difference is that Ryugu looks to have a 'rubble pile' structure, with a small amount of dust lying between the boulders and rocks that appear to be of two types: one being smoother with sharp edges, the other having a crumbly surface.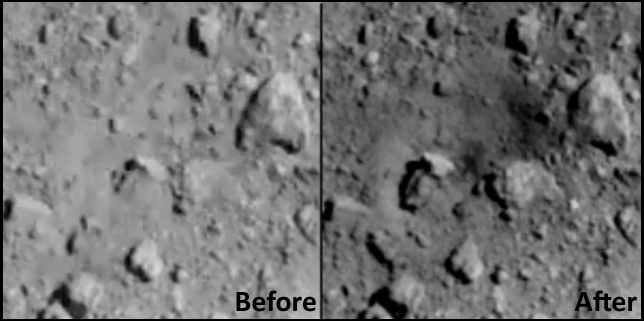 Three rovers were successfully deployed on the surface (one developed by the German Aerospace Agency, DLR), all taking images and measurements at close quarters. In 2019 February, near-surface sampling was conducted using a 5-gram projectile to disturb material that was then carried, under its own momentum, into a sampling horn and stored in Chamber A (Figure 3, left image). A second, more dramatic method was also used to collect material from a depth of several metres, by firing a 2.5kg impactor at the asteroid from a free-flying 'gun' hovering about 500 metres from the surface, whilst the Hayabusa2 spacecraft sheltered behind the body of the asteroid. A crater some 10 metres across was excavated (Figure 1) and three months later, on 2019 Jul 11, touchdown and sampling from within the man-made crater were successfully completed, with material stowed in Chamber C (Figure 3, right image).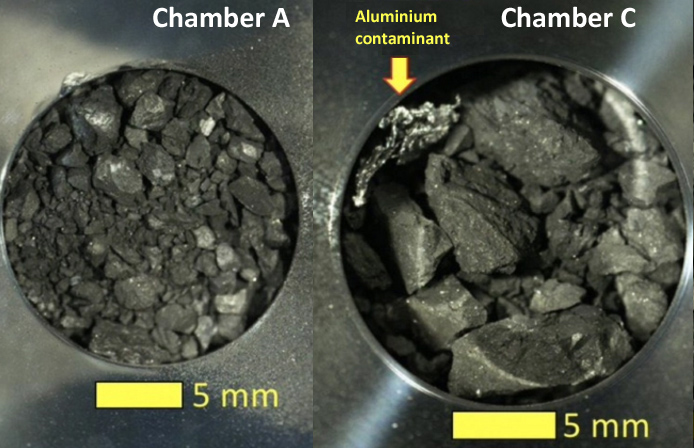 Hayabusa2 used its ion-drive engines to head for home in 2019 November, arriving in the vicinity of Earth where it released its sample-return capsule on 2020 December 5, as it sped past at a speed of 12km/s to continue its mission by hopefully visiting new targets: a fly-by of 0.7km asteroid 2001 CC21 in 2026, and a rendezvous with the small (30m) fast-rotating 1998 KY26 in 2031.
Meanwhile, the sample capsule re-entered the atmosphere and landed at the Woomera Test Range in the Australian desert as planned (Figure 2). The samples are now in safe hands at JAXA's laboratory facility.
It is encouraging to note that the teams involved in these two missions have been collaborating and will eventually exchange portions of the samples returned to Earth for analysis.
---
Richard Miles, Director, Asteroids & Remote Planets Section
BBC News article (2020 Dec 6): bbc.in/3q9dZ7e
The British Astronomical Association supports amateur astronomers around the UK and the rest of the world. Find out more about the BAA or join us.