The BAA at New Scientist Live 2018
2018 November 22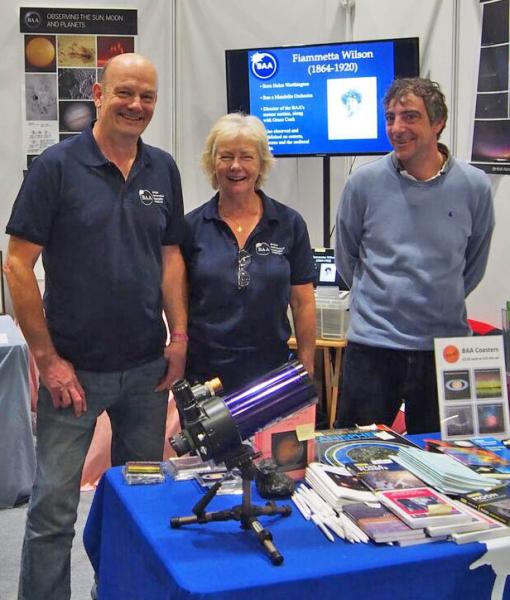 The BAA again took a stand this September at the increasingly popular New Scientist Live event. Over four days in an expanded hall within the ExCel Centre, London Docklands, a crowd of 40,000 people came from all over the UK and abroad. This is turning into a world-class occasion. As a general science event rather than a specifically astronomy based function, the Board of Trustees is keen to invest in our presence there due to the huge outreach opportunities, and the younger generations of scientists and engineers that this helps us to reach.
With areas entitled 'Cosmos', 'Earth', 'Humans', 'Technology' and 'Engineering', many people spend several days there in order to hear as many of the talks as possible. Tim Peake spoke again; Carlo Rovelli, Melissa Uchido, Chris Lintott, and Salma Fahmy from ESA were just a few of the big names in 'Cosmos'.
Nearby Associated Societies were keen to assist us and this year Hampstead Garden Suburb Astronomy Society took the lead on Thursday September 20 followed by Newbury, Crayford and Flamsteed. An expanded stand allowed for telescope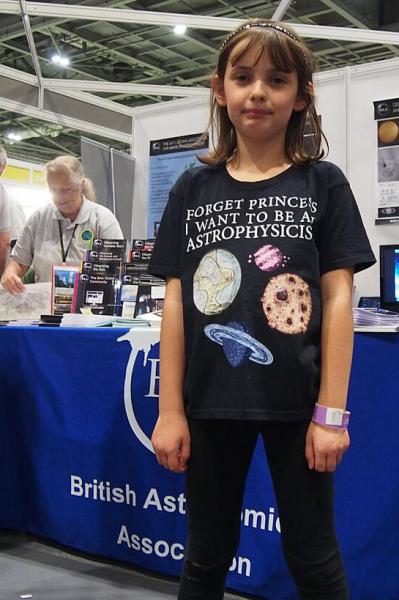 demonstrations, meteorite and comet model displays, quizzes, transiting techniques, and measuring variable stars, as well as sales for both the BAA and CfDS. The BAA was the only stand showing telescopes – unless you count the model of the James Webb on the ESA stand – and made excellent use of a floating Mercury attached to the roof of a nearby display to show young visitors how to use eyepieces and focus small reflectors.
Crayford wheeled out Anita the Dob with Dolly the Trolley all the way from Kent, ably assisted by her two minders. Hampstead GS had the younger generation in high excitement with their quizzes on sci-fi books and movies – there was definitely a generational knowledge gap exposed between the readers of H. G. Wells and fans of Han Solo. But there was an opportunity to do and learn real science with Newbury's techniques to measure variations in magnitude of variable stars.
The Board has agreed to have a stand again at the 2019 event so book the dates in your diary now – 2019 October 10-13 – for a few days in the big smoke and some real live science.
Janice McClean, Events Coordinator
The British Astronomical Association supports amateur astronomers around the UK and the rest of the world. Find out more about the BAA or join us.