The Caroline Herschel Prize Lectureship
2020 March 30
The William Herschel Society was founded in the 1970s with the help of Patrick Moore and others, to rescue the house in Bath where William discovered the planet Uranus in 1781. This is now the very successful Herschel Museum of Astronomy which is run by the Bath Preservation Trust alongside three other local museums, all with an historical focus.
Our Society now organises a lecture series on astronomy and the contribution of the Herschels, mainly at the Bath Royal Scientific and Literature Institution. We support research into, and publication of William's music, as well as concerts and recordings of it. We work with our partner organisation, Bath Astronomers, on observing sessions and related issues such as a locally focused Starlit Skies campaign. On most of these activities we work closely with the Museum. Observing sessions using their replica of Herschel's 7ft telescope are a particular highlight.
In recent years there has been increasing interest in the achievements of William's sister Caroline, including the publication of several new biographies. This, together with a substantial donation, encouraged us to develop and launch the Caroline Herschel Prize Lectureship in association with the Royal Astronomical Society. The Prize Lectureship is aimed at supporting promising female astronomers early in their careers. The winner receives a cash prize, and delivers the Prize Lecture in around November at the University of Bath, and again as an RAS public lecture in London.
Our first winner in 2018 was Dr Sarah Rugheimer (see lecture video) and the second in 2019 was Dr Anna Lisa Varri (video here). You can see the detail of how to apply at our Society website. If you know anyone who qualifies, do encourage them to have a go, especially as 2020 is the BAA's year of Highlighting Women in Astronomy. Applications for the 2020 Prize Lectureship are open until Apr 30.
I am very grateful for all the help we have received from the professional community, including the RAS, in setting up and running the Prize Lectureship.
About Caroline Herschel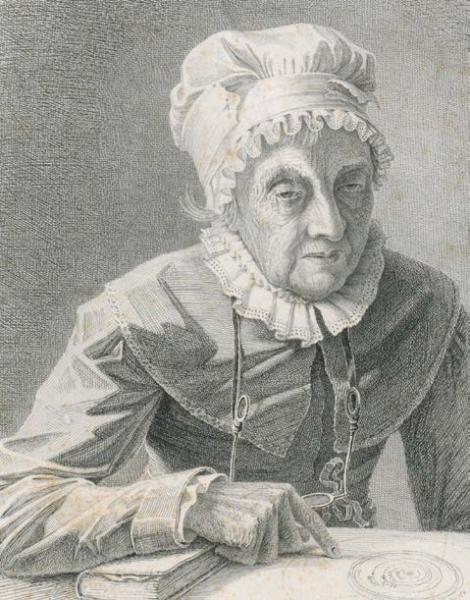 So, why celebrate Caroline? She was born, like her elder brother William, in Hanover in the mid-18th century. Unlike him, she was given little education, and seemed destined for a life of domestic drudgery. But, when William became a successful musician in Bath in the 1770s, he brought Caroline over to join him – partly for her sake, and partly for his. Here she became in turn an effective housekeeper, a talented singer, and a tireless observing assistant.
The fame brought by the discovery of Uranus took them to Slough and the King's Court in the 1780s, with visitors and astronomy filling their days and nights. Caroline became increasingly recognised as an astronomer in her own right, and received a pension from the King; she was the first paid female astronomer. After William's marriage gave Caroline more opportunities to observe for herself, she discovered eight comets and many deep sky objects. Their cooperative and systematic way of recording and communicating their observations helped point the way for future astronomers.
Caroline returned to Hanover after William's death, and carried on with her cataloguing of the night sky. She was awarded the RAS Gold Medal in 1828, and many other prizes subsequently. She made a real mark in an age when women in science were almost unknown. No wonder she is an inspiration for so many today.
The British Astronomical Association supports amateur astronomers around the UK and the rest of the world. Find out more about the BAA or join us.