The first International Astronomy Show, Warwickshire, 2013 May 17-18
2013 September 30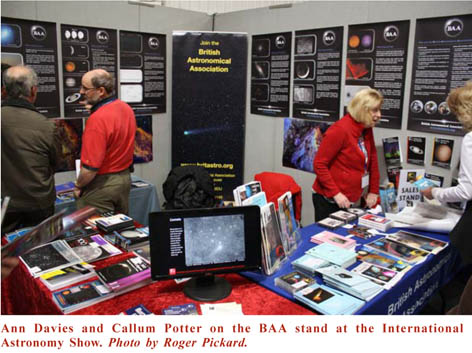 The first International Astronomy Show, held at the Warwickshire Exhibition Centre on Friday 17 and Saturday 18 May 2013, was a great success. It was sponsored by Sky at Night magazine and organised by Graham Smith and Ian Peters of UK Astronomers Ltd. All the staff and helpers at the event were very friendly and willing and the organisation was first class.
The event was well signposted from the M40 motorway and local roads. With large grassy fields outside the venue there was free parking for all attendees. For most visitors, and I suspect many exhibitors, this was a more convenient and less expensive event than the annual Astrofest show in London. The exhibition was all on one floor with lots of space allowing for more spacious stands and making it easier to look around and to stop and chat with people. All the main vendors were present with their usual tempting array of astronomical items.
The meeting was well attended and all the lectures over the two days were fully booked. Paul Abel and Pete Lawrence opened the proceedings and introduced an excellent set of speakers which included Chris Lintott, Nik Szymanek and Stuart Clark. The only disappointment was the relatively small size of the lecture hall which prevented some people from hearing the talks. There was a good café selling reasonably priced food with friendly staff. People on the stands had vouchers for free drinks throughout the two days which was very welcome given the amount of discussion which took place with visitors.
The BAA stand was in a good position and assistance was available on arrival with unloading the car. Callum Potter and Roger Pickard came on Thursday night to help set up our display. Callum and Roger plus David Arditti, Mike Frost, David Boyd, Alan Lorrain and Geoffrey Johnstone all helped on Friday and/or Saturday. There was a lot of interest in the BAA stand with a constant stream of people talking, asking questions and buying sales items. The volume of sales was as good as at Astrofest and we had fourteen new BAA members sign up over the two days, with more taking information away with them. It was hard work but we had good fun and met lots of people so it was very worthwhile for the BAA to be there.
This was a very successful first event of its kind held in the Midlands, well organised and well attended. There were many new faces and old friends there over the two days. On Friday night the organisers held a reception for everyone working there, giving helpers and vendors an opportunity to unwind and talk.
Another similar event is planned for next year, possibly at a different venue with a larger lecture hall, and the BAA will be there again. I enjoyed this year's event and look forward to meeting more of you next year.
Ann Davies, Sales & Promotions Organiser
The British Astronomical Association supports amateur astronomers around the UK and the rest of the world. Find out more about the BAA or join us.