Two more novae & a bright maximum of Mira
2021 October 1
Nova Vulpeculae 2021
This nova was discovered as a magnitude 12.0 transient in Vulpecula on 2021 July 16.475 by Koichi Itagaki (Yamagata, Japan). Itagaki was using a 180mm camera lens with a CCD camera. Similar simple set-ups have been used in several recent nova discoveries. The precursor appears to have been a magnitude 22 star.
The object was picked up after dusk in the UK on the same evening (Jul 16) by Nick James in Chelmsford in an electronic image, at magnitude 12.0, and visually by Gary Poyner in Birmingham at magnitude 12.3. Early reports suggested that it was declining in brightness soon after the discovery, but it then gradually rose to 10th magnitude at the beginning of August.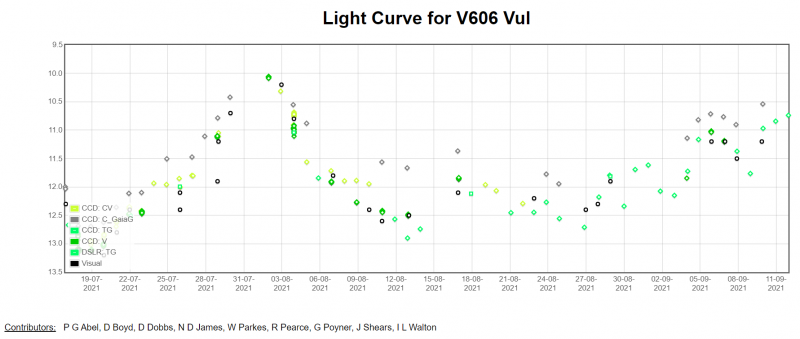 Robin Leadbeater obtained a low-resolution spectrum from Cumbria on Jul 16.915. This showed strong H Balmer, P Cygni-profile emission lines, with a velocity of ~1,400km/s and other broad emission lines including He, indicating the object to be a nova. Once again, an amateur astronomer was able to provide spectroscopic confirmation of a nova. Munari (University of Padua, Italy) subsequently obtained spectra on Jul 17, 18 & 28 that were consistent with it being an Fe II-type nova.

Rare eruption of the recurrent nova RS Ophiuchi
Novae involve interacting binary star systems, consisting of a white dwarf and a late-main-sequence star. Due to the strong gravitational field of the white dwarf, material flows from the secondary star through an accretion disc and onto the dwarf's surface. Eventually, so much material accumulates on the white dwarf that a runaway thermonuclear reaction occurs. The nova eruption blows the outer layers of the white dwarf away into space, as an expanding gas shell. With time, the gas cools and the once-bright nova begins to fade: the eruption is over. However, the binary system is not destroyed, so the accretion process can start again and can eventually lead to a recurrence of the nova eruption.
Most, if not all, novae are thought recur on some timescale, although this might take many thousands of years. Recurrent novae are objects that have been seen to experience multiple nova eruptions. There are 10 known galactic recurrent novae, as well as several extragalactic ones.
The recurrent nova RS Oph was reported to be in eruption on 2021 Aug 8 by Keith Geary (Ireland), Alexandre Amorim (Brazil) and Eddy Muyllaert (Belgium), at magnitude 5. In quiescence, RS Oph is normally about magnitude 12.5. It has previously been observed to erupt in 1898, 1933, 1958, 1967, 1985 and, most recently, in 2006. A further two eruptions, in 1907 and 1945, have been inferred from archival data.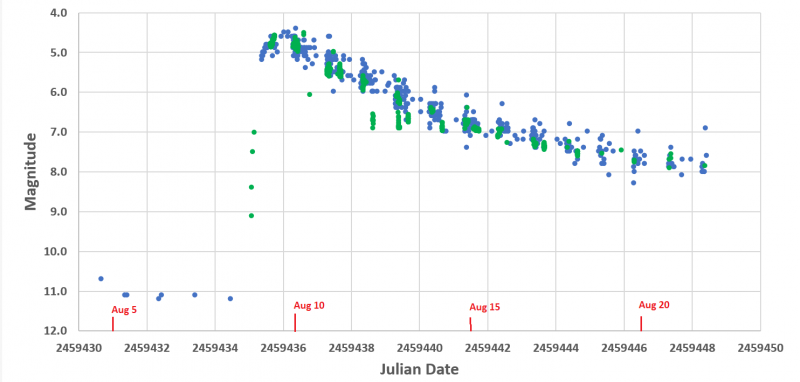 The nova reached a peak visual magnitude of approximately 4.5 the day after discovery. At its brightest, it was seen with the naked eye by some observers, but the accompanying light curve shows that it soon started to fade. Within a few days, RS Oph became distinctly orange, as shown in the image by Mazin Younis of Manchester.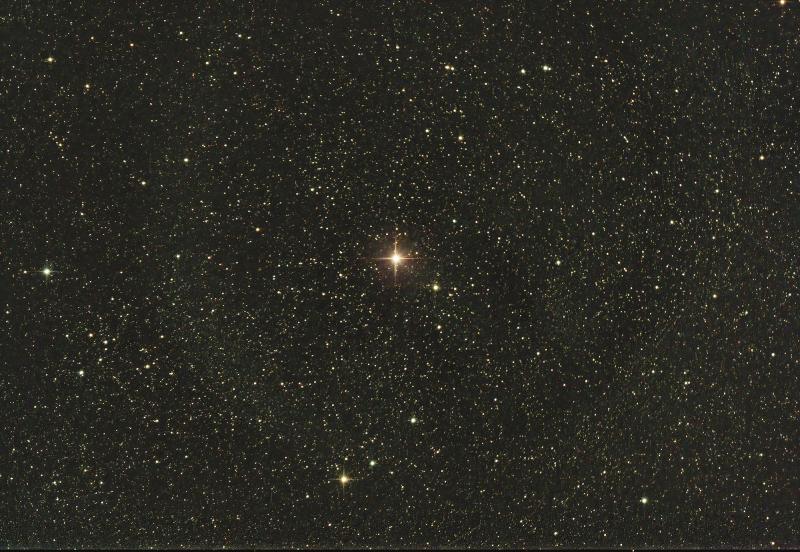 With a range between eruptions of nine to 26 years (mean: 15 years), we will have to wait a while until the next time RS Oph returns to the stage. Another recurrent nova anticipated to erupt in the next few years, and thus worth keeping an eye on, is T Coronae Borealis.
Mira Ceti
In a change from nova news, John Toone reports that the archetypal long-period variable, Mira (οmicron Ceti), had a bright maximum in early August. John estimated Mira at magnitude 2.1 on the morning of 2021 Aug 3, similar to the maximum in 2019. This event follows a brighter-than-usual minimum.
The brightest historical maxima on record were at magnitude 1.85 in 1907 (BAA Variable Star Section) and 1.1 in 1779 (W. Hershel and P. W. Wargentin).
Mira has a period of around 332 days, so keep an eye on the star as it fades during the autumn.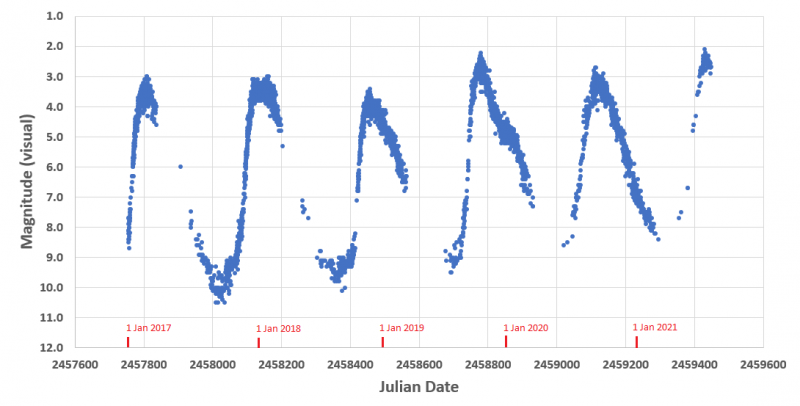 Revised edition of the Eclipsing Binary Observing Guide now available
Eclipsing binaries can be studied with a range of techniques, from simple naked-eye observations of some of the brighter systems, through using binoculars or small telescopes via imaging with DSLR cameras, all the way to sophisticated imaging systems. The revised edition of this handbook, written by Des Loughney (the Section's Eclipsing Binary Secretary), provides the observer with a detailed guide to observing these objects. It covers the basic categories of eclipsing binary, which stars the beginning observer might like to follow, how to interpret the resulting light curve and how to extract the all-important 'time of minimum', corresponding to mid-eclipse.
The Eclipsing Binary Observing Guide can be downloaded in PDF format from the website for free at: bit.ly/3BTtMwL.
---
Jeremy Shears, Director, Variable Star Section
The British Astronomical Association supports amateur astronomers around the UK and the rest of the world. Find out more about the BAA or join us.