See the International Space Station
| | |
| --- | --- |
| | Sunday, 2018, March 25 - 16:51 |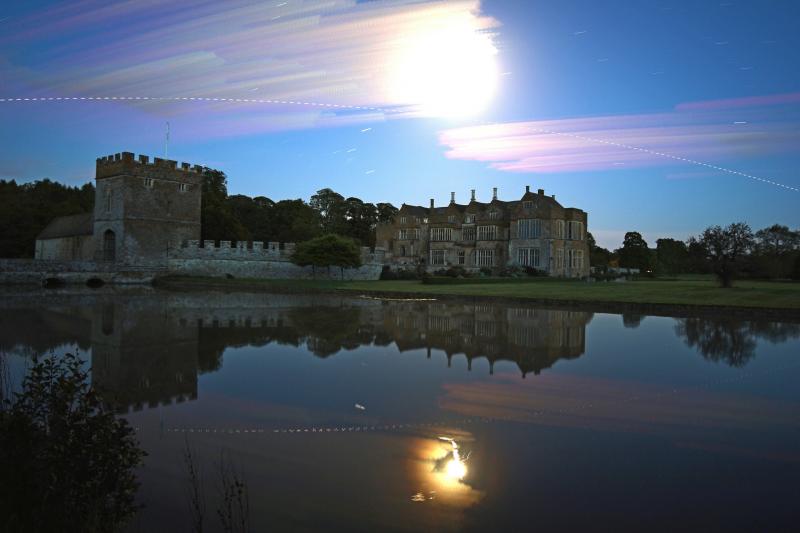 Some of our previous BAA Observers' Challenges have been very challenging objects, but this month, we thought we'd set something that should be within reach of the vast majority of BAA members.
Over the next ten days, the International Space Station will once again be making a series of bright passes over the UK. This includes very favourable passes every day over the Easter weekend.
The ISS appears much like an aircraft, taking a couple of minutes to cross the sky -- probably many people will see it and not realise it's anything out of the ordinary. However, you can tell it's the ISS because it doesn't have any flashing lights, and it should appear at exactly the times listed below. Providing the skies are clear it will be hard to miss: it will usually be the brightest object in the sky, rivalling even Venus's brief appearance at dusk.
Such passes are always a good opportunity to get friends and neighbours looking up at the sky, and children are often particularly excited to be able to see a real spaceship fly over! For others, photographing the ISS can become a serious hobby -- Steve Knight, who took the image above, has photographed many dozens of its passes.
You can get a nice image of the ISS simply by pointing a camera at the patch of sky where you expect it to appear, and taking a long exposure once it comes into view. You don't have to go to Steve's lengths of travelling to get the best possible foreground for your shot!
Once you've got your photo, don't forget to upload it to your BAA members page, and tag it under "Artificial satellites". We look forward to seeing your images here: https://britastro.org/recent-images-by-category/192
Times of passes
The following times are in BST, correct for London. To get up-to-date information customised to your exact location, visit the Heavens Above website and remember to set your location in the top-right corner.
Date
Brightness
Start
Highest point
End
(mag)
Time (BST)
Alt.
Az.
Time (BST)
Alt.
Az.
Time (BST)
Alt.
Az.
26 Mar
-3.3
21:11:17
10°
SW
21:14:09
40°
S
21:14:09
40°
S
27 Mar
-2.8
20:19:23
10°
SSW
20:22:15
28°
SSE
20:24:27
14°
E
27 Mar
-2.4
21:55:11
10°
WSW
21:57:07
33°
WSW
21:57:07
33°
WSW
28 Mar
-3.8
21:02:57
10°
WSW
21:06:13
64°
SSE
21:07:15
38°
E
29 Mar
-3.4
20:10:48
10°
SW
20:13:58
46°
SSE
20:17:09
10°
E
29 Mar
-3.5
21:47:03
10°
W
21:49:54
64°
W
21:49:54
64°
W
30 Mar
-3.9
20:54:43
10°
WSW
20:58:02
85°
S
20:59:48
25°
E
31 Mar
-3.8
20:02:26
10°
WSW
20:05:42
70°
SSE
20:08:59
10°
E
31 Mar
-4.0
21:38:53
10°
W
21:42:11
87°
N
21:42:15
85°
ENE
01 Apr
-3.8
20:46:31
10°
W
20:49:49
85°
N
20:52:01
20°
E
01 Apr
-1.9
22:23:01
10°
W
22:24:40
26°
W
22:24:40
26°
W
02 Apr
-3.9
21:30:39
10°
W
21:33:57
79°
SSW
21:34:22
64°
SE
03 Apr
-3.8
20:38:17
10°
W
20:41:35
90°
N
20:44:04
16°
E
03 Apr
-2.1
22:14:49
10°
W
22:16:43
27°
WSW
22:16:43
27°
WSW
04 Apr
-3.6
21:22:23
10°
W
21:25:37
55°
SSW
21:26:24
42°
SSE
05 Apr
-3.8
20:29:58
10°
W
20:33:16
73°
SSW
20:36:04
13°
ESE
06 Apr
-2.8
21:14:07
10°
W
21:17:09
35°
SSW
21:18:25
25°
SSE
07 Apr
-3.2
20:21:38
10°
W
20:24:50
50°
SSW
20:28:01
10°
SE
Like This Article