The Practical Astronomy Show is a free one-day event at the Kettering Conference and Exhibition Centre.
There will be free talks about the practical aspects of astronomy, with an emphasis on using and getting the best out of astronomy products. The show caters for all levels of practical astrophotography and visual astronomy. Organisations involved in astronomy education, outreach and tourism will be available to meet and greet the general public.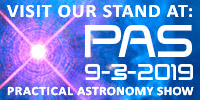 Please note the Practical Astronomy Show is not run by the BAA, but the BAA will be present as an exhibitor.