Saturday, 2019, November 2 - 17:10
Current observations for the 2020 opposition
THE 2020 MARS OPPOSITION BLOG

Observers
Thanks are due to the following who contributed data, or who as previous contributors to the Section posted their work online (from where it has been downloaded).
M.Adachi, E.Chappel, H.Einaga, C.Foster, D.Gray, S.Ito, T.Kumamori, N.MacNeill, P.W.Maxson, D.Milika & P.Nicholas, E.Morales, D.A.Peach, E.Sussenbach, A.Wesley.
Total number of contributors: 15
I will update this blog only occasionally before the summer, as opposition is still far off.
Richard McKim, Director
February 12
Images continue to come in, and during January - remarkably - all but three days have been covered by at least one observer. I've started a list of observers at the top of this page.
Section member T.Mishina (Japan) offers us a movie showing the course of Mars against the stars during 2020:
https://youtu.be/kG7csYV7CWI
Thanks to the efforts of Stuart Morris and his son, BAA reports upon all past oppositions, including all those in the BAA Memoirs, going right back to 1892 have been uploaded to the special page devoted to past reports - as linked from the front page.
Recent images and comments:
T.Kumamori's image shows that the Phasis streak W. of Solis Lacus is rather prominent.
C.Foster's images show the orographic evening clouds over the Tharsis Montes, and even more strongly over Olympus Mons.
N.MacNeill shows the bluish tint of the S. polar hood in the longitude of Mare Erythraeum,and that the albedo anomaly at the SE corner of Mare Acidalium (caused by the 2018 global dust storm) is still persisting.
D.A.Peach (blue filter image) shows that the Equatorial Cloud Belt is still active at Ls = 144, which is very close to the end of its normal seasonal timespan. It has been recorded by a few other observers but not so clearly.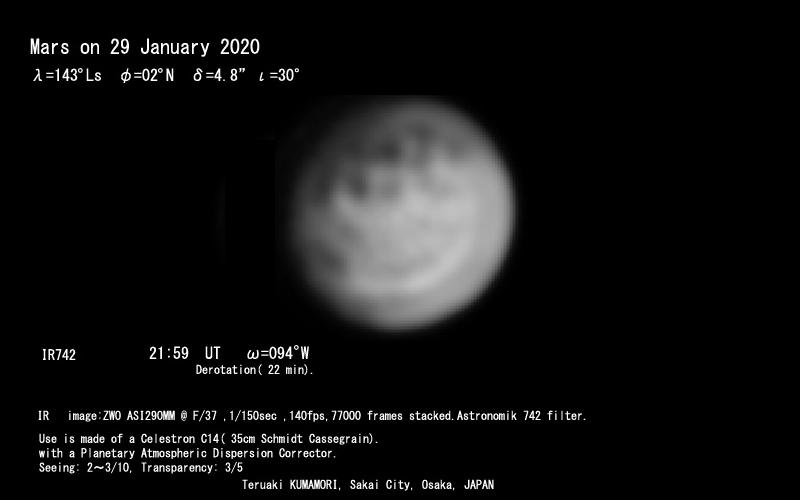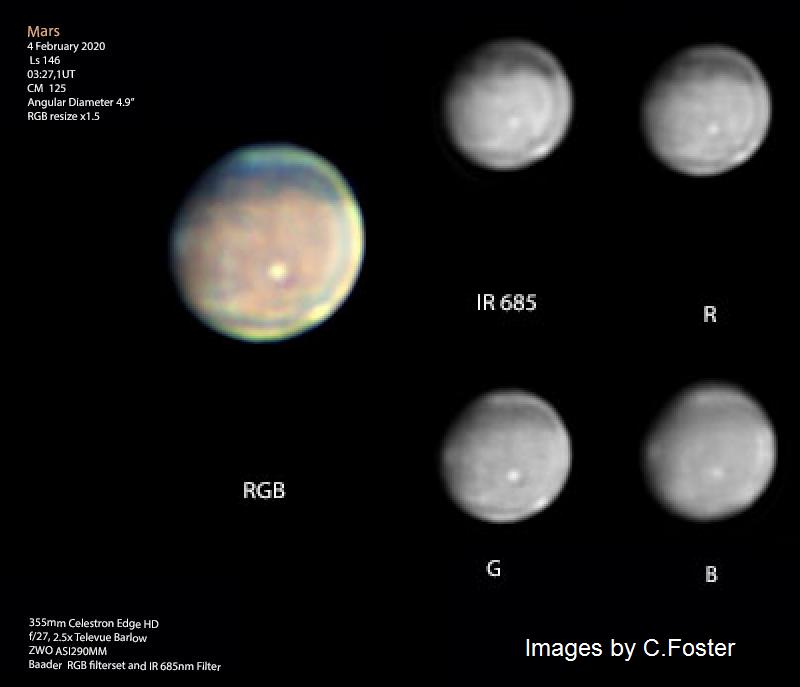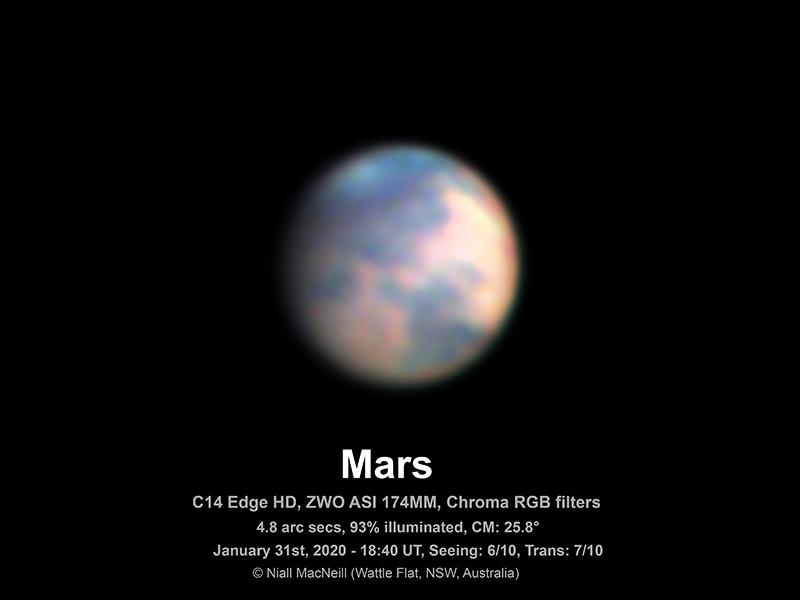 2020 January 19
Visually, Mars has been followed by D.Gray (Great Britain) since 2019 October 28 (Ls = 99), and by M.Adachi (Japan), while images have been obtained by C.Foster (South Africa), P.W.Maxson (USA), T.Kumamori (Japan), E.Sussenbach (Curacao, Dutch Caribbean) and A.Wesley (Australia) since 2019 November 7. The first image was taken by Foster. Given the disk diameter range of only 3.7-4.5 arcseconds, these early results do not show much, but they are valuable in extending our seasonal coverage. The best ones show the tiny summer N. polar cap (martian northern summer began at Ls = 90) as well as some diurnal white clouds. The disk is still too small to expect to be able to see fine albedo details, but already we can see that the SE part of Mare Acidalium and Oxia Palus still portray the changed aspect due to the 2018 global dust storm.
I shall try to update this blog at least once per month over the next few months, then much more frequently as opposition is approaching.
Here are a few early results from Gray from November 13 (note the white evening orographic cloud at Elysium Mons and the brightness of Hellas at the Sf. limb), Foster from Jan 15 (morning clouds, bright Hellas), Kumamori from Jan 1 (note the aspect of SE Mare Acialium-Oxia Palus) and Wesley on January 10 (an infrared passband image which shows enhanced contrast of the albedo features).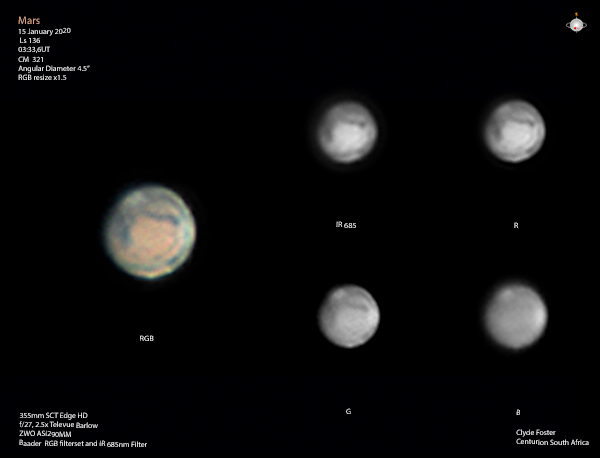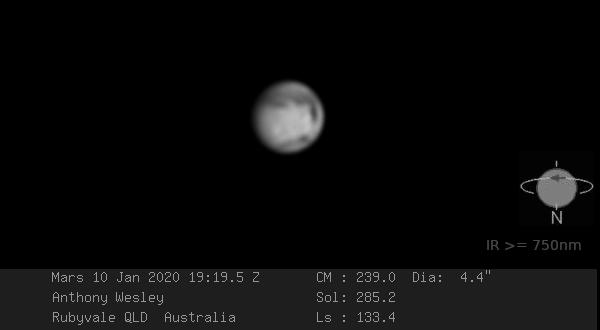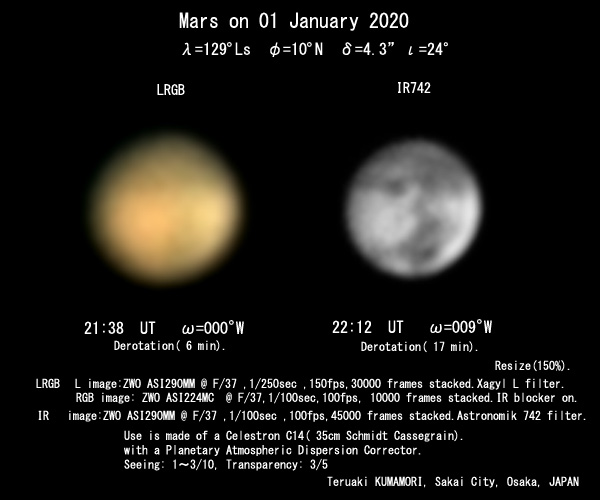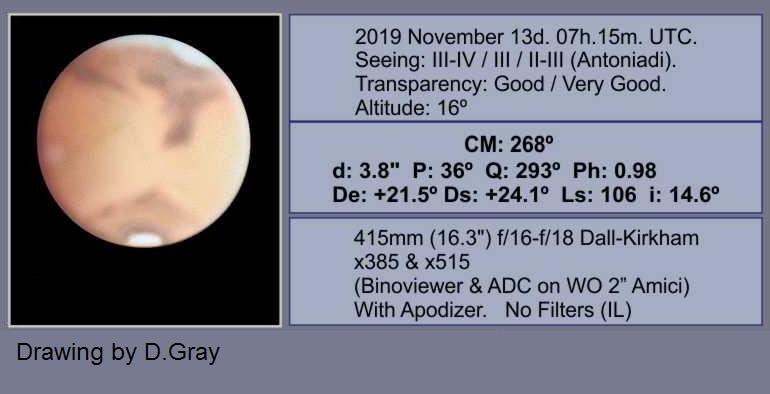 2020 January 18
Welcome to the 2020 Mars opposition blog! The good news is that 2020 is going to be a much better year than 2018 for British and Northern European observers.
For those who subscribe to the ALPO (USA) journal, volume 62 No. 1 contains a seasonal preview of the 2020 opposition. This is not freely available online, however.
Early drawings and images are already being posted online at several websites: the ALPO Japan, the Mars Section of the Oriental Astronomical Society, the PVOL one, and the American ALPO. It may also be worth looking at the Cloudy Nights Forum, and of course any of the NASA websites that post spacecraft images and data. Links to these websites can be found in the 2012 BAA Mars report, which recently appeared in the 2019 October and December issues of the Journal. (Our reports for 2014 and 2016 are waiting for space.) Please note that the ALPO Japan website, which is one of the best ones, has changed its web address recently to:
http://alpo-j.sakura.ne.jp/indexE.htm

Opposition will be on October 13, which is a long way off! The disk diameter then will be a little greater than 22 arcseconds. Already a few members are making early observations, the earliest being from last October. I shall be posting some of these in my next entry in a day or two's time.
Good observing!

Richard McKim, Director
Select here to return to the Section front page.