Monday, 2019, December 23 - 16:25
Mystery comets
As a bit of a brain-teaser here are few comet-related mystery images to clear out the cobwebs after an excess of Christmas cheer.
In the process of scanning comet prints for our section archive Martin Mobberley came across a number of prints which were not sufficiently well marked for us to make a good guess at the object, observer or date. These prints are set out below, numbered from 1 to 11. Digital planetarium programs should allow us to make an unambiguous ID for the object and date. Observers may be a bit more difficult but some digging in the archives may help to identify where people were on particular dates.
There are no prizes for getting the correct answers apart from the undying admiration of your Comet Section Director. To help you get started I include Martin's notes below. In researching this you might also find it useful to refer to Reggie Waterfield's observing notebooks which are online here.
I suspect 2-6 maybe Mrkos 1957p1, probably past its best, probably by Reggie, but I'm not sure. They could equally be Arend-Roland or Bennett past its best, but the grey scale bar suggests they are Reggie's. The sixth may be mirror imaged.

There's also a scan of a huge crumpled print for another bright comet (print 1), again it could be any of the 3 above.

Print 8 is front and back scans of one object plus three scans or what I think is comet Burnham 1959y1. The other prints are also probably Burnham but with no dates. Mike Hendrie and Harold Ridley used Reggie's observatory for many pics of comet Burnham's close approach (Reggie was in Cornwall after the morning of 1960 April 23rd when he worked with Mike). See the best pic on Apr 27:

http://www.britastro.org/cometobs/1959y1/1959y1_19600427_0258_hridley.html

So, these pics may have been taken on April 23, am (Mike and Reggie), April 24, am (Mike & Harold) or April 28, am (Reggie's apprentice Siddorn although he offset guided in the wrong direction according to Reggie's notes). I've not identified the star fields and none are the same as on April 27 and none tie up with Guide 9's field, so they could be Burnham in early May 1960 perhaps, maybe by Hendrie from his own observatory?

Updates

Many thanks to Paul Leyland, Lars Lindhard, Peter Carson, David Swan and Stefan Beck. These are the results so far:

Print 1 - Field centre: RA 07h 24m 23s Dec +63˚ 55' 43" East is up.
Eyeball astrometry of the image gives a J2000 position for comet's nucleus as 07:04:43.7, +63:26:31.

I suggest this is C/1956 R1 (Arend-Roland) at approx 1957-05-20 01:00 UT. Sky Safari places the comet at that time 07 04 55 +63 26 46 J2000.

---

Print 2 - Field centre: RA 02h 12m 24s Dec +66˚ 18' 07" North is up

Comet C/1969Y1 Bennett
1970 May 23rd at around 00.00hrs + or - 1hr UT
Up is 7.61 degrees E of N
FOV 12.8 x 9.21 degs

---

Print 3

Comet C/1969Y1 Bennett
1970 May 6th at approx 04.40UT
Up is 358 degrees E of N
FOV 13 x 9.18 deg

---

Print 4

Comet C/1969Y1 Bennett
1970 May 4th at approx 01.15UT
Up is 358 degrees E of N
FOV 13 x 9.18 deg

---

Print 5 - Field centre: RA 02h 14m 06s Dec +67˚ 33' 51" North is up.

C/1969 Y1 Bennett - May 25th. 1970, around 4 UT.

---

Print 6 - Field centre: RA 22h 49m 25s Dec +41˚ 53' 58" East is up. Bright star just to the right of comet is 2 And.

C/1969 Y1 Bennett - April 11th. 1970 between 03.00 UT

---

Print 7 - Field centre: RA 22h 35m 16s Dec +39˚ 41' 38" East is up. The image is inverted. Same field as print 6

C/1969 Y1 Bennett - April 10th. 1970 around 02.00 UT

---

Print 8 - Field centre: RA 08h 19m 23s Dec +61˚ 42' 24s WSW is up. Field is 45' x 58'. Bright star above comet is HD 68988

Print 8 is Arend-Roland. Time of exposure is already given on the rear of the print (1957-06-05.0)

---

Print 9 - Field centre: RA 20h 26m 30s Dec +59˚ 30' 47" East is up.

print 9 is Comet Burnham on April 27th, 1960 around 01.00 UT.

---

Print 10 is Comet Burnham C/1959y1 on April 24th, 1960 around 02.00 UT.
---

Print 11 - Field centre: RA 20h 46m 31s Dec +57˚ 27' 25" East is up. Same field as print 9

Print 11 is comet Burnham C/1959y1 on April 26th. 1960, around 22:30 UT.

---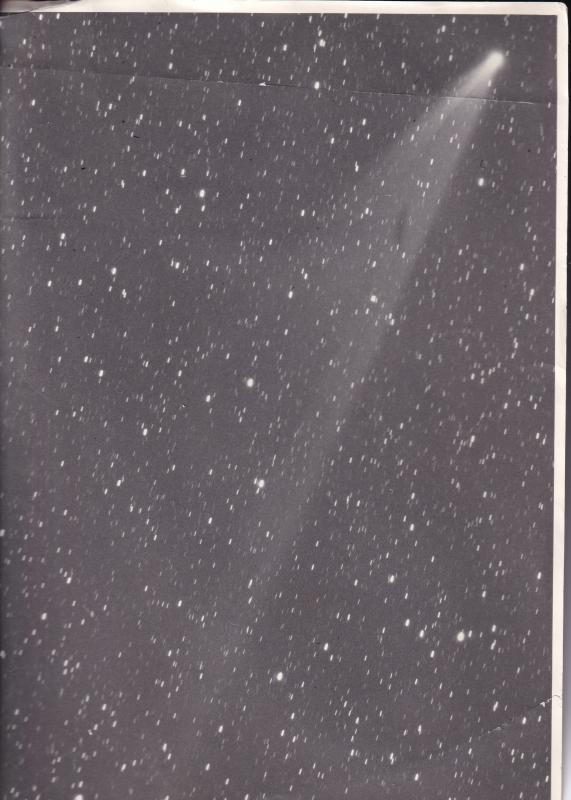 Print 1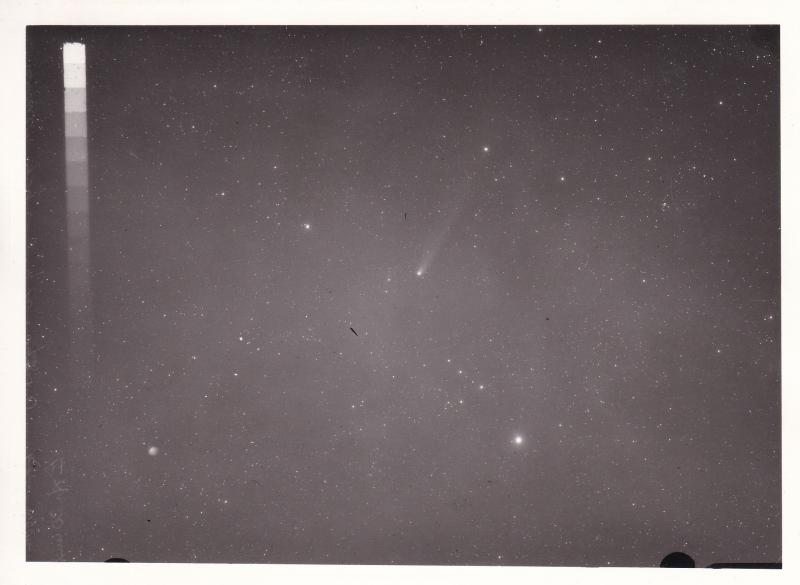 Print 2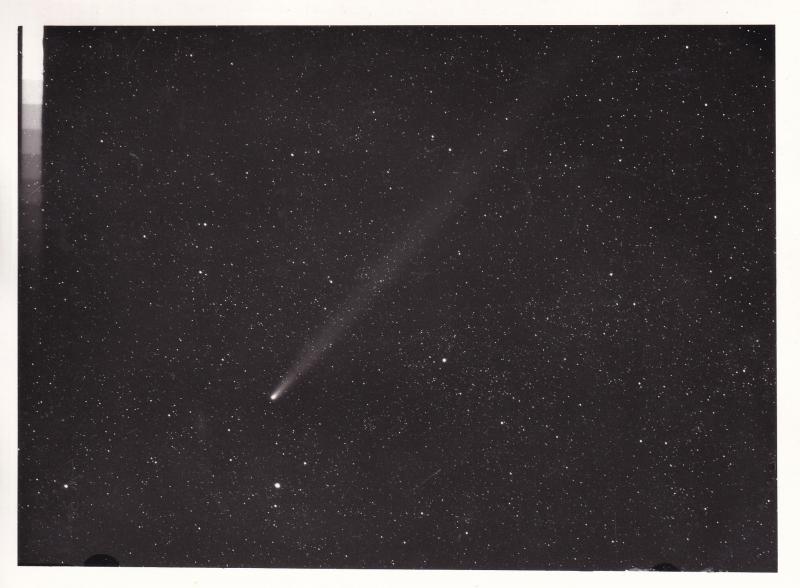 Print 3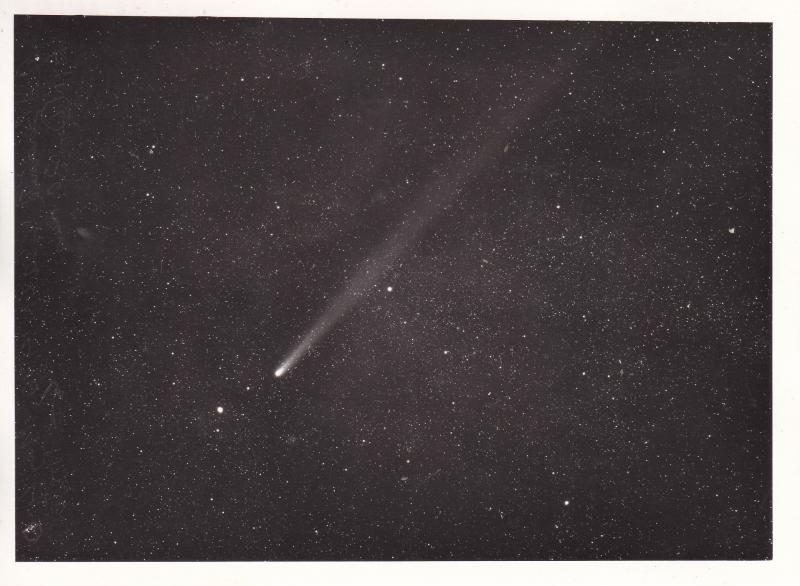 Print 4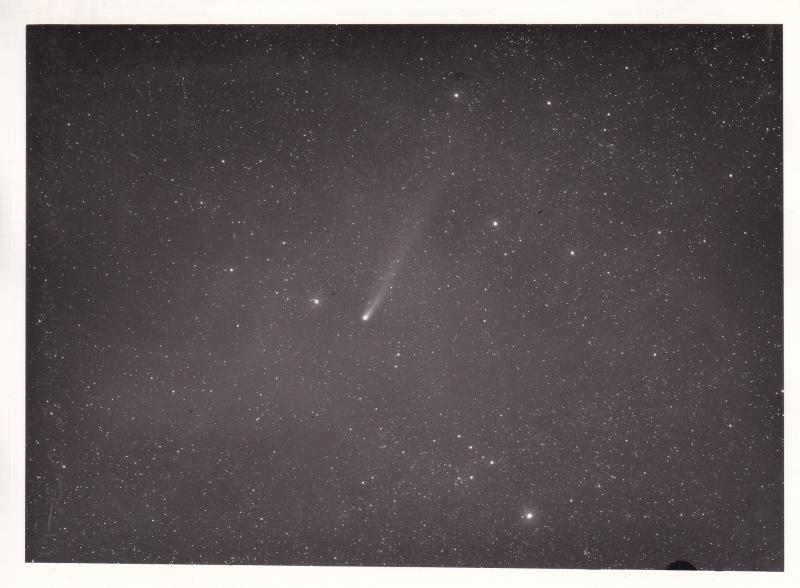 Print 5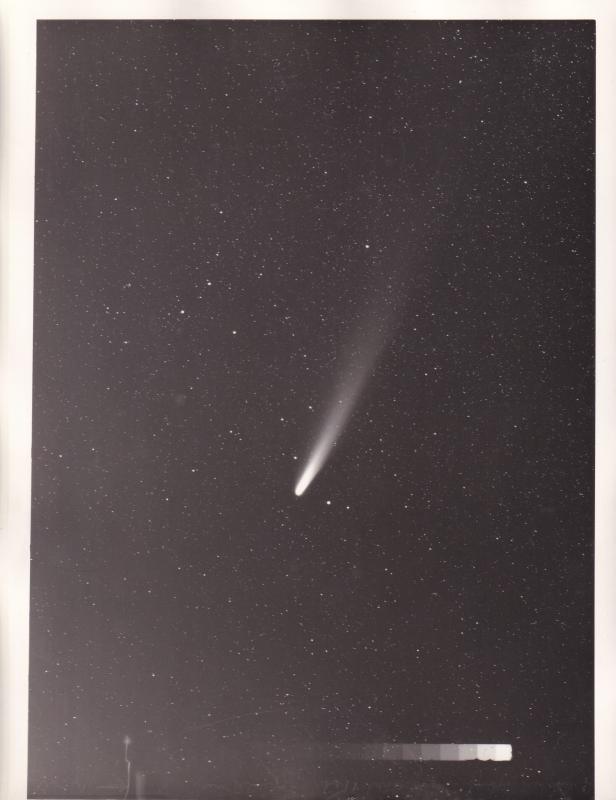 Print 6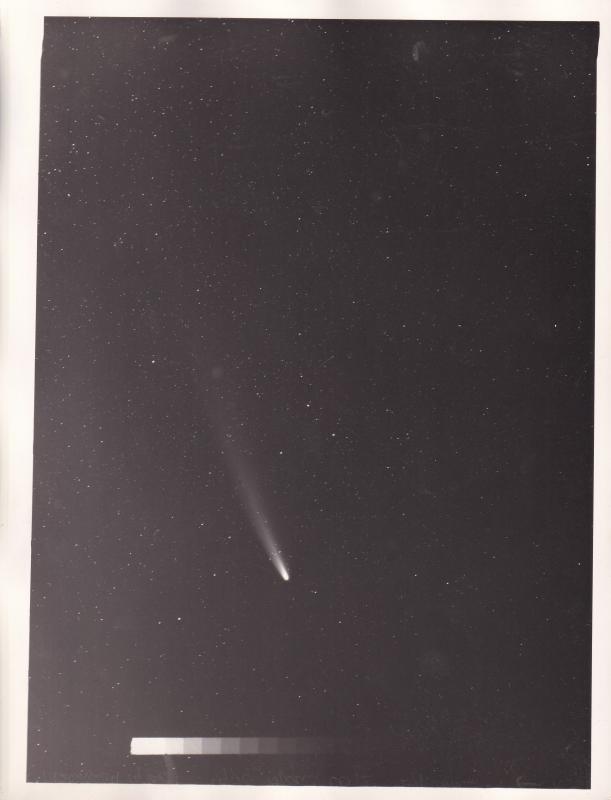 Print 7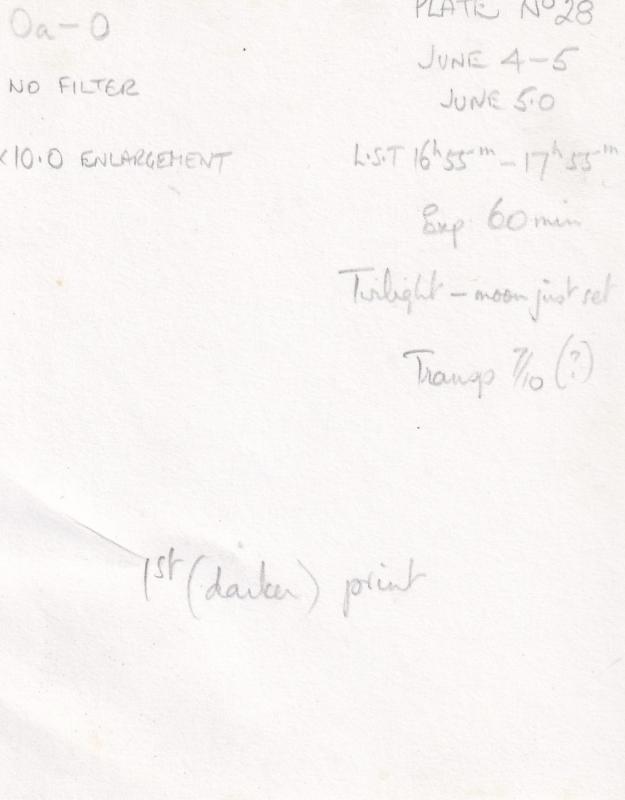 Print 8 (rear)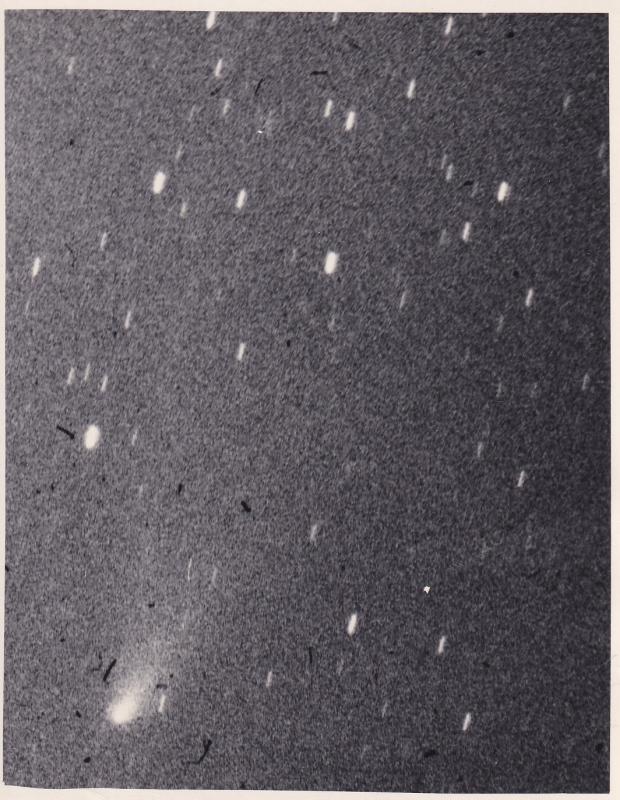 Print 8 (front)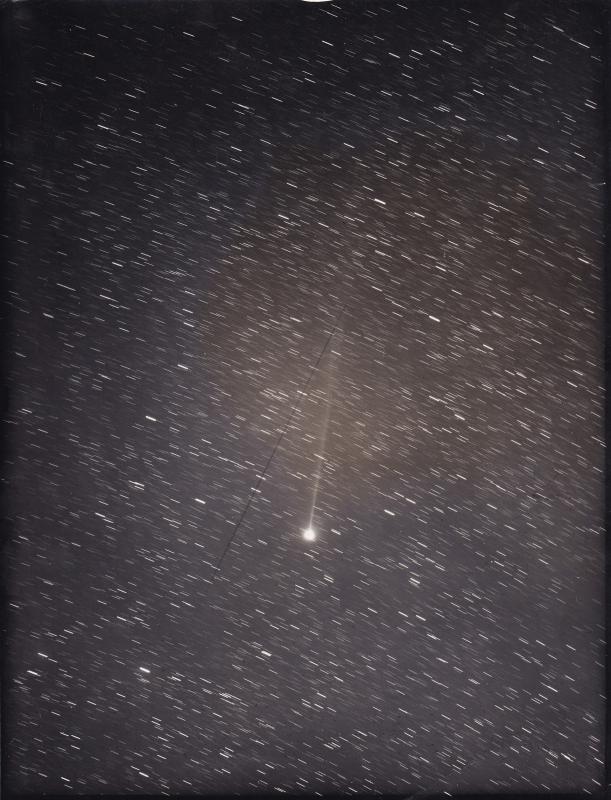 Print 9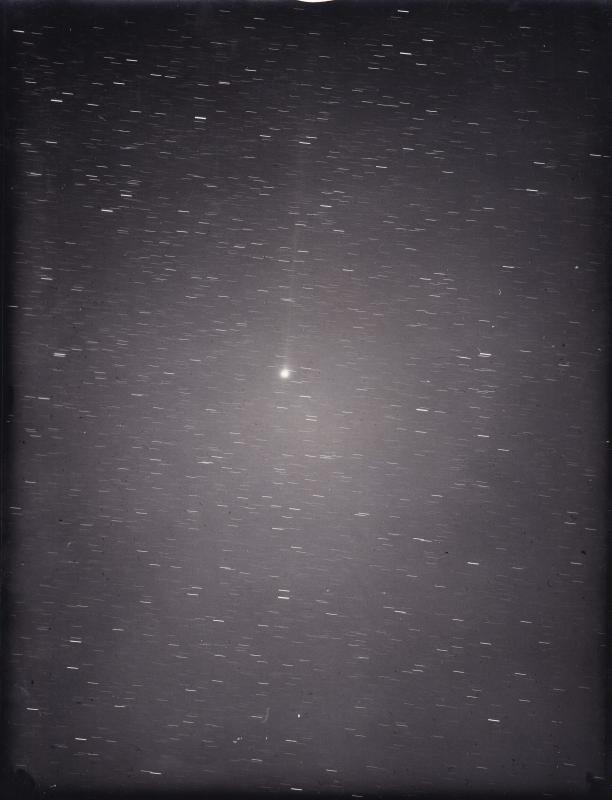 Print 10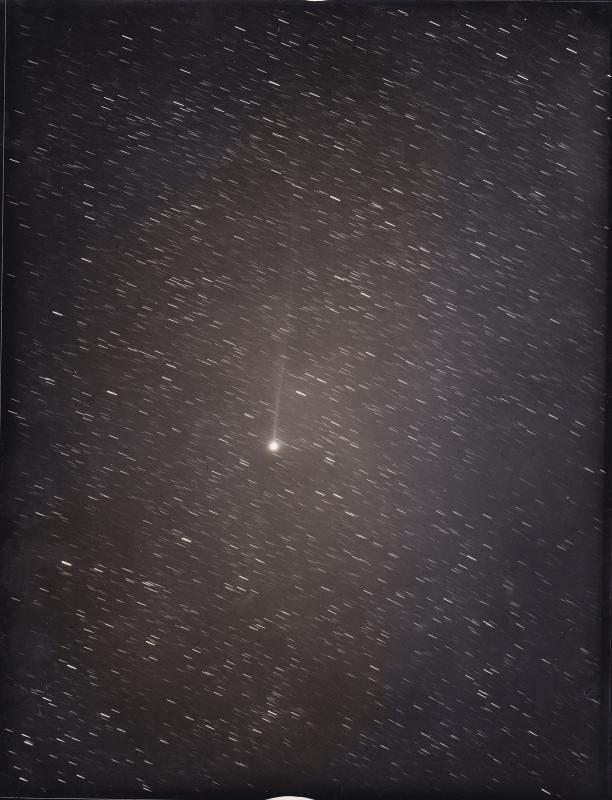 Print 11