See the 11-day-old Moon occult Epsilon Capricorni on 27 September
| | |
| --- | --- |
| | Monday, 2020, September 14 - 19:13 |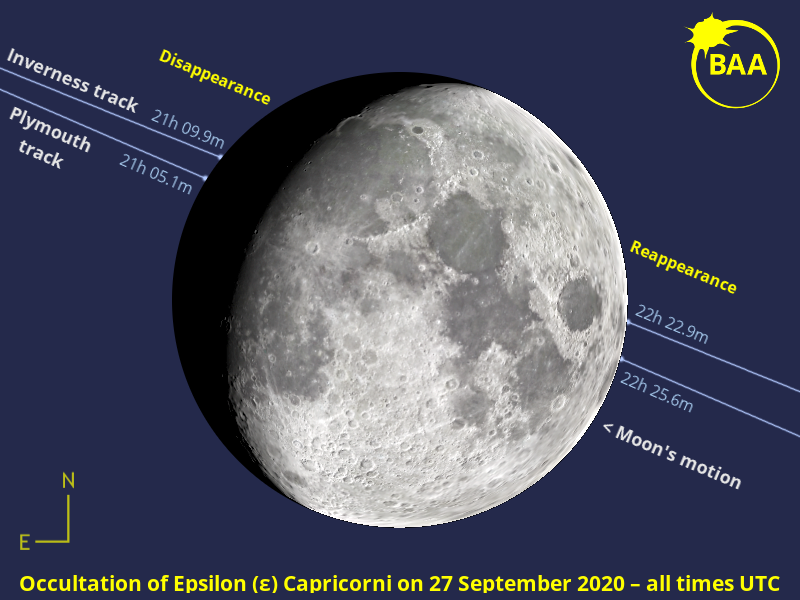 If the night of 27 September is clear, observers across the British Isles get an opportunity to witness a naked-eye star slip behind the waxing gibbous Moon while the pair are highest in the southern sky. Magnitude +4.5 star Epsilon (ε) Capricorni lies on the eastern side of the constellation Capricornus. The precise time and duration of the star's disappearance depends on where you live in the UK, which is summarised for a widespread list of locations in a table at the bottom of the page.
Observers in London will see the disappear at the darkened limb of the 11-day-old Moon shortly after 10:12pm BST (21:12 UTC) and reappear at the bright lunar limb almost 79 minutes later. For a skywatcher in Edinburgh, the star's corresponding disappearance and reappearance times are a few seconds after 10:10pm BST (21:10 UTC) and shortly before 11:25pm BST (22:25 UTC), respectively.
While ε Capricorni's disappearance will be an easy spectacle to follow in a small telescope, the star's reappearance at the bright lunar limb – between Mare Marginis and Mare Smythii – will be more of a challenge, plus the Moon will be lower in the south-southwest. As with all occultation observations, it pays to be setup and scrutinising the Moon five minutes before the predicted times, particularly if you live some distance from your nearest location listed below.
If you have the stamina to stay up after ε Capricorni's reappearance, magnitude +4.7 star Kappa (κ) Capricorni also disappears behind the Moon's dark limb at 1:47am BST (00:47 UTC) on 28 September for Londoners, or four minutes earlier for those in Edinburgh. Note that the Moon will be very low in the southwest at this time.
| | | |
| --- | --- | --- |
| Location | Occultation disappearance (UTC) | Occultation reappearance (UTC) |
| Cork | 21h 00.9m | 22h 18.6m |
| Galway | 21h 01.3m | 22h 17.4m |
| Dublin | 21h 05.0m | 22h 21.6m |
| Plymouth | 21h 05.1m | 22h 25.6m |
| Armagh | 21h 05.2m | 22h 20.7m |
| Pembroke | 21h 05.7m | 22h 24.1m |
| Belfast | 21h 06.2m | 22h 21.7m |
| Douglas | 21h 07.8m | 22h 23.9m |
| Cardiff | 21h 07.9m | 22h 26.6m |
| Oban | 21h 07.9m | 22h 21.7m |
| Liverpool | 21h 09.4m | 22h 26.4m |
| Inverness | 21h 09.9m | 22h 22.9m |
| Carlisle | 21h 10.1m | 22h 25.8m |
| Southampton | 21h 10.2m | 22h 29.4m |
| Edinburgh | 21h 10.3m | 22h 24.9m |
| Birmingham | 21h 10.4m | 22h 28.3m |
| Leeds | 21h 11.3m | 22h 28.1m |
| Newcastle upon Tyne | 21h 11.8m | 22h 27.5m |
| Kirkwall | 21h 11.9m | 22h 23.7m |
| Aberdeen | 21h 12.1m | 22h 25.8m |
| London | 21h 12.2m | 22h 30.9m |
| Cambridge | 21h 12.9m | 22h 31.0m |
| Lerwick | 21h 14.1m | 22h 25.2m |
| Norwich | 21h 14.6m | 22h 32.3m |
Like This Article