Hi guys
Well back to normality after the workshop and hopefully my newly tweaked Alpy will perform how it should.(not sure about the owner!)
Tried some shots the other night (1st/2nd Nov) with a couple of random stars (alpha Aur and eps Aur) really should have waited for better conditions as pretty hazy sky but impatience wins the day ;-).
Files
flats 20x12secs
darks 20x5mins
bias 20x0.001secs
reference lamp 120 secs
Sinbad tells me that eps Aur is an A9I type star but none available in ISIS library so used a A9III from Miles for the response which seemed to be ok. After inputting all the files came up with a healthy RMS of 0.121. Now since installing Isis 5.7.0 there seems to be some issue with Gnuplot as it runs ok but for some reason Ymin on the graph defaults to 0 regardless of what you tell it, hopefully Francois`s new software should display it better, (not sure if it includes Gnuplot??).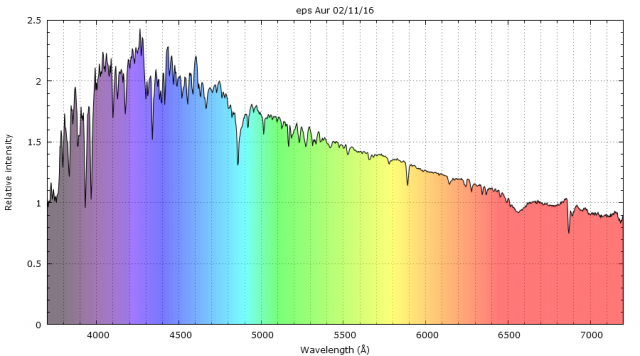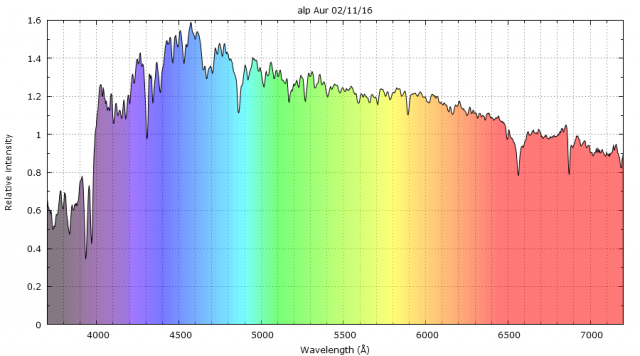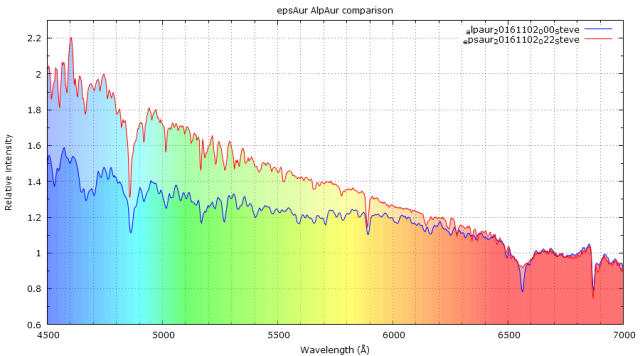 Seems to use a different Ymin when you plot two curves ???
Shame about the Ymin as it would make the plot better. Scripts for the colouring kindly given to me by Thomas at the workshop!. Cheers Thomas (hope I`ve remembered your name ok!)
Couple of thoughts I had doing this :-
If Isis library stars are used to calculate response why would we use other stars to create fresh spectra for calculating response?. (Sure I used to know this maybe the grey matter is not what it was ;-))
Normalising- how/when do we use it with ISIS?. Is it just used for comparison?.
After discussing the merits of using Flats with Robin at the workshop it certainly seems to make a difference as I don`t remember achieving an RMS of 0.121 before.
Comments/advice/criticism most welcome chaps
clear skies
Steve