"This is amazing"
"And we can just do this anytime it's clear?"
"Thank you so much!"
This was the reaction from hundreds of people at the BAA stand when they looked through a telescope for the first time.
The BAA has a long-standing history of encouraging observations of the night sky. Attending the New Scientist Live exhibition at ExCel in London has been a key thrust of this strategy – albeit interrupted over the past two years by the pandemic. With 2 days open to the public and 1 day exclusively for school-age children (primary to A' Level students) this is a prime opportunity for the BAA to encourage new observers to look through a telescope, swell the BAA coffers by selling astronomy merchandise and encourage new members to join the Association.
The BAA stand was set up with a team of volunteers under the auspices of Janice McClean, Evens and Outreach Co-Ordinator. The centre piece of the exhibit was two eye-catching Dobsonians made by Steve Floodgate and David Grist from Crayford Manor House Astronomical Society, Dartford, who saved them from disposal and converted them into outreach instruments.  Those of you who were at last year's Winchester weekend will have been lucky enough to have seen the Dobs and 'Eric and Ernie' give a very amusing presentation on their mission to save the instruments.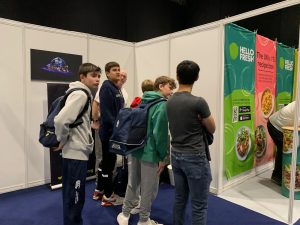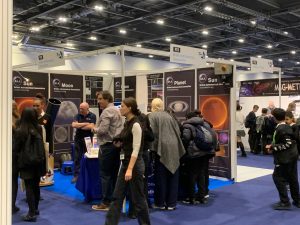 Those who have built a Dobsonian know that an LP (Long Playing record for those under 50…) makes a perfect azimuth base. The larger 8-inch f6 uses an Anita Dobson[1] LP and hence was called Anita. The smaller 4.5-inch f5, however, uses a CD from the rapper Tinie Tempah called "Written in the Stars" and is therefore known as Tinie.
The BAA has a number of 3D models, expertly printed by Mark Radice and beautifully painted in acrylics by Steve Goldson, to help with outreach, the most important of which is a globe of Jupiter complete with Great Red Spot along with models of the Tharsis volcanoes on Mars, the Apollo 11 landing site and a painted globe of Mars, again beautifully produced by Mark.
To encourage visitors to the stand, we planned to offer views of Jupiter (albeit indoors and in daytime). Luckily, we secured permission to mount the Jupiter globe high on the combine harvester in the Future of Farming section – far enough away for the telescope to reach focus and high enough to avoid people walking in front of the telescope.
Passers-by of all ages were encouraged to look through the telescope at the distant globe of Jupiter. Once they had taken a photo through the eyepiece with their smartphones or, as a nod to the past, make a sketch to take away they were directed to the BAA stand where they could buy merchandise or sign up for membership.
The show itself was a little smaller this year – New Scientist have been wary of going too big with many events suffering from smaller footfall, but apparently at least 27,000 came through the doors, queuing up to 30 minutes before opening time.  The schools day was a definite success, with pupils coming from as far afield at Sunderland for the day.  There were four areas including Mind and Body, Future Stage, Universe Stage and Our Planet.  At the centre was an 'Engage Stage' heavily focussed on space exploration but dominating the whole exhibition was the most enormous Combine Harvester which was to our great advantage as already mentioned.  That was one scary piece of equipment!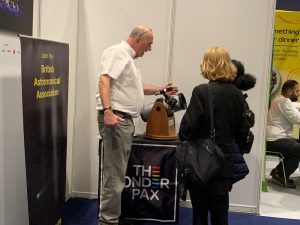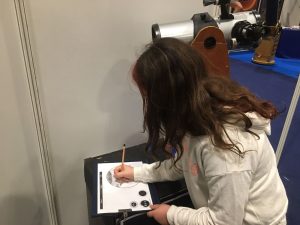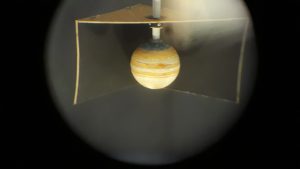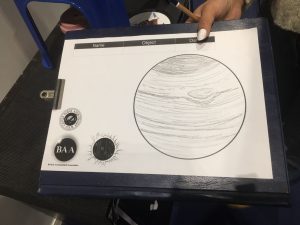 By tallying up observers over a few hours we estimate over 1,000 people and perhaps as many as 1,200 looked through a telescope – many for their first time. It was remarkable to see young and old alike enthusing about observing with their first astronomy image safely on their phone.  It was a chance to see something you might observe in reality with a telescope, in comparison with processed images seen in magazines and websites.
After an exhausting few days we tallied up the results from the show. We sold just under £500 of BAA stock – and even had to return to the BAA store to get more merchandise part way through the event, along with many encouraging conversations with potential members. So far it looks like we had an extra 17 new memberships in October.  Clearly, the enthusiasm of our volunteers and the equipment on display was helping drive footfall to the stand and will no doubt help ensure the BAA remains relevant to today's observers.
Many thanks to all the volunteers who gave up their time to support the event, provided equipment and donated materials, before, during and after the event.  It takes a special kind of astronomer to share their enthusiasm with such a mixed crowd.  Thanks to Nick (muscles) Hewitt, Rita Whiting, Debra Holton, (both specialists in engaging teenagers!), Diane Clarke, Mike Rushton, Nick James (and his comet model), Mike Frost and Marie-Louise Archer, and of course our own stars, Eric and Ernie (David Grist and Steve Floodgate).
New Scientist Live was and still is a great opportunity for the BAA to reach out to the unconverted and undecided, a different age profile of visitors to our usual Astronomy events, and a chance to reach a much more diverse population.  Next year it will run from 6th– 8th October 2022, so put a note in your diary and keep an eye out for our complimentary tickets advertised in the Newsletter
Mark Radice and Janice McClean
10th November 2022
[1] We had to explain to the many children that Anita Dobson had been in Eastenders and is now married to Brian May from Queen or, as we know him, Dr Brian May the astronomer.