Nick James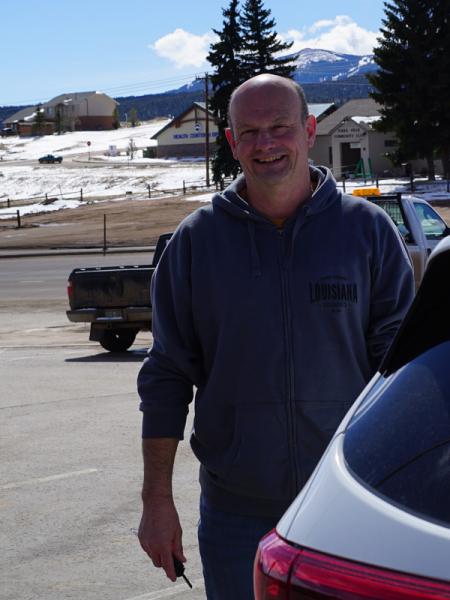 2020 Jul 31
01:17 UTC
Just imaged the Perseverance spacecraft and its booster on the way to Mars.
2020 Jul 29
07:00 UTC
Here's an animation of C/2020 F3 (NEOWISE) from last night:
http://www.nickdjames.com/Comets/2020/2020f3_20200728_ndj.gif
This consists of stacks of 20x10s (approx 320s total span including the camera dead time) processed using an r=2, theta=10 deg Larson-Sekanina filter. It shows the anti-clockwise rotation of the spiralling dust quite nicely and complex flows in the tail.
2020 Jul 27
14:56 UTC
I've only just got around to processing my images of C/2020 F3 (NEOWISE) from July 22. An animation is here:
http://www.nickdjames.com/Comets/2020/2020f3_20200722_ndj.gif
This shows a field of view of 33x22 arcmin processed using a Larson-Sekanina filter with r=2, th=10 deg. There are 9 frames each of around 330s duration (from 2143 - 2228). You can clearly see motion in the tail and material spiraling out from the centre of the coma. The small black dot at the centre of the coma is the reference pixel for the filter.

I have done quite a few experiments with this data and I think the parameters I have chosen are the best compromise to show detail and motion (i.e. around 300s integrations and L-S with r=2, th=10).
It always amazes me that so much relative motion is visible in active comets over such a short period of time.
2020 Jul 7
07:32 UTC
Comet rise this morning shown in this timelapse. This is a timelapse of 232x5s exposures from 01:17 - 01:40 UT.
03:06 UTC
I was incredibly lucky with the weather this morning in Chelmsford UK with a narrow slot of clear sky low down in the direction of the comet. C/2020 F3 was easy naked eye this morning. It is higher and in a darker sky than yesterday. The binocular view was fabulous. This is a single 5s frame taken at 0128UT using a 200mm, f/2.8 lens and a Canon EOS550D.
2020 Jul 6
22:04 UTC
Here is my processed image of C/2020 F3 from last night along with a movie showing it rising above the local trees and TV aerials.
2020 Jun 7
06:46 UTC
NLC again this morning. Timelapse here.
Pages
Copyright of all images and other observations submitted to the BAA remains with the owner of the work. Reproduction of the work by third-parties is expressly forbidden without the consent of the copyright holder. For more information, please
ask a question in the Website Help section of our Forum
.