2016-17, report no.1: Start of the 2016 NTBs outbreak
The new apparition has begun with a bang! On Oct.19, just as Juno was drifting passively through its second perijove, infrared imaging from Hawaii by Dr Glenn Orton revealed a new NTBs jet outbreak – fulfilling a prediction made on these pages early last year. The outbreak was already widespread and had probably been going for several weeks. Using images obtained by JunoCam at long range, and by amateurs in the dawn skies, it has been possible to characterise the outbreak. It consists of three super-bright, super-fast plumes, and a chain of very dark spots, spreading around the planet, fully consistent with previous examples.
Our report on the outbreak so far is in the following two PDFs (one text, one figures):
My first scientific paper, published 40 years ago, described the NTBs jet outbreak in 1975 (as well as 'global upheavals'). It is posted here:
Rogers-1976_NTBO_1st-paper.pdf
This figure is a small selection of images from the report showing the NTBs outbreak in 2016.
(The JunoCam images have also been posted on the JunoCam web pages.)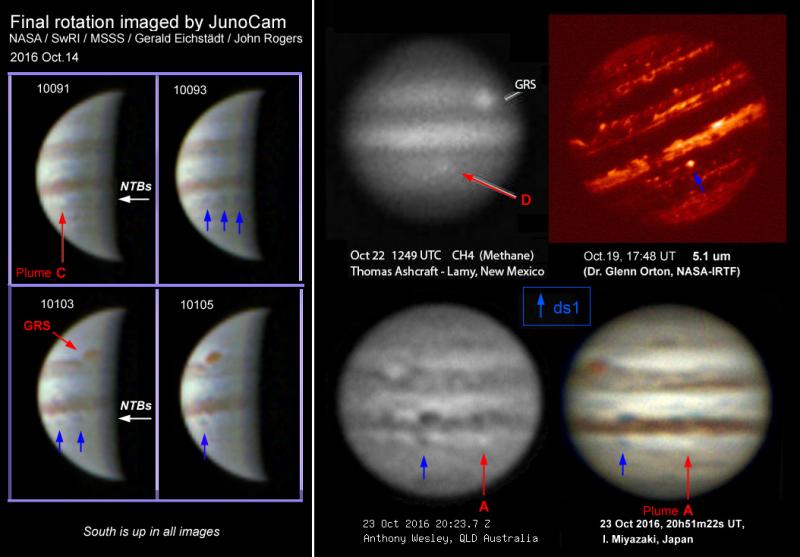 The British Astronomical Association supports amateur astronomers around the UK and the rest of the world. Find out more about the BAA or join us.