Jupiter in 2020, Report no.1
Jupiter has now emerged from behind the Sun, at least for southern-hemisphere and low-latitude observers, some of whom are beginning to get good-quality images. This is a quick summary of how the planet looks so far. Shinji Mizumoto is already posting maps of the planet on ALPO-Japan (please note their new URL: http://alpo-j.sakura.ne.jp/indexE.htm). Figure 1 is adapted from one of his, in mid-February. Figure 2 is a collection of good images covering the whole planet between Feb.26 and March 7, including methane-band images. Congratulations to the observers.
Here I also refer to our recently posted reports on the JunoCam images at PJ24 (2019 Dec.26) and PJ25 (2020 Feb.17) which gave valuable snapshots of the planet. Australian observers managed to get good images of the track at the time of PJ25, which are included in that PJ25 report. It is on our 'Results from Juno (2020)' page, at: https://britastro.org/node/20874.
The NNTB has dark segments and pale segments, and there are still some NNTBs jet spots on its south edge. In the NNTZ we can recognise the three long-lived anticyclonic ovals. One of them, NN-LRS-1, has regained some red colour. Another, NN-WS-4, was nicely imaged by JunoCam at PJ25.
The NTB is faint, following the breakup of the one dark NTB(N) segment in Feb. But there is still a rifted sector with a N. Temperate Disturbance (dark belt in the NTZ) f. it.
The NEB is of normal width but has complex and colourful structure, including an irregular or wavy N edge, very dark red segments, and substantial rifts. There are still prominent bluish NEBs dark formations.
The EZ colour has faded since 2019, but some pale orange or fawn colour remains, entangled with blue-grey festoons from the NEBs dark formations and many grey streaks.
The SEB and GRS have not changed substantially since 2019. The GRS is at L2 = 328. The rifted region f. the GRS is still active. JunoCam images at PJ24 (Dec.26) and PJ25 (Feb.17) showed extensive remains of flakes around the GRS, indicating that flaking activity continued during solar conjunction. Then, four quite large retrograding rings on the SEBs arrived at the Red Spot Hollow between Feb.17 and 27. We expected them to produce flakes from the GRS, but none have been definitely observed apart from a narrow one on the north edge of the GRS imaged by Clyde Foster on Feb.27. However, hi-res images (esp. in the methane band) are still infrequent and small flakes could have escaped detection. If none appear in the next few days, none will be expected in the near future, as there are no further substantial retrograding rings for a long distance on the SEBs.
The STB has several interesting features and could be about to undergo changes. Oval BA is still a prominent white oval, with some dark spots and streaks Np. and Sf. it. Also f. it is a small AWO in the STZ, separated from BA by the last remnant of dark STB proper. The STB Spectre, a long-lived cyclonic circulation, has very low contrast but JunoCam PJ25 images revealed its p. end. Quoting from our PJ25 report:
"The p. end can now be seen, alongside the f. end of the turbulent STB segment f. oval BA, and adjacent to the small AWO there. It is not evident whether it is still a closed circulation there, as the p. end is tapered. As it is now in contact with the dark STB segment, there is the possibility of a sudden eruption and transformation of the Spectre, as happened with the STB Ghost in 2018. However, as the Spectre has elongated to an unprecedented degree, it may not behave in the same way. In the PJ25 map, the p. end is at L3~142 and the f. end at L3=305, a length of 163°. The f. end is a fairly conspicuous dark feature, as also seen in recent ground-based images. The Spectre is still methane-dark in the JunoCam methane maps, except possibly at the p. end." Adjacent to the f. end of the Spectre Sf. edge is a small white spot; could this be a new AWO?
I have been expecting a new STB segment to arise tens of degrees p. BA, and there is now a small dark spot in the appropriate position (marked 'S.Temp. d.s.'), which could be the start of it.
The SSTB is marked by the usual array of AWOs on its S edge. They are numbered A1 to A8, but lacking A6. A6 merged with A7 in 2018 May, then A5a, the small AWO that had replaced it, was fortuitously imaged merging likewise with A7 at PJ24 (2019 Dec.26). Following A5, south of the GRS, there is a strikingly reddish segment of SSTB.
Satellite phenomena: As Jupiter's tilt gradually decreases, all four galilean moons now undergo transits. Callisto will transit on March 14, 30/31, and so on. Ganymede will perform double transits at weekly intervals with Io in March (March 10, 17, 24, 31), and with Europa in May and June.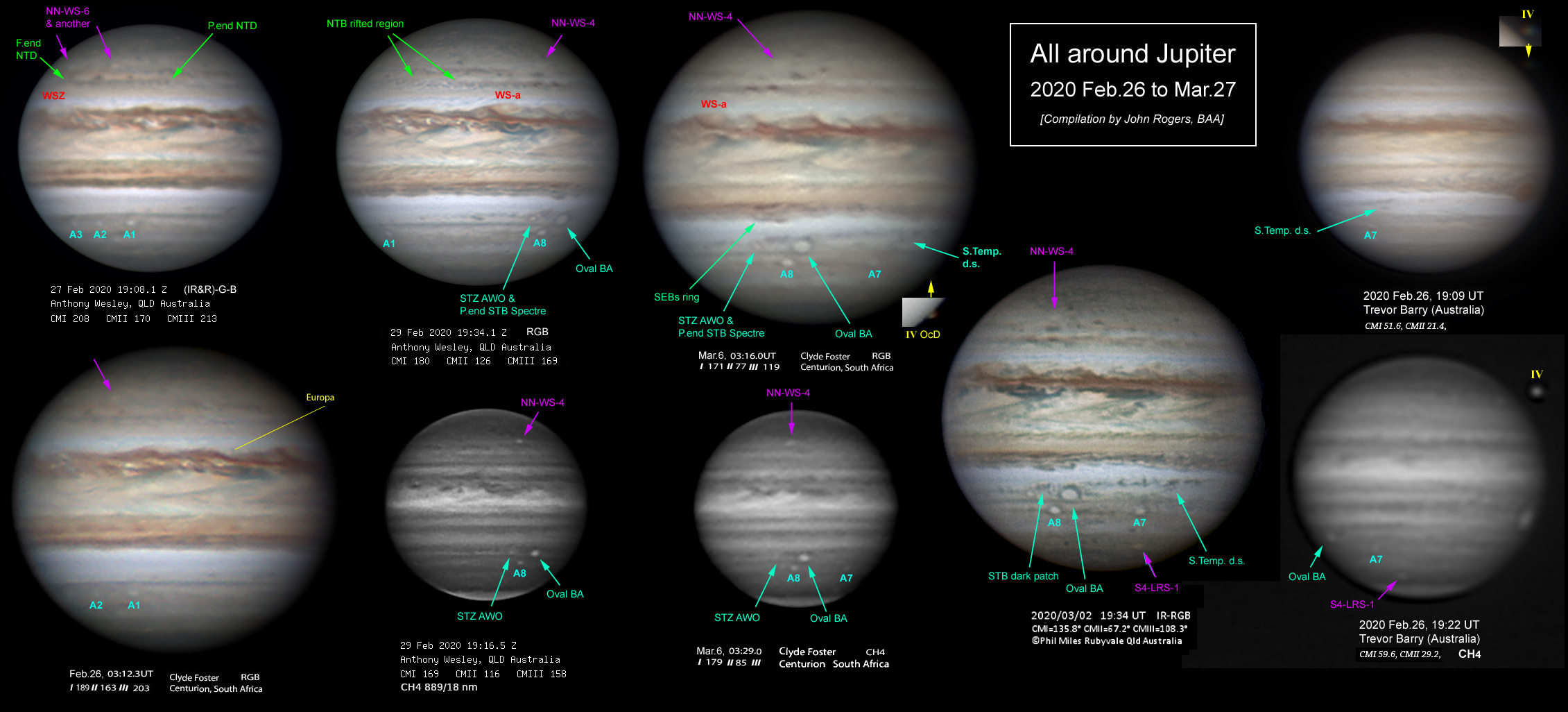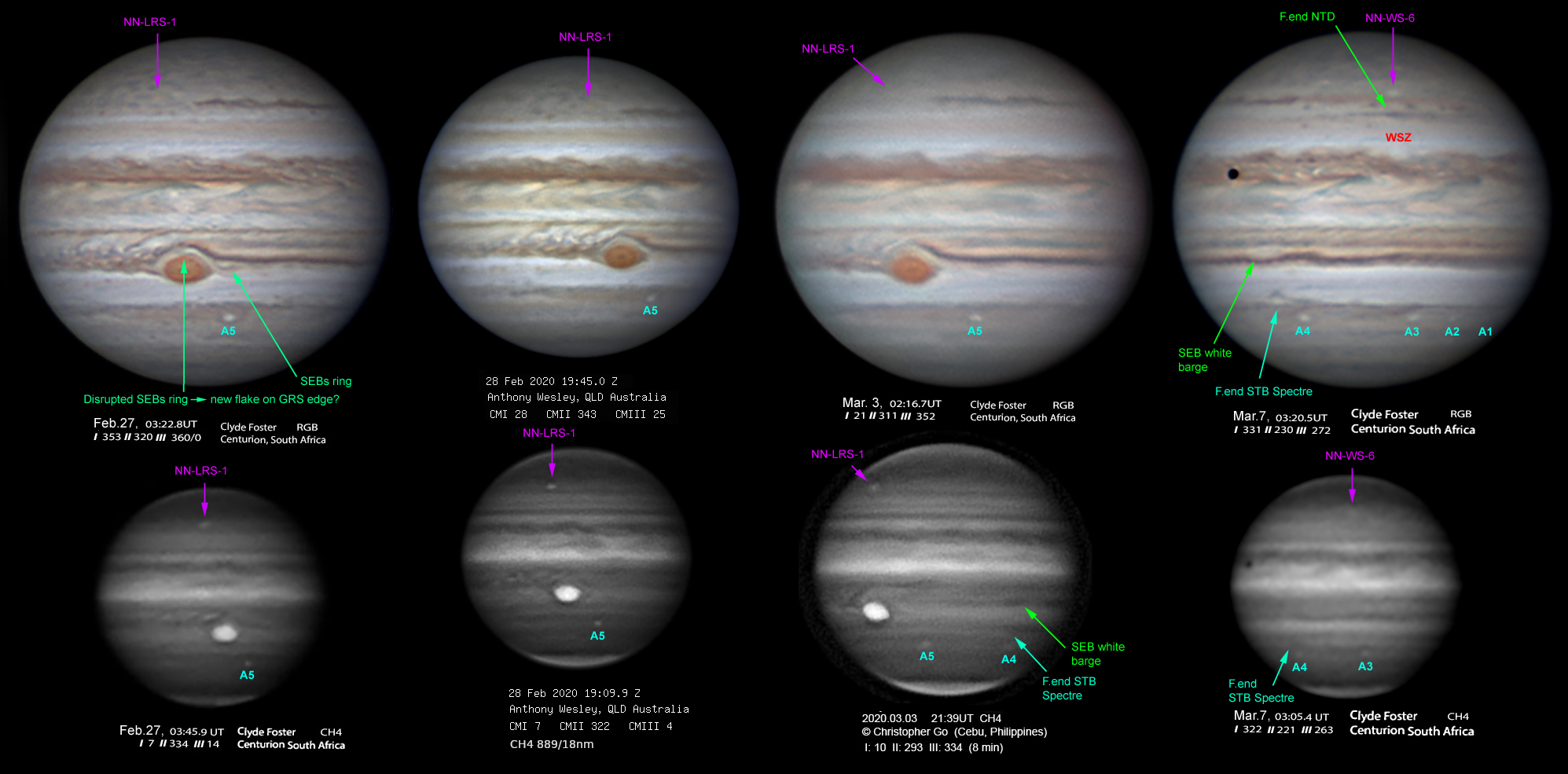 The British Astronomical Association supports amateur astronomers around the UK and the rest of the world. Find out more about the BAA or join us.