Jupiter in 2021, Report no.6: Bright plume outbreaks in the narrow NEB(S)
This interim report deals with the small brilliant white spots in the narrow dark NEB(S) that captured observers' attention in November, in the absence of other activity in the NEB. One of them was imaged by JunoCam. There have actually been six such outbreaks this year, with only local, transient effects, though such an outbreak could eventually initiate the expected NEB Revival. Meanwhile, the NEBs jet has accelerated to 'super-fast' speeds as the usual NEBs dark formations have disappeared.
The report, including miniature figures, is here: Report-no-6_NEBS-outbreaks_2021nov-dec.pdf
The full-size figures are here: Report-no-6_NEBS_Figures.zip
Below is a reduced copy of Figure 4: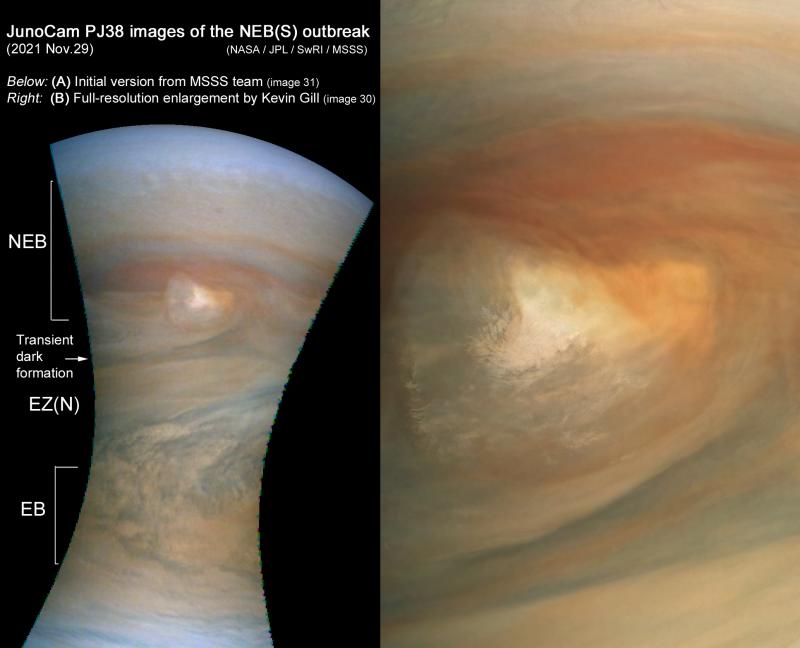 The British Astronomical Association supports amateur astronomers around the UK and the rest of the world. Find out more about the BAA or join us.